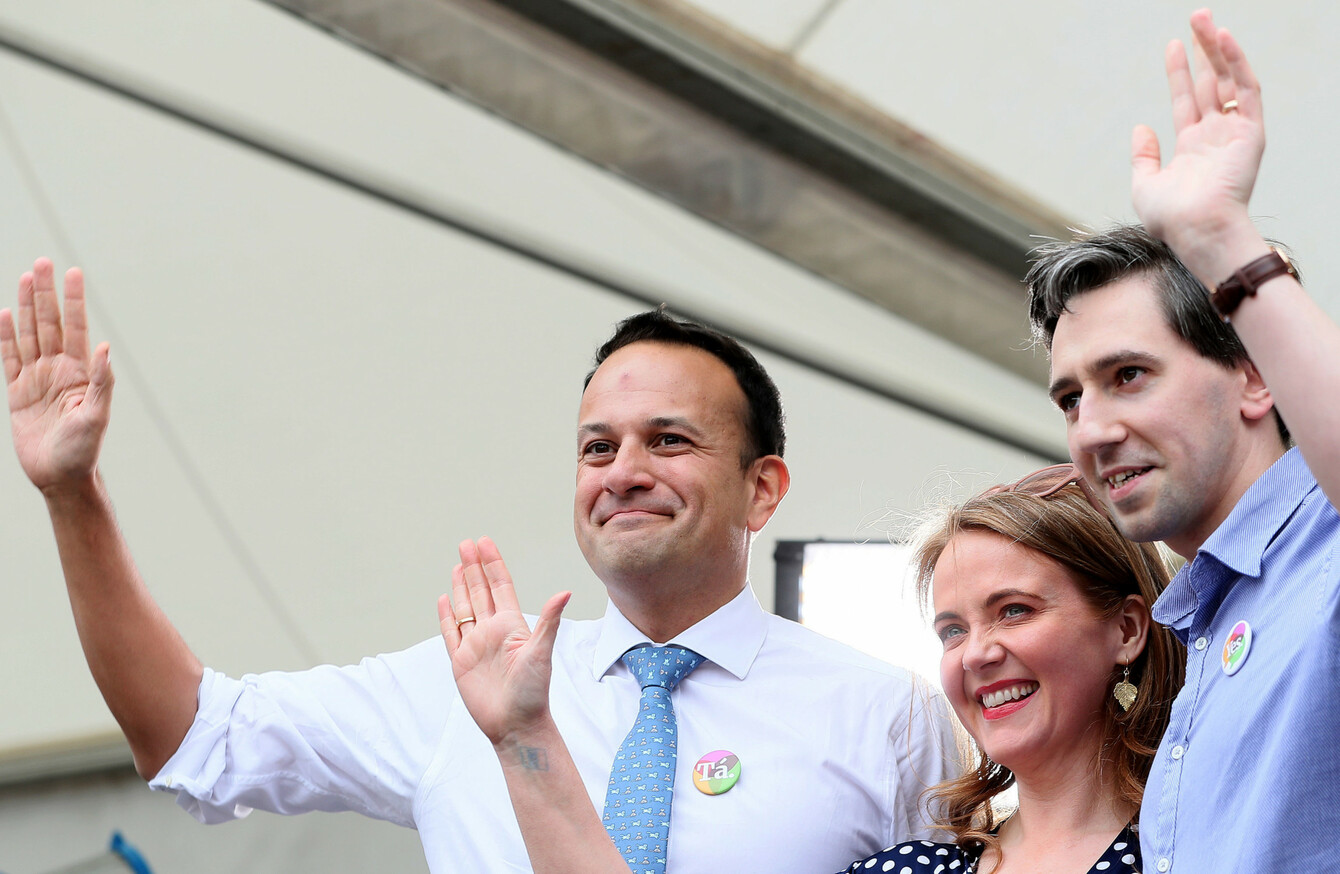 Taoiseach Leo Varadkar with Senator Catherine Noone and Health Minister Simon Harris.
Image: PA Wire/PA Images
Taoiseach Leo Varadkar with Senator Catherine Noone and Health Minister Simon Harris.
Image: PA Wire/PA Images
A LANDSLIDE.
Yesterday, 2,159,655 million votes were cast in a referendum on abortion, seemingly Ireland's most divisive issue and a so-called political minefield.
Today, chants of 'Simon, Simon, Simon' rang out of Dublin Castle as the Health Minister who led his government's referendum campaign arrived before a result of 66.4% Yes and 33.6% No was read out by the returning officer.
Unexpected. Shocking. Overwhelming. Flabbergasting. A silent Yes vote.
The words were drowned out on a poorly mic-ed stage by the buzz of a relieved and celebratory crowd.
Young, old, urban, rural, male, female – they were all represented, as they were in the votes.
People found it to be too difficult to decide, a personal issue best left alone, we heard. Today we hear that official turnout was 64.13%, the biggest of any referendum since the 1992 vote on the same issue.
Fourteen constituencies returned Yes votes of over 70%.
Eleven of them were in Dublin, the highest in Dublin Bay South, followed by Dun Laoghaire whose people also rejected the insertion of the Eighth Amendment 35 years ago.
The others included Kildare, both north and south, and neighbouring Wicklow.
But it wasn't a question of the Pale versus the rest.
The only outlier was Donegal, its people rejecting the 36th Amendment to Bunreacht na hEireann by a narrow margin of 51.87% to 48.13%.
After that, the closest fought race was in Cavan-Monaghan which saw the Yes side at 55.5%. So not really that close at all.
The wins in Mayo, Roscommon-Galway, Kerry, Limerick County, Offaly, Sligo-Leitrim, Longford-Westmeath and Tipperary all landed between 57.1% to 59.4%, the only constituencies that didn't hit at least the 60% mark.
Regardless, there were cheers in the Roscommon-Galway count centre as it became clear 23,677 voters wanted to repeal the Eighth. It was a turnaround not only from 35 years ago when more than eight out of 10 of its population were in favour of the Article, but from three years ago when they were the only grouping to vote against another social issue – same-sex marriage.
"It shows we're not conservative, we're just complicated," explained Luke Ming Flanagan.
Across the 26 counties, there were 3,367,556 people entitled to vote (although that is more than likely a significant overestimate given problems with the register). Whatever about the accuracy of that figure, 2,159,655 marked a ballot paper. Of those, 1,429,981 were of the one opinion.
A landslide indeed.
The Eighth has been repealed.
HIGHEST YES VOTES
Dublin Bay South 78.5%
Dun Laoghaire 77.1%
Dublin Fingal 77%
Dublin Central 76.5%
Dublin Rathdown 76.1%
Dublin South-west 74.9%
Dublin South-central 74.8%
Dublin Bay North 74.7%
Wicklow 74.3%
Dublin West 74%
Kildare North 73.6%
Dublin Mid-west 73.3%
Dublin North-west 73.1%
Kildare South 70.7%
LOWEST YES VOTES
Donegal 48.13%
Cavan 55.5%
Mayo 57.1%
Roscommon-Galway 57.2%
Offaly 58.05%
Limerick County 58.08%
Longford-Westmeath 58.1%
Kerry 58.3%
Tipperary 59.2%
Sligo-Leitrim 59.38%
See how your constituency – and all the others – voted here.