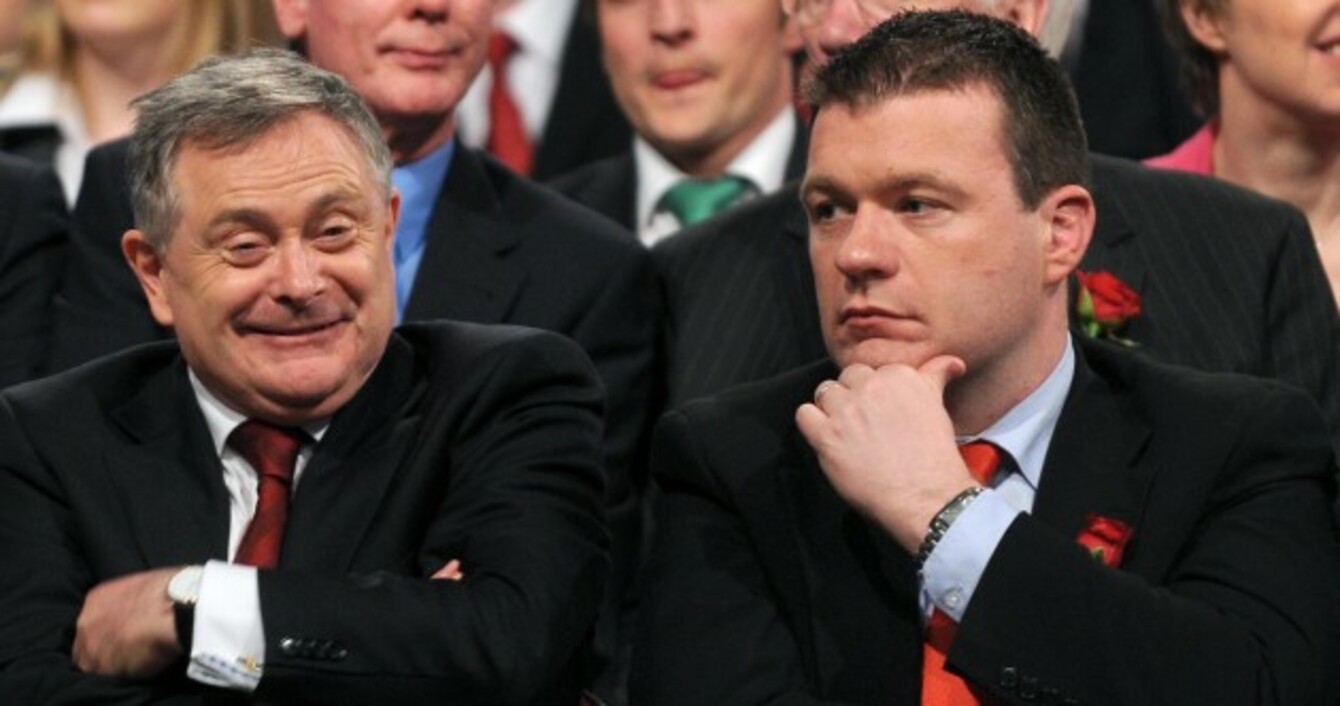 Image: RollingNews.ie
Image: RollingNews.ie
AS THE MEDIA gathered in the library of the Royal College of Physicians today for the Labour leadership announcement, nobody was expecting anything particularly dramatic.
It was well flagged that Labour TDs wanted to back Brendan Howlin for the top job and there would be no national contest.
There would be a standard announcement, Alan Kelly would show some good face and we'd all go home.
What we didn't expect was the conspicuous absence of the deputy leader. By just one of their seven TDs not even turning up, was the party airing its dirty knickers in public?
Nobody had predicted Alan Kelly's royal political snub. He was not at the podium as the small audience waited patiently for the ceremonials to begin.
The process
'Who will be the next Labour leader?' was a question knocking around since before Joan Burton even stepped down.
And today was D day for Alan Kelly who has been trying to woo just one of his Dáil colleagues to be his seconder. As noon approached, the deadline for leadership nominations closed. And the Tipperary man was out of time. 
No consolation points.
The media gathered, pretty safe in the knowledge that Brendan Howlin had clinched it.
How would Alan take it?
Alan Kelly made his ambitions for the leadership known in the full spotlight of the Late Late Show last week, so it would be no surprise that having none of his colleagues willing to back him is bruising to him.
As the Labour Party members filed in one by one, heads turned to catch a glimpse of Alan Kelly.
He was nowhere to be seen.
Howlin said in his acceptance and celebration speech that "Labour doesn't offer theatrics".
However, that was exactly what was on offer today. The elephant in the room was that someone was missing and you can't fudge the numbers or hide in the shadows when there is only a handful of you to begin with.
Howlin missed out on the leadership twice before but Kelly's absence didn't allow him to revel in his new position.
Following Howlin's speech in which he hit out at the new government and the 'left fringes' and promised to reinvigorate the party, questions followed.
"Where is Alan Kelly?" "Have you spoken to Alan today?"
Howlin said he had sent Kelly a message earlier in the morning but got no reply. No one seemed to know where he was.
Many might think Kelly was right to be a no show. Why would you bother to turn up to a group that didn't give you a shot at the leadership or allow the membership to decide its next leader?
His colleagues had nothing but kind words for Kelly, saying they hoped he would remain within the party.
"I know Alan to be a friend and a colleague and a man of great passion and ability," said Howlin.
"Alan will speak for himself."
During his speech, the Wexford TD also said this was "not a game". But did the whole leadership debacle play out like one?
"You said you don't regard this as a game, do you think Alan Kelly does?" TheJournal.ie asked those at the podium.
"No I don't," answered Howlin. He said there were people in the room that gave their whole lives to the Labour cause, and who would defend the Labour Party to the death.
"Are you hurt Alan didn't turn up today?" was the follow-on question.
I am hugely disappointed, but I understand his disappointment too.
Today is not about Alan Kelly, it is not about Brendan Howlin, today is about how we collectively, with the same values advance the system, advance our party…
Today was about Alan Kelly though. He might not have been in the room but the message of Labour having a bond that can't broken was hollow when one of its members clearly didn't feel part of the gang today.
So, was this a case of throwing the toys out of the pram?
The mood today was that his no show would be something Kelly would regret as it might simply reinforce whatever reasons were in people's' minds as to why Kelly might not be ready for leadership.
Labour sources said there was no mood within the party for a contest, others said they would have liked to have their say. One common thread was that Alan Kelly's past was too raw and too recent.
"He was damaged by the Sunday Independent interview for sure," one source claimed.
I think he just needs time, time to distance himself from things. He's plenty of time for the leadership, he only 40, he's only been a TD for five years, there's no rush.
There have been soundings that Kelly is thinking of leaving the party. However, sources say this is doubtful. This afternoon, he took to social media to dampen those reports:
On the Late Late Show, the former Minister for the Environment said he could trace his family in the Labour family for generations. He also spoke of his desire to lead the party. Stepping away now to become an independent TD for Tipperary would be a bitter pill to swallow and there are no leadership contests in that plan.
But then again, maybe Kelly would like to be a lone wolf in the political landscape.
The party remains hopeful today that Kelly – their "good friend" – will return home to them. Howlin said:
Alan Kelly's heart is in the Labour Party – he told the nation that this time last week.
His place is at the heart of the Labour Party. He described his parliamentary colleagues as family, his brothers, his sisters and his cousins . His family is open to him always, I am hopeful and confident in the future and that his roots are still in the party.
Today is a disappointment to him, he wanted a different outcome. All of us have gone through that before, in some shape or form. At the end of the day, the bonds that bind us and the values that combine us together are infinitely stronger…
Before leaving, Howlin said he would be ringing Kelly again this afternoon, then one journalist spotted him looking down at his phone.
He asked if Alan has finally replied to his text. Howlin said it is him and read out the content to the room. It contained best wishes plus a nod to his achievement:
It's a great day for you and your family.
All's fair in love and war, as they say. Is the same true in politics? We'll have to wait and see.