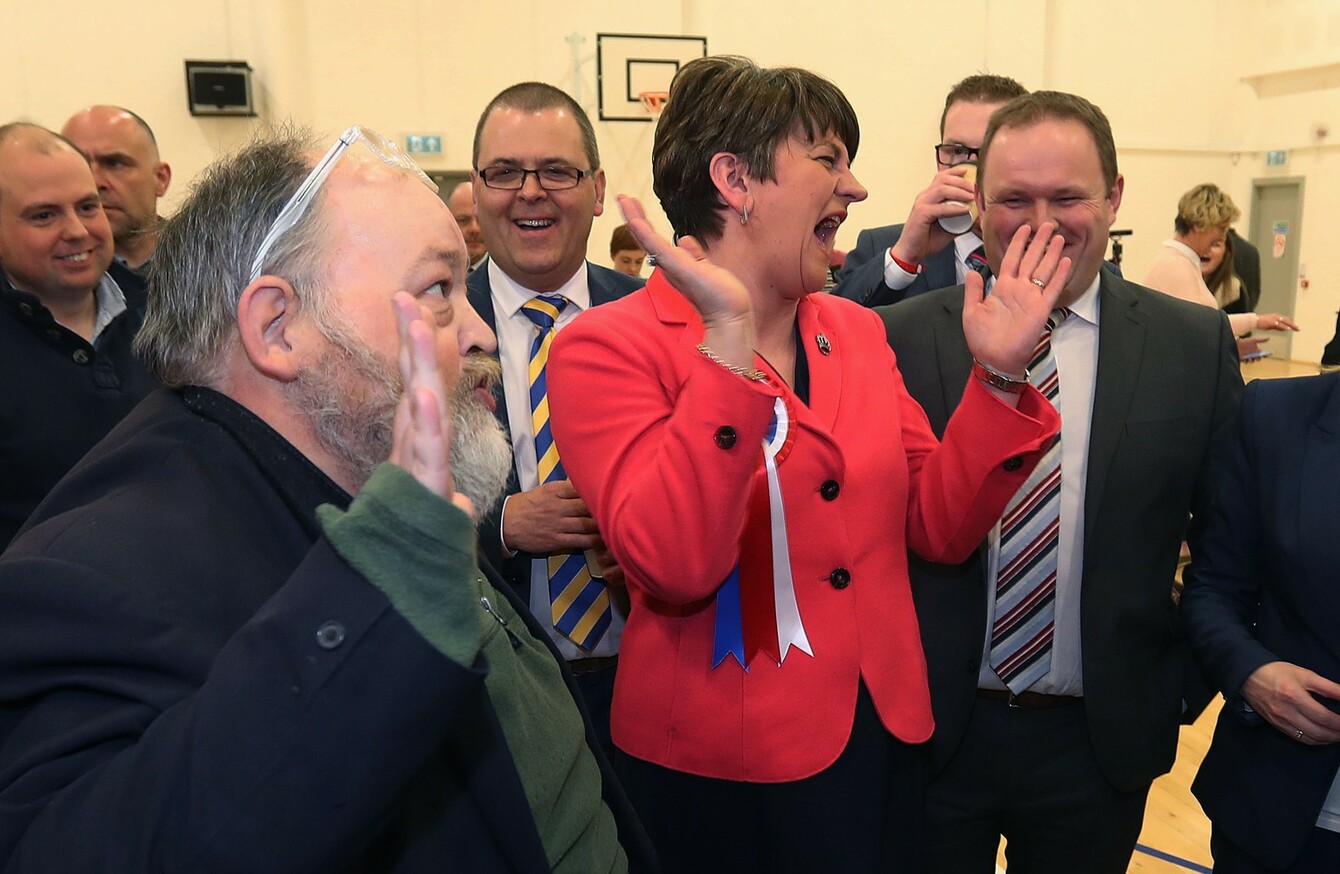 Image: PA Wire/PA Images
Image: PA Wire/PA Images
DUP LEADER ARLENE Foster has claimed that there are no problems within her party despite rumours of revolt within unionist ranks.
There had been a number of reports claiming that senior members within the DUP had had enough of Foster's leadership and that a new leader is what was needed.
Foster has so far refused to step down from an office she took charge of in late 2015. Since that time, she has been at the helm for the cash for ash scandal, which could cost taxpayers in the North over €450 million of their own money.
Foster also led the DUP into unprecedented waters. Following last week's election, unionist parties lost their absolute majority for the first time since partition in 1921.
But speaking to reporters today, Foster said there was no problem and there was certainly no revolt.
"There is no revolt. I've had a very good meeting today with my party officers. I'll meet with my full Assembly team tomorrow morning and talk to a lot of my other colleagues as well. So there's no problem, no problem at all," she said.
The DUP won 28 seats in the election while Sinn Fein garnered 27 seats in the 90-seat assembly.
The Social Democratic and Labour Party (SDLP), a nationalist party, won 12 seats; the Ulster Unionist Party (UUP) won 10; the cross-community Alliance Party took eight; and others won five.
Sinn Féin has said the party won't work the DUP if Arlene Foster is nominated to retain her position as First Minister.
The snap election was triggered in January when Sinn Féin's Martin McGuinness resigned as Deputy First Minister over the long-running cash for ash scandal.
Senior DUP sources have told the Belfast Telegraph Foster should consider her role and not put pride before what is best for "the party and the people of Northern Ireland".
Speaking to RTÉ's News at One, Sinn Féin president Gerry Adams said of the RHI controversy, "Arlene is not acceptable as First Minister until this matter is cleared up."
He said Sinn Féin is not calling for her to step down as DUP leader, saying this is a matter for her and her party.
With reporting by AFP