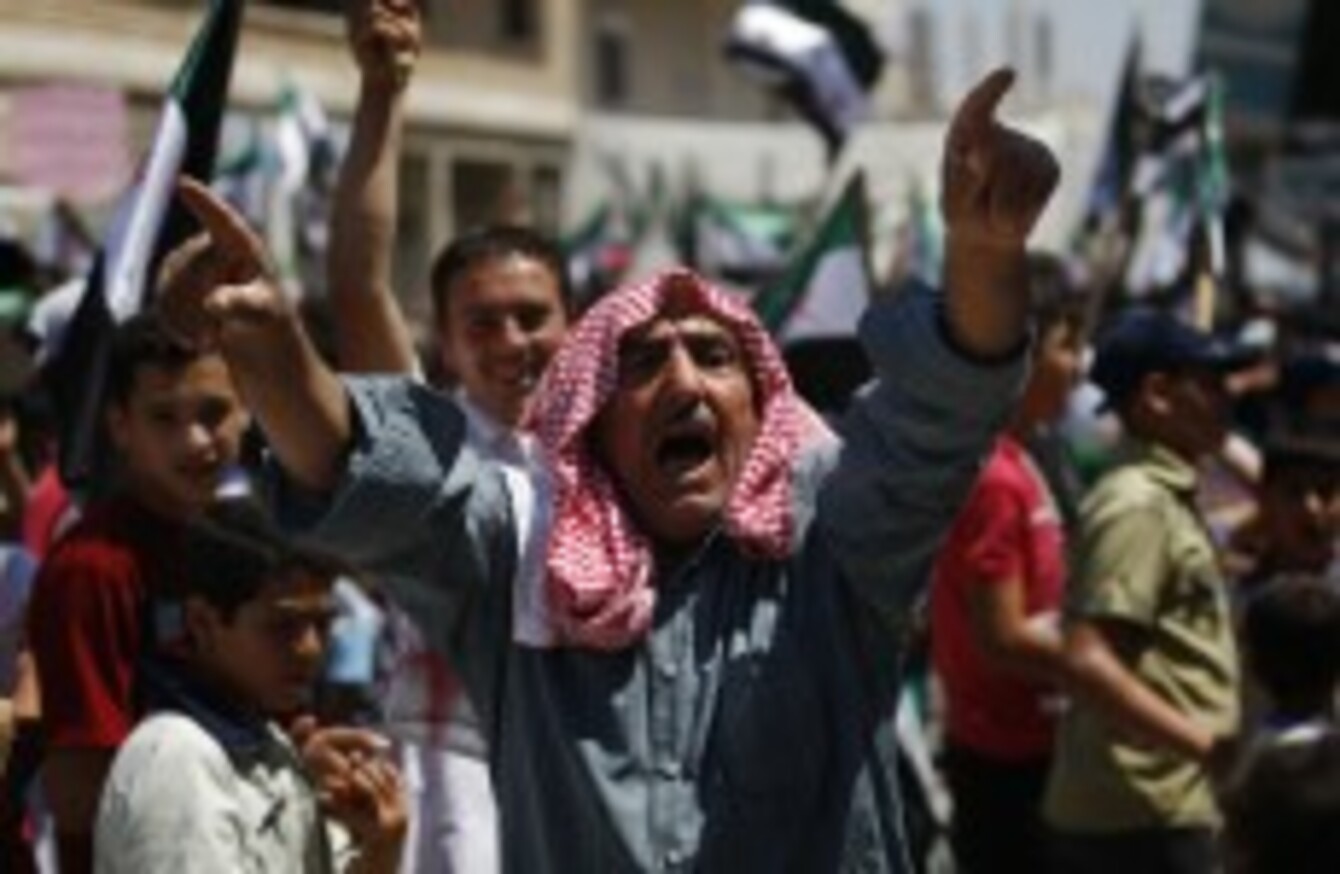 A protester chants slogans at an anti-regime rally in Idlib, northern Syria
Image: Anonymous/AP/Press Association Images
A protester chants slogans at an anti-regime rally in Idlib, northern Syria
Image: Anonymous/AP/Press Association Images
SYRIAN TROOPS SHELLED the southern city of Deraa early this morning, killing at least 15 people, activists said.
In Damascus, residents spoke about a night of shooting and explosions in the worst violence Syria's capital has seen since the uprising against President Bashar Assad's regime began 15 months ago.
The latest escalations in different parts of Syria are another blow to international envoy Kofi Annan's peace plan, which aims to end the country's bloodletting. Annan brokered a cease-fire that went into effect on April 12 but has since been violated hundreds of times and never properly took hold.
Yesterday a UN team visited the village of Mazraat al-Qubair, where nearly 80 men, women and children were reportedly massacred.
Observers could smell the stench of burned corpses Friday and saw body parts scattered around. The scene held evidence of a "horrific crime," a UN spokeswoman said.
A BBC correspondent traveling with the UN observers described the hamlet as an "appalling scene" of burned-out houses and gore.
Horrific scene
"There are pieces of human flesh lying around the room, there is a big pile of congealed blood in the corner, there's a tablecloth that still has the pieces of someone's brain attached to the side of it," said the correspondent, Paul Danahar.
"They killed the people, they killed the livestock, they left nothing in the village alive," he added.
The UN said several weeks ago that at least 9,000 people have been killed since the crisis began in March last year while Syrian activists say the violence has claimed the lives of more than 13,000 people.
Damascus resident and activist Maath al-Shami said clashes between rebels and troops in the city's neighborhoods of Qaboun and Barzeh lasted until about 1.30am Saturday.
On Friday, government troops clashed with rebels from the Free Syrian Army in Damascus' Kfar Souseh district in some of the worst fighting yet in the capital. The clashes were a clear sign that the ragtag group has succeeded in taking its fight to the regime's base of power.