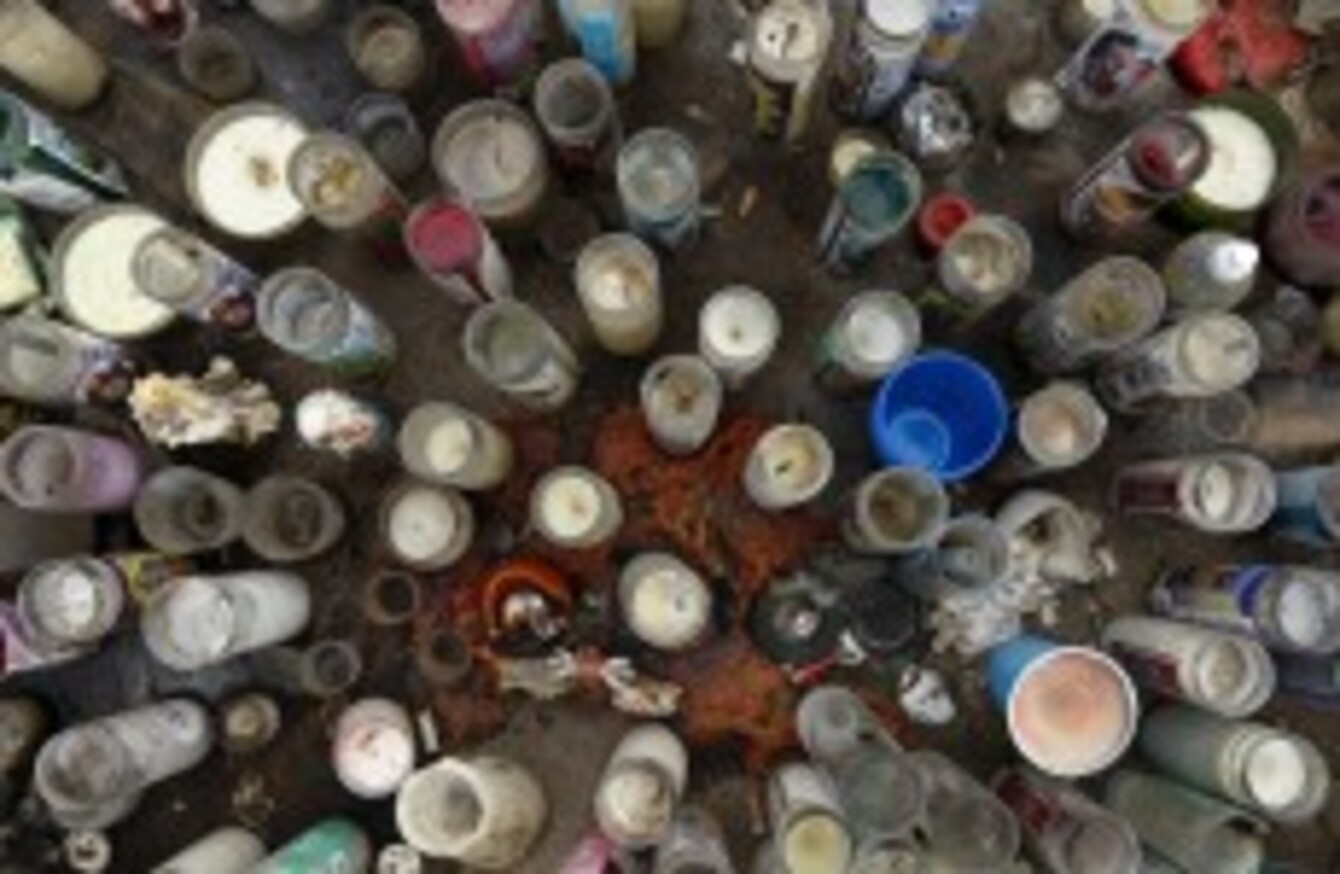 Candles cover the sidewalk at a memorial across from the theatre in Aurora, Colorado where 12 people were killed last month.
Image: Alex Brandon/AP/Press Association Images
Candles cover the sidewalk at a memorial across from the theatre in Aurora, Colorado where 12 people were killed last month.
Image: Alex Brandon/AP/Press Association Images
THE RECENT DEVASTATING shooting at a screening of the new Batman film in Colorado has brought the issue of mass shootings and the reasons behind what drives someone to carry out such atrocities into focus.
In the hours and days that followed the events of 20 July there were thousands of words written and hours of airtime given to trying to explain just what drove the alleged shooter, James Holmes, to carry out the actions which left 12 dead, dozens injured and a community as confused and angered as it was traumatised.
Many looked for a moment or an event in his past that may have been some sort of motive for doing what he is alleged to have done. There is rarely a simple answer to the question or questions about why people commit mass shootings, there is rarely any answers at all but that doesn't stop people attempting to find them.
This can lead to the creation of many myths surrounding mass shootings and many attempts to find a theme or thread that is common to each one.
In a recent Washington Post piece Jeff Kass, a former reporter for the Rocky Mountain News and the author of Columbine: A True Crime Story, wrote about five such myths about mass shootings and attempted to debunk them. They were:
The idea that shooters are insane
That cutting down on illegal gun sales would help reduce incidents of mass shootings
A loved one should have seen it coming
Communities come together after mass shootings
It can happen anywhere
The article is worth a read on its own but before you do that consider what Kass told TheJournal.ie in an interview this week when asked to explain his first point: "There is a differences between what's insane under the law or what may be classed as crazy or mentally ill by a psychologist.
"Dylan Klebold (one of the Columbine shooters) was depressed, that's what most psychologists say. Which is problematic but that's what they generally agree on. If he had survived and gone to trial he could not have claimed an insanity defence."
But what about his accomplice in one of the most notorious and devastating high school shootings in US history in which Klebold and Eric Harris killed 13 and injured 24 in 1999 before taking their own lives?
Harris kept a much-publicised journal in the year leading up to the shooting which outlined much of what he was planning to do with Klebold. This diary "was hate-hate-hate all the way through", wrote Dave Cullen, the author of Columbine, in the New York Times recently.
He added: "Of the tiny fraction of people who commit mass murder, most are not psychopaths like Eric Harris or deeply mentally ill like Seung-Hui Cho at Virginia Tech. Far more often, they are suicidal and deeply depressed."
As Kass mentioned, Klebold was depressed, we know also that Seung- Hui Cho was found mentally ill in 2005, less than two years before he carried out the deadliest shooting by a single gunman in US history when killed 32 people and wounded 17 at Virginia Tech in 2007. While there are indications in the case of Holmes that he had been seeing a psychiatrist and that authorities at the University of Colorado had been notified about his behaviour a month before the shootings and just before he dropped out.
So if it is the case that more often than not mass shooters or alleged mass shooters are depressed. Then what can be done to stop such heinous crimes happening or at least reduce the number of times they happen?
Mental health
Psychologist Dr Paul Wong, who is based in Toronto and recently organised a conference on the meaning behind mass shootings, identified mental health as a key issue and a problem that needs to be addressed: "Here in Canada and everywhere mental health services focus on treatment rather than prevention.
"So the issue is to identify and help these people. We often focus on an event happening and then try to fix it when something happens, but if there is help to identify people in trouble and help them in early stages it is less likely there will be incidents like these," he told TheJournal.ie.
"In the Virgina Tech case, he had mental health problems but they did not focus on them effectively. If they had better systems to detect emotional problems, we might be able to prevent many of the tragedies that occur."
But there are no immediately and easily identifiable signs that tell us the characteristics most likely to be found in someone who commits or is likely to commit a mass shooting. The idea that loved ones can spot in their nearest and dearest some sort of telltale signs is, to some, fanciful.
Kass says: "I don't think you can have a checklist and go down the checklist and talk to somebody and say: 'Well he did this, this and this he or she is definitely  going to commit a mass shooting'. We're dealing with people, human psychology, it's not hard and fast statistics like we would wish."
So if we're talking about human psychology what then does the psychologist, Dr Wong, think?
He takes it back to whole issue of the meaning of life itself: "That was part of our recent conference, trying to define what is the meaning of life but that takes quite a bit of time!" he admits.
But for Dr Wong exploring the meaning of life is about examining whether people should be pursuing success or happiness in life.
Vengeance and youth
If we take the case of Holmes and his personal pursuit of success: He had recently dropped out of medical school, a failure to some and perhaps to himself. Did this lack of success in anyway impact of on what he is alleged to have done?
In other cases did the pursuit of happiness and failure to achieve it have any bearing on other mass shooters' decisions? How, for example, was Harris and Klebold's respective pursuits of happiness affected by situations where they found themselves ostracised or bullied?
Kass, whose expertise is on the Columbine shooting in particular, points out: "Some people claim now that the Columbine shooters were not bullied but there are plenty of accounts that say they were bullied. It may not have been the primary factor but it appears to have happened."
If there is failure in the pursuit of success or happiness then perhaps there is something to be said for the idea of revenge.
"I think generally speaking there is the motive of vengeance. If there is one motive from everything I've read and studied, what I feel is the most common or the most common I've seen is vengeance – to get revenge," Kass sums-up.
So if revenge is a common thread in mass shootings are there any others? It probably won't have escaped your notice that most perpetrators of mass shootings are males, many of them young men or even boys. Does this mean anything?
Dr Wong says: "Adolescents do not have maturity or wisdom to handle personal failure. My personal research is that aggression is a very primitive response, aggression is the most primitive way to cope."
Gun culture
Finally, if we move away from the characteristics of a shooter or would-be shooter. Is there anything else to consider?
Kass' Washington Post piece refers to the myth of cracking down on illegal sales means cracking down on a cause of mass shootings. Not true.
Weapons, particularly dangerous ones, are legally bought and sold in the United States. The bigger argument, the one raised by the centrist mayor of New York Michael Bloomberg, is that there should be a debate about gun laws and gun possession in the US.
Bloomberg told a local radio station recently: "You know soothing words are nice but maybe it's time that the two people who want to be President of the United States stand up and tell us what they're going to do about it.
"Because this is obviously a problem across the country and everybody always says: 'Isn't it tragic' and we look for was this guy trying to recreate Batman… there are so many murders with guns every day, it's just got to stop.
"No matter where you stand on the second amendment, no matter where you stand on guns we have a right to hear from both of them (Obama and Romney) conceretly, specifically what are they going to do about guns?"
To date, neither have responded to Mayor Bloomberg's request.