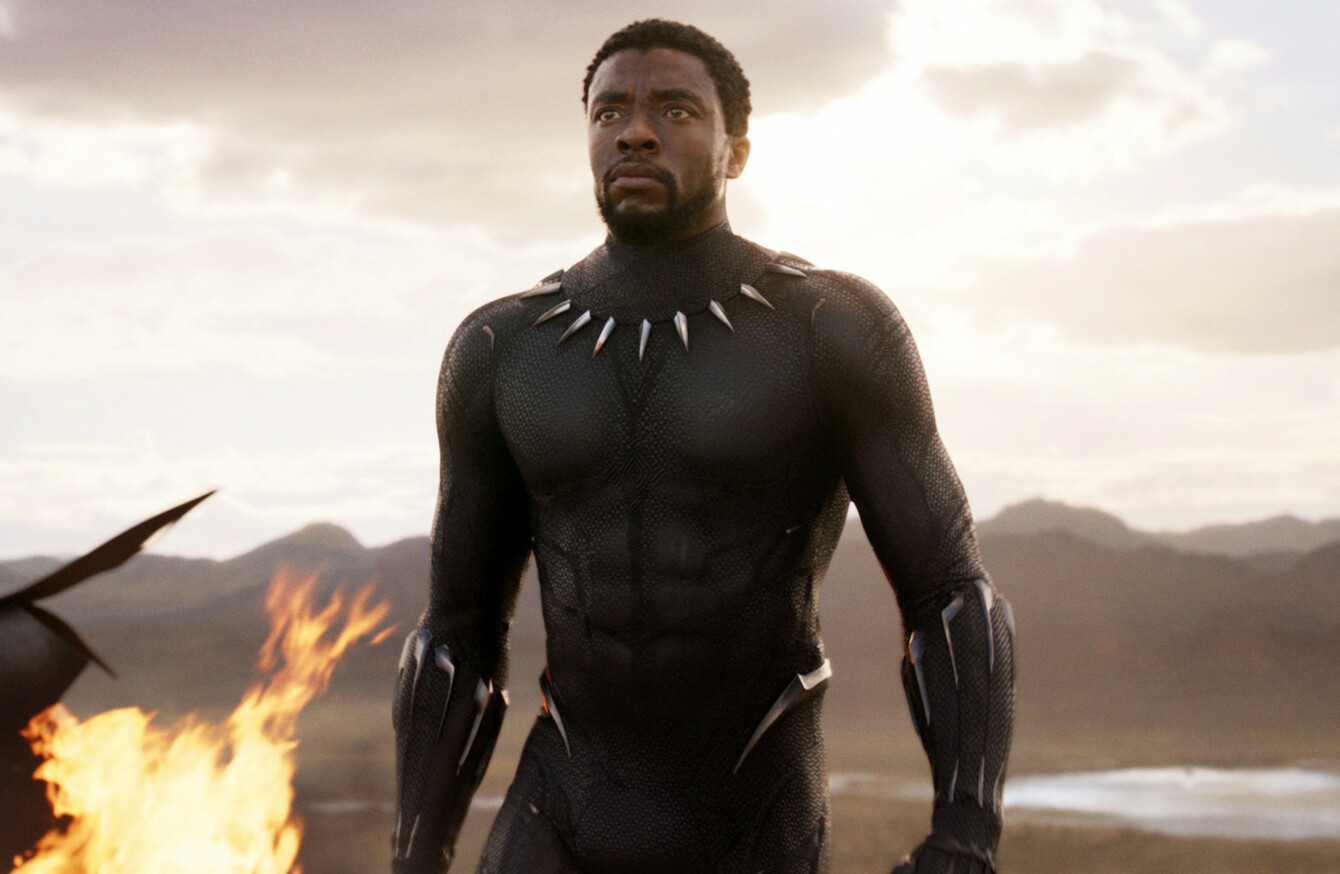 Image: AP
Image: AP
DISNEY AND MARVEL'S Black Panther movie has earned over $1 billion at the box office – a huge coup for a film that's been at the number one spot at the US box office for four weekends in a row.
It's number one at the Irish box office too. According to the Irish Film Board's latest figures, it has earned €2,354,421  in Ireland over four weeks, and is being shown in 70 locations.
It overtook Lady Bird last weekend, having held the spot below it the previous weekend.
AP says that Black Panther has earned $561.7 million domestically (in the US) and over $1 billion worldwide, and last weekend beat out Disney's newest film, A Wrinkle in Time, which debuted in second place with $33.1 million. The Ava DuVernay directed film cost just over $100 million to produce.
The Marvel and Disney phenomenon of Black Panther became the seventh-highest grossing domestic release with $562 million. Not accounting for inflation, it's now passed The Dark Knight.
It's currently the 21st-highest grossing film ever. The highest-grossing film list is topped by Avatar, followed by Titanic and Star Wars: The Force Awakens, all of which earned over $2 billion.
One of the keys to Black Panther's success is how it puts people of colour front and centre in an industry where the battle for representation continues. Set in the fictional African country of Wakanda, it explores what would happen if a country wasn't colonised. Elements of different African cultures and tribal cultures are incorporated into the look and plot of the film.
Directed by Ryan Coogler, it has a 97% rating on RottenTomatoes.com, and has received a slew of positive reviews. The Verge called it "the grown-up Marvel movie we've been waiting for", while the New York Times said that "in its emphasis on black imagination, creation and liberation, the movie becomes an emblem of a past that was denied and a future that feels very present".
'Win all around'
"When you think about having two films at the top of the box office, it's definitely a win all around," said Disney's worldwide theatrical distribution president Dave Hollis earlier this week.
We're feeling good about this start … We're feeling good about what, for us, is a little family competition between now and (the Easter holiday).
Hollis said he doesn't think the studio would have done anything differently regarding Wrinkle's release had they known the scope and longevity of Black Panther's prospects.
"There's always going to be competition in the marketplace," he said. "With a tentpole strategy like ours, four weeks of separation is about what we can expect."
Still, Black Panther has devoured the marketplace for a month straight now, leaving all other newcomers in the dust.
But even though Black Panther has helped boost the year to date box office significantly, it's also proving to be a continued challenge for any other wide release hoping for a piece of the market.
"Every movie that has opened in the wake of Black Panther has had its work cut out for it," comScore senior media analyst Paul Dergarabedian told AP. "We keep underestimating this film and it just shows no sign of slowing down."
- Additional reporting Aoife Barry