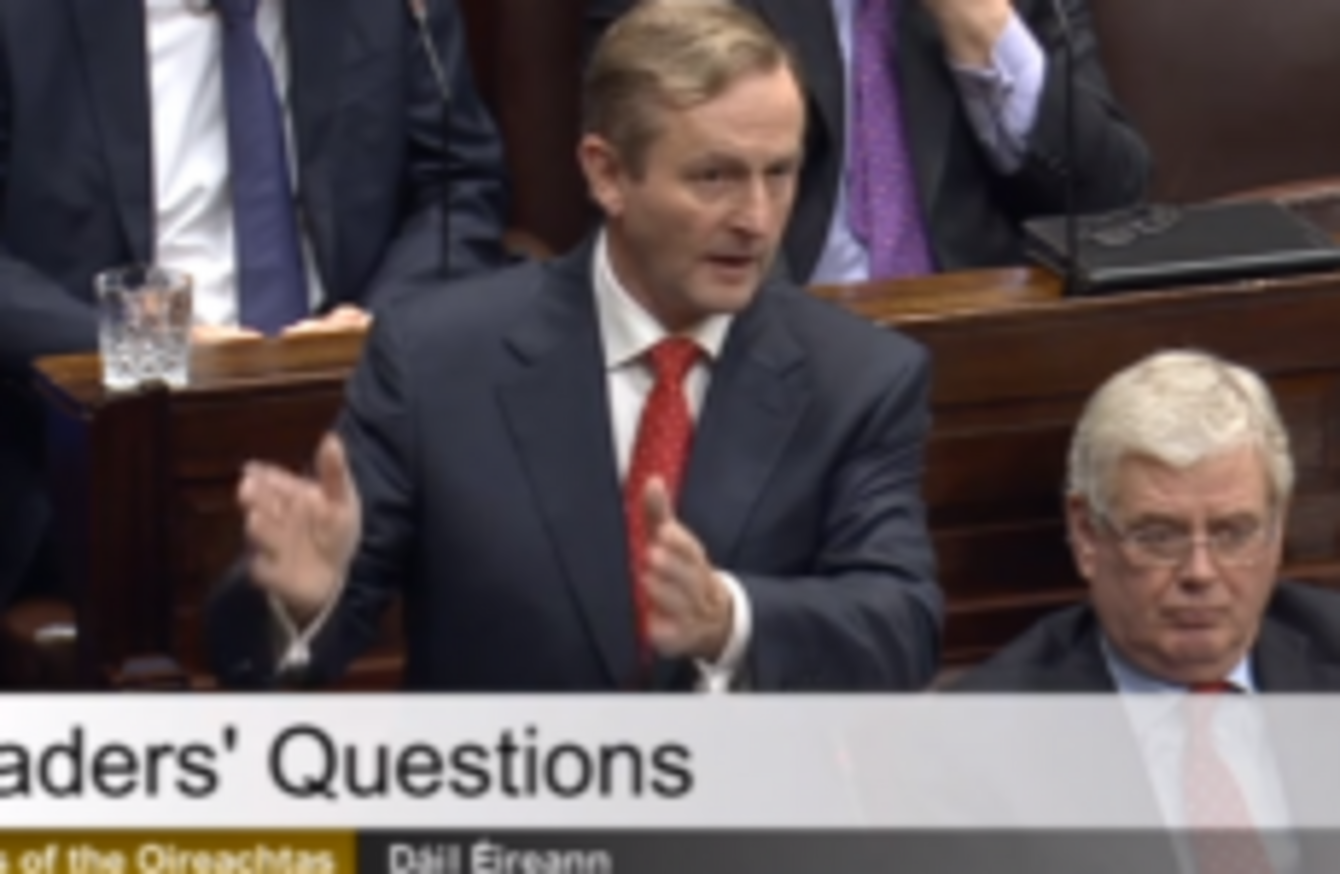 The Taoiseach in the Dáil this morning
Image: Screengrab
The Taoiseach in the Dáil this morning
Image: Screengrab
THERE WERE TENSE and angry exchanges in the Dáil this morning as Taoiseach Enda Kenny fielded questions on Budget cuts that impacted the elderly and young people.
Kenny insisted that the measures announced yesterday have ensured that the elderly have been protected "in a number of ways".
However Fianna Fail leader Micheál Martin said that the abolition of the telephone allowance, the withdrawal of 35,000 medical cards from people over 70, and the abolition of the bereavement grant, among other things, amount to a "savage attack and targeting of older people".
"What did the older people of Ireland ever do to you to deserve this kind of treatment?" Martin asked the Taoiseach.
On the proposal to clawback €113 million in medical cards savings, Kenny insisted that there has been no change in the criteria for medical cards, but said that some cards are redundant "in the sense that people's incomes have changed".
Kenny told Martin: "It's important to check those [medical card] lists are accurate and to see how many cards that have been issued are still viable."
Accusing Martin of "opportunistic blather" Kenny insisted that core social welfare rates have been maintained and claimed that Fianna Fail's four-year-plan when it was in government "intended to cut €1.5 billion from social services".
Dole cut
Sinn Féin's Mary Lou McDonald and independent TD Stephen Donnelly both raised the cut in dole payments to young unemployed people. McDonald said that the government had decided that "the youth of Ireland carry the can".
"Emigration is now the official policy for young people coming from this government," she told the Taoiseach.
Kenny responded angrily saying that 65 per cent of people on the JobBridge scheme go onto employment and slammed McDonald, saying: "If you think that's a mickey mouse operation then go and speak to those people."
Donnelly said that the Tánaiste Eamon Gilmore had engaged in "double speak worthy of George Orwell" when he said that the changes were not a cut but were "extending the lower rates to young people".
He claimed it is "a human rights issue" akin to cutting welfare for women or people of a different race.
Kenny responded that the opposition parties wanted to "confine" young people "to the dole queues for the rest of their lives".
He added: "This country always beat adversity by being practical about working our way out of it."