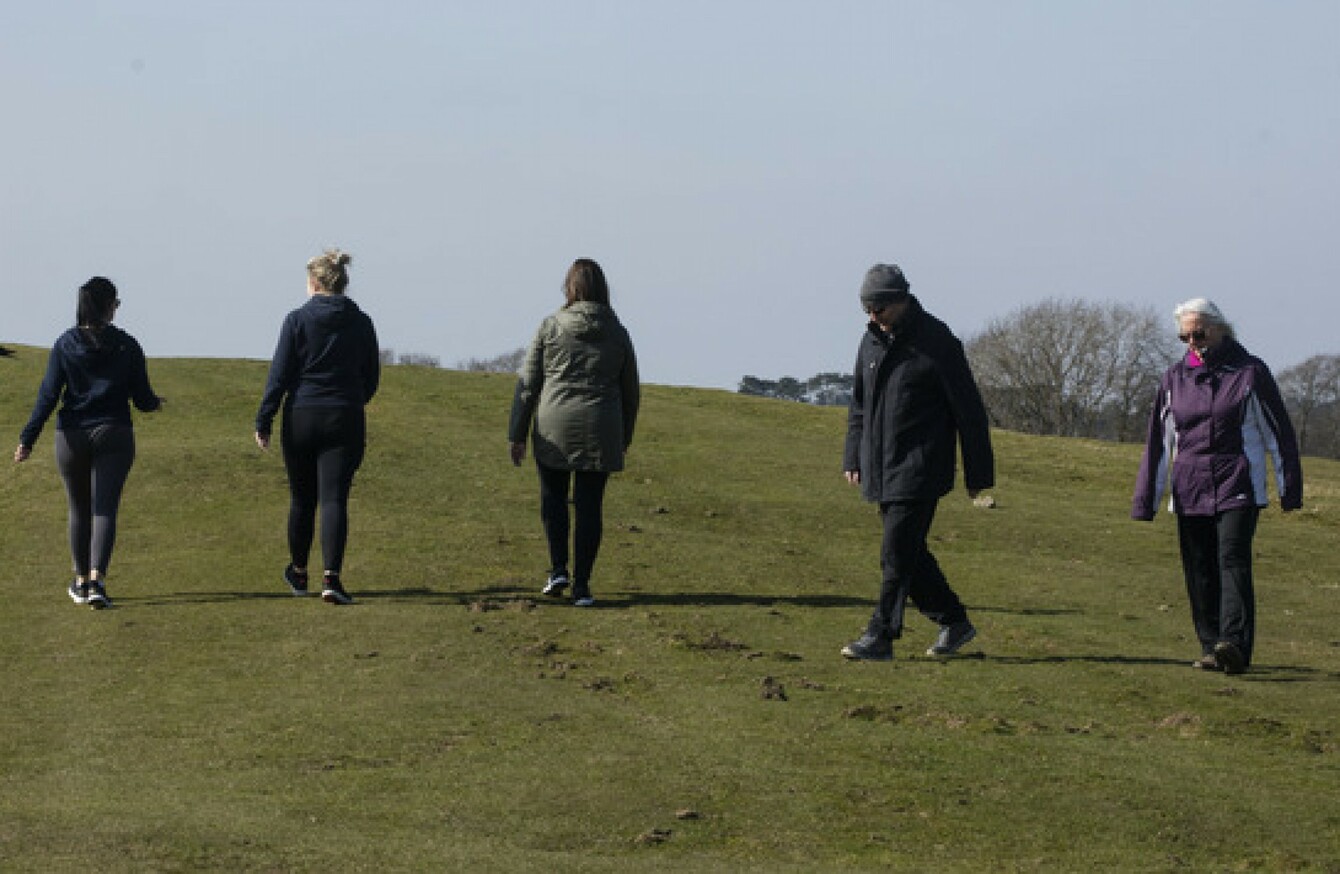 People out walking at the Curragh, Co Kildare.
Image: RollingnNews.ie
People out walking at the Curragh, Co Kildare.
Image: RollingnNews.ie
Updated Mar 23rd 2020, 4:35 PM
CHIEF MEDICAL OFFICER Dr Tony Holohan has said it is "vital" that people comply with public health advice and social distancing as the country works to contain the spread of coronavirus. 
Dr Holohan was speaking yesterday evening after a fourth death from Covid-19 was confirmed in Ireland. A further 121 people were confirmed to have contracted coronavirus bringing the total number of cases in the Republic to 906. 
It comes as gardaí and emergency services this weekend stressed the importance of social distancing and warned people about congregating in large groups. 
Speaking this morning, Health Minister Simon Harris said he'd been informed that recently confirmed Covid-19 cases had "fewer close contacts" than previously diagnosed cases.  
Internationally, New Zealand is preparing for a total lockdown later this week as Japan's prime minister warns that a delay in hosting the Olympics may be "inevitable". 
Here are today's main Covid-19 points:
The Department of Health yesterday confirmed 121 new cases of Covid-19 in the Republic of Ireland, and said a fourth person had died from the virus in Ireland.
Another briefing by the Department of Health will take place at 5.45 pm today. 
Taoiseach Leo Varadkar has expressed concern about people in public spaces but downplayed the idea of a complete lockdown in the country. 
McDonald's announced that it is to close all of its restaurants across the UK and Ireland for an indefinite period as a response to the coronavirus crisis. The Irish Farmers' Association described the measure as a "big blow" to the Irish beef sector.
Supermacs, Starbucks, Subway and Krispy Kreme have also announced they are to all to close their doors. 
The representative body for Ireland's main banks has apologised for confusion in relation to the Covid-19 mortgage break, as customers report being told by bank staff that they do not qualify.
Speaking this morning, Health Minister Simon Harris said new cases of Covid-19 have "fewer close contacts" than before which shows people are making an effort in social distancing.
Harris also said that the government has asked the Chief Medical Officer if further social distancing recommendations are needed.
Varadkar, meanwhile, said the government aims to have new emergency legislation in place by the weekend and refused to comment on whether any government ministers had been tested for Covid-19 saying it was confidential.
He also dismissed Sinn Fein leader Mary Lou McDonald's suggestion that the government use part of the €15 billion paid back by Apple in corporation tax. The money is being held in an escrow account while the EU courts decide who the money belongs to. "It's not ours to take," said Varadkar. "She should know better than coming out with that kind of rubbish."
There have been more than 60,000 applications for the HSE's Be On Call For Ireland initiative.
University College Cork is to provide a course to aid nurses address the needs of patients presenting with Covid-19.
The Irish Naturalisation and Immigration Service on Burgh Quay in Dublin has  temporarily closed its doors due to the coronavirus outbreak meaning all appointments will now move online. 
Smaller businesses in Dublin city are being encouraged to contact their council about deferring rates payments and restructuring payment plans. 
Footfall in Dublin city dropped by 65.8% between last Monday and yesterday according to new data from Dublin Town.
Post and parcels will be delivered later from today for some customers as An Post staggers starting times for its postal delivery workers to enforce social distancing.  
Aer Lingus' regional carrier Stobart Air will stop flights to Scotland due to what has been described as an "unprecedented" drop in demand as a result of the outbreak.
Student nurses will today begin their unpaid work placements amidst the outbreak that is putting unprecedented spotlight and pressure on our health services.
Health officials confirmed that every county in Ireland now has at least one case of coronavirus. Here's a breakdown of the number of cases in each county. 
President Michael D Higgins has addressed Irish people living in the UK and urged people to sociall distance. "I would appeal to those who have found these measures difficult to simply begin again during this crucial week and to go further," he said.  
On the international front: