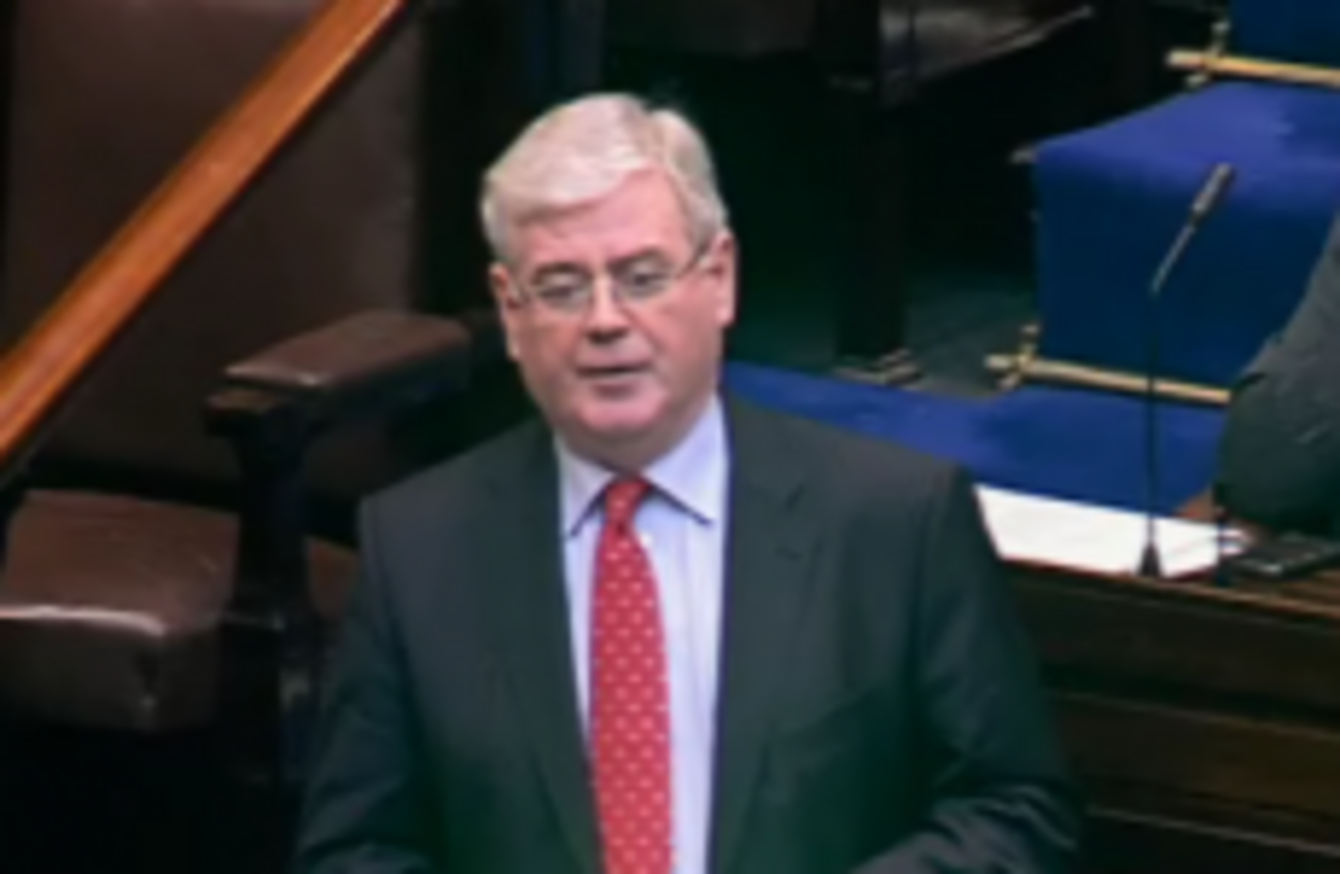 EAMON GILMORE has called for "calm, reasoned, reasonable reflection" on the rejection of the Croke Park 2 pay deal – but has refused to affirm whether the government still plans to introduce legislation cutting public pay as a result.
The Tánaiste said the proposals that had been put to workers were "fair and reasonable" and that their rejection did not change "the reality that the savings still need to be made".
"What we now have to do, is we have to reflect on the decision that has been made," Gilmore told the Dáil. "We have to get a clear message from the trade union movement about the reasons for the rejection of the ballot."
"This is a time for calm, reasoned, reasonable reflection on the outcome of the ballot, and that's what we're going to do," he said.
He was responding to Sinn Féin's Caoimhghín Ó Caoláin, who said Gilmore had taken the same evasive stance as Enda Kenny in failing to tell workers whether the promised legislation – to cut €300 million in payroll costs this year, and €1 billion by 2015 – would be coming.
Ó Caoláin asked for assurances that "no deputy of any party in will be asked to vote in this House for a Bill which would further punish low to middle income, lower public sector workers, who have already taken lower pay cuts," he said.
"Deputy Ó Caoláin, you give the Sinn Féin game away too easily," Gilmore said. "Sinn Féin wants to play politics with this, and you've been wanting to play politics with this from the very beginning," he said.
"Your spokespersons were out condemning the deal before your spokespersons had even read it."
He added:
This is not the first time that an offer on pay, or a proposed agreement, has been rejected by trade union members. What happens, when that happens, is that the trade unions concerned talk to the employer – in this case the government – about the ballot, to discuss what are the reasons involved.
The technical group's Clare Daly said the rejection of Croke Park 2 was a "shot in the arm" for vulnerable groups who had already been targeted by Labour.
#Open journalism No news is bad news Support The Journal

Your contributions will help us continue to deliver the stories that are important to you

Support us now
"The problem is you can try to tell the fairytale of Eamon in Wonderland, about how it's possible to magic out and squeeze," she said, asking whether Gilmore and Brendan Howlin would soon be joining Fine Gael.
"The difference between you and I," Gilmore retorted in response, "is that you shout slogans at [the problem], and I work in Government to try and solve it."
Fianna Fáil's Micheál Martin had earlier said the Government's purported progress on cutting hospital waiting lists was untrue, in that the overall number of people waiting for hospital treatment was increasing.
Gilmore said the median waiting time for most hospital procedures had been reduced, and quipped that if health minister James Reilly needed advice on running the health service, he would not be approaching Micheál Martin, who himself had created the HSE.