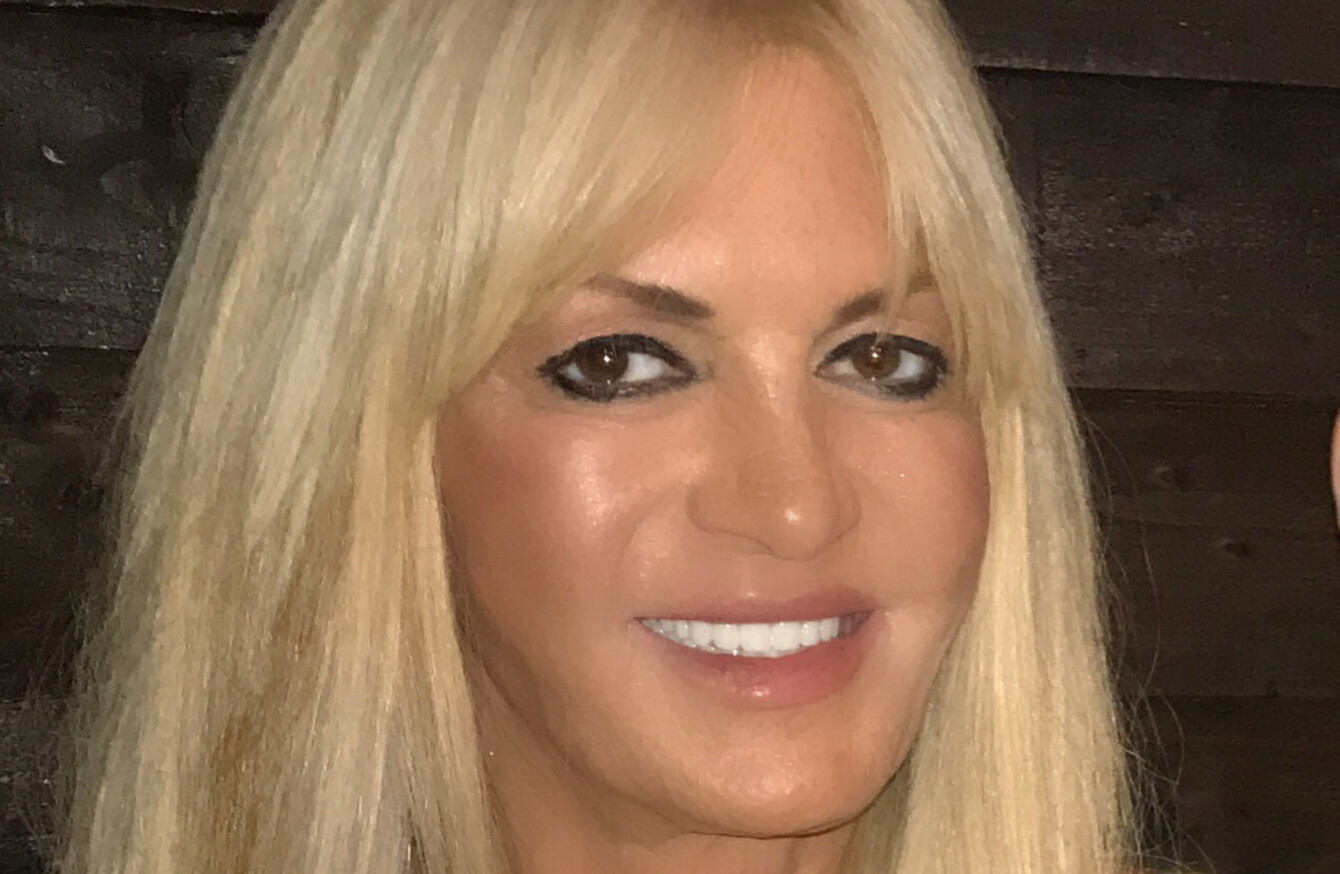 Rebecca De Hallavand
Rebecca De Hallavand
"WOMEN WITH HIV are treated differently. I'm afraid it's still very much a man's world in terms of things like that."
A total of 1,747 females have been diagnosed with HIV in Ireland between the years of 2003 and 2016. Most of these women live in fear, hopelessness and isolation, afraid to tell their loved ones of their diagnosis as a result of the stigma surrounding women and HIV.
One woman has decided to share her story.
59-year-old Rebecca De Havalland, born in Longford and raised in Dublin, rose to fame in the UK in the 1980s as a successful model agent. She had a career that was on an upward spiral. However, she had two secrets that would soon drastically impact her future – being a transgender woman and a HIV diagnosis.
Rebecca was assigned male at birth. In the late 1980s, she began to seek gender reassignment surgery. Her decision to transition was soon outed by the British press, and she said her career began to crumble as a result.
"I was having my sex change and I was called a freak and every other thing you can think of. I lost my career over that, it played a big part of me losing everything," she told TheJournal.ie. 

During the process of finding out whether she was eligible for gender reassignment surgery, Rebecca had to take a HIV test, which she thought nothing of at the time.
Her results came back positive. Rebecca was diagnosed with HIV. Her surgery was on hold and she briefly returned to Ireland.
"When I did find out that I had HIV, I was told I had two years to live. It was suggested that I talk to my nearest and dearest, so I did go to my family and I told them about it. It just made them numb, it all sounded fantastically horrible," she said.
"Being Irish and coming from Ireland, we were in denial about a lot of things."
Rebecca moved back to London in the early 1990s. Medication had been placed on the market which made HIV undetectable within those with the virus.
A person living with HIV is considered to have an undetectable viral count when the medication taken has brought the level of HIV in their body to such a low level that it cannot be detected in a blood test.
Her new undetectable status allowed her to become eligible for surgery. However, she struggled to find work and found it difficult to raise the necessary funds to cover medical costs.
"I started escort work. It was pretty tough because I had to raise the money for my operation, which at the time was nearly £8,000. It went from that to me being a heroin addict, crack cocaine, alcohol, everything," she said.
Road to surgery
Rebecca eventually raised the sufficient funds for her surgery in 1989, at the age of 31. However, her doctors informed her that she may not survive it because she was more susceptible to infections due to being HIV-positive.
"I still wanted my operation to continue even if I did die. Obviously, I didn't. You would think everything would be ok once that was done but it wasn't. It was to get worse," she said.
Although Rebecca was now openly transgender and finally felt comfortable in her own skin, she still felt too stigmatised, as a woman, to reveal her HIV diagnosis to the world.
"I think the stigma attached to HIV is quite severe and even more severe for a woman because sometimes even when a woman is carrying a condom in a bag she can be called a slut. I think that women are definitely treated differently. I'm afraid it's very much a man's world in terms of things like that," Rebecca said.

"Women are looked upon as if they're easy or they're sluts or that they've been sleeping around," she said.
Last week, the Terrence Higgins Trust (THT) in the UK released findings on women living with HIV in Britain.
It found that 42% have had mental health diagnoses since their HIV diagnosis, 45% are living below the poverty line, 54% said their HIV has affected their sex lives and 42% said their diagnosis impacted whether to have children.
One-third of UK women with HIV had no one to turn to for support straight after their diagnosis.
THT is the UK's leading HIV and sexual health charity, offering support, information and advice services for those living with HIV and affected by HIV or poor sexual health.
Finding acceptance 
Moving onto the noughties, Rebecca continued to live in silence with regards to her diagnosis. However, everything else was looking bright. She continued to take her medication which made her HIV undetectable, and she said she had built up her career again.
"People had accepted me as Rebecca but I just went into this denial thing with my HIV," she said.
Only Rebecca's immediate family and a select number of close friends were aware of her diagnosis. That changed when she returned to Ireland in 2013. Her HIV medication, which was unavailable in Ireland at the time, ran out. Her HIV was no longer undetectable and she began to fall ill.
"I got pneumonia and I knew in my own heart that I was getting ill. I was getting extremely thin and my hair was falling out. I got thrush in my throat and I couldn't swallow food," Rebecca said.
Rebecca was admitted to St James' Hospital Dublin, where they treat people with HIV.
#Open journalism No news is bad news Support The Journal

Your contributions will help us continue to deliver the stories that are important to you

Support us now
"I was in an awful place. I couldn't swallow tablets and then they discovered that they didn't have the medication I needed. I was told that if I couldn't take the medication I was dying, there were no two ways about it," she said.
I remember going home and talking to my friends that did know. We were arranging a funeral. I thought I couldn't have gone through all of this for it to end like this.
In a last-ditch attempt to recover, Rebecca returned to London, where she is still based today, to seek treatment. She was placed on a clinical trial and she began to improve. By December 2015, her HIV was undetectable again.
"I was so relieved. I thought to myself that through those 18 months, the only person I was damaging about not talking about HIV was myself.
I had nearly died a couple of times because I was in denial about HIV. I made the decision to come out of the shadows and talk about it.
Taking the first step into accepting being HIV-positive, almost 30 years after being diagnosed, Rebecca touched base with the Terrence Higgins Trust. She joined a back to work programme for people living with HIV – Work Positive – which includes mentoring, training and a work placement, and from there got involved in public speaking at schools.
"I decided I really had to talk to my whole family and come clean with all of them, and I did. They were really proud of me," she said.
"I decided to give my first talk and I walked out of the classroom and I felt like I was on a natural high. It was the first time I had spoken about it out loud. Since then, I have spoken in many schools and I found my own voice."
Over the years, before opening up about her HIV diagnosis, Rebecca appeared on an episode of the RTÉ Would You Believe documentary, and published an autobiography, His Name is Rebecca.
'I understand why women aren't speaking out'
Reflecting on her journey to date, as a transgender woman with HIV, she said it is understandable why herself and other HIV-positive women haven't spoken out.
"It's quite sad, I understand why women aren't speaking out, because even me speaking now, people reading this, people who know me… it will change their opinion of me," Rebecca said.
Speaking directly to other women with HIV who are living in silence, she said: "It's very hard for anyone else to comprehend what you're going through or your isolation. I would say that there's got to be someone in their family that they can really trust and start there. I would get in touch with a HIV clinic and find out if there's a group they can go to."
And, finally, speaking to the Irish nation as a whole, Rebecca said:
Ireland needs to come out of the shadows a lot because it's being Irish and being home in Ireland that kept me in the shadows for so long and I nearly died because of that.
"I'm not blaming Ireland but I'm blaming the stigma around HIV."