Leo Varadkar at the Fine Gael national conference in Limerick today
Image: Laura Hutton/Photocall Ireland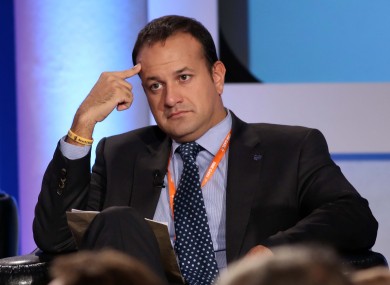 Leo Varadkar at the Fine Gael national conference in Limerick today
Image: Laura Hutton/Photocall Ireland
TRANSPORT MINISTER LEO Varadkar has hit out at Fianna Fáil for bringing the country "to the brink of bankruptcy" and said it is Fine Gael's job to make sure that people don't forget that.
Varadkar had strong words for Fianna Fáil and appeared to take aim at the Reform Alliance in a strongly-worded, partisan speech to the Fine Gael national conference in Limerick this morning.
He said that one of the reasons he joined Fine Gael was because it is a party that is not afraid to tell people the truth.
"We are the party that has the courage to tell people the truth, even though they might not want to hear it and we are the party that is prudent, the party that deep down always wants to do what is right, even if it's not popular or convenient or expedient," Varadkar told delegates.
He had strong words for the main opposition party saying: "Truth is, twice in my lifetime Fianna Fáil brought this country to the brink of bankruptcy."
Varadkar said it is important to make sure people do not forget it was Fianna Fáil whose decisions in government "culminated in the loss of our sovereignty" resulting in people turning to Fine Gael "the party that created our state, to save it again".
The Minister said: "That is why Fine Gael is the only party we can trust to preserve and retain that recovery.
He also appeared to take aim at the Reform Alliance of Fine Gael TDs and Senators who are outside the parliamentary party.
He said: "There's been a lot of talk about reform, but we're making reform happen, we're delivering change. There is only one reform party in Ireland and its name is Fine Gael."
Earlier the conference session on 'Jobs, Recovery and Exiting the Bailout' heard from Agriculture Minister Simon Coveney who said that Ireland's EU Presidency had seen the country help implement changes to Common Agriculture and Common Fisheries policies.
He described the latter as "the most ambitious reform in 40 years for fishing across the European Union".
At another session entitled 'Justice in 21st Century Ireland', Justice Minister Alan Shatter told delegates that he expects the first intake of new garda recruits by the summer of next year.
It marks the first recruitment drive by An Garda Siochana in over four years.