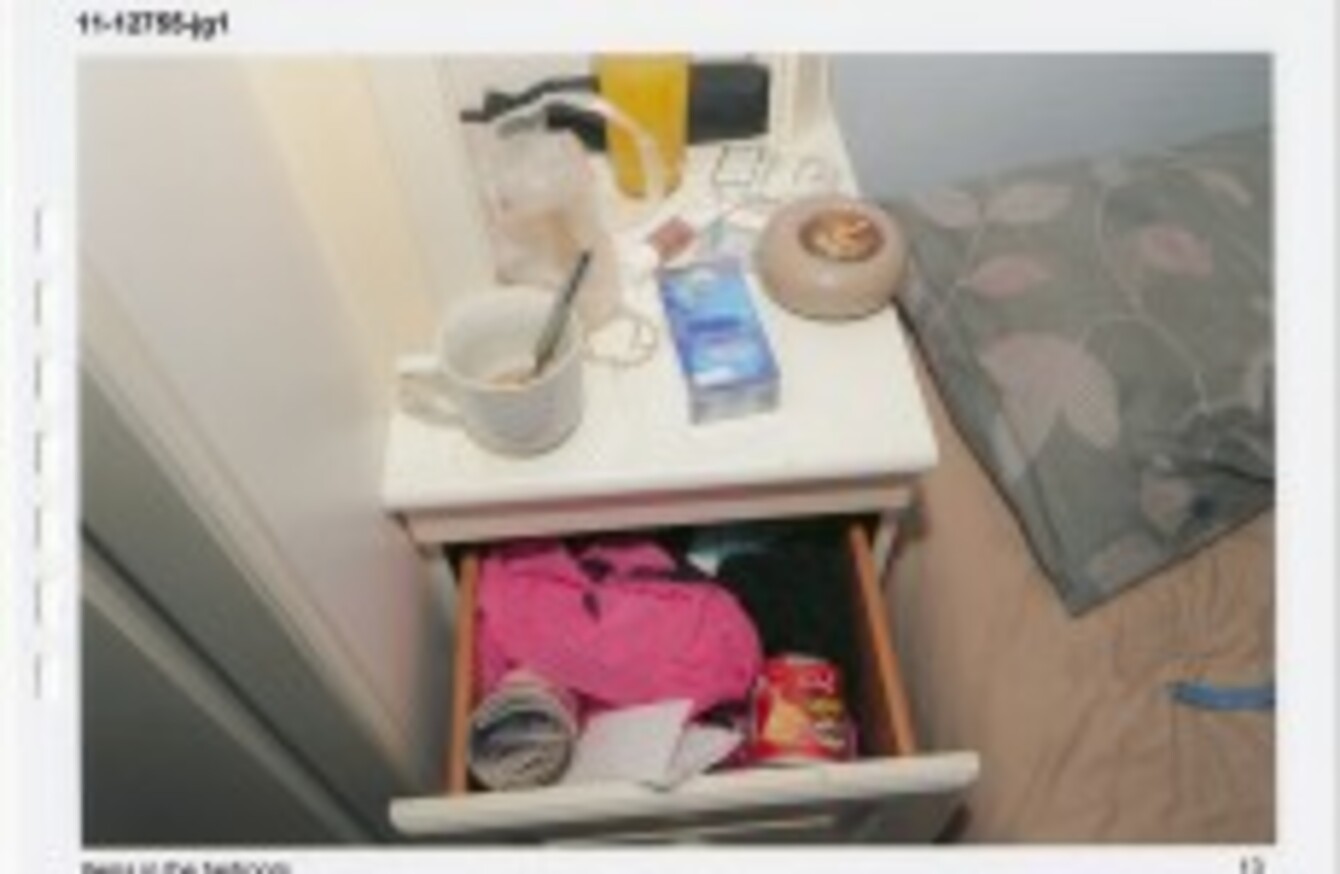 The side table in the bedroom of the Belfast apartment used as a brothel.
Image: (PSNI)
The side table in the bedroom of the Belfast apartment used as a brothel.
Image: (PSNI)
DETECTIVES IN NORTHERN Ireland have welcomed the guilty pleas by three men to offences linked to human trafficking.
The PSNI Organised Crime Branch investigated a Czech-based crime gang involved in the trafficking of women into Northern Ireland for the purposes of sexual exploitation.
Three men
Under Operation Bundaleer the three men, Bronislav Rybensky, Lyle Lamont and Ferhat Ekici, were identified and have pleaded guilty to their parts in the criminal operation.
Between May and August 2011, detectives conducted searches at three premises believed to be brothels controlled by this group and recovered four potential victims of trafficking who had been offering sexual services.
The women had all travelled to Northern Ireland via Dublin from the Czech Republic. They had to give most of their earnings to Rybensky and had to pay him for the cost of flights and advertising.
Home
They could only return home once they had earned enough to pay for a return flight.
Whilst some of the women accepted they had travelled to Northern Ireland to work as escorts, they claimed they were mistreated and exploited by handing over most of their earnings.
Other women claimed they had been lured into coming to Northern Ireland for photo shoots but were then told they would have to have sex with men to pay for return flights. Most of these women did not speak English.
Rybensky was arrested in August 2011 and during a search of his property a large number of mobile phones and sim cards were found along with other items used in relation to escort advertising. Rybensky pleaded guilty earlier this month to trafficking into the United Kingdom, controlling prostitution, brothel keeping and possession of criminal property.
Brothel
Lamont was arrested in June 2011 after he was found inside a suspected brothel in Belfast along with three potential victims of trafficking. Subsequent enquiries established that he had rented this apartment and another one for use as a brothel. Lamont pleaded guilty last week to brothel keeping.
The bedroom in the Belfast apartment used as a brothel. (PSNI)
Both Rybensky and Lamont will be sentenced in January.
The third defendant, Ferhat Ekici, pleaded guilty today to brothel keeping and possessing criminal property. He was fined a total of £500 and had to surrender £670 in cash which was seized during a search of a Belfast property being used as a brothel.
Money found in the bedroom of a Belfast apartment used as a brothel. (PSNI)
The officer in charge of the investigation, Detective Chief Inspector Douglas Grant said:
This was a complex investigation into an organised crime group moving between different jurisdictions, luring and exploiting women in the sex industry. The group profited from the exploitation of the sex workers and trafficked victims, the majority of whom were in a strange country, unable to speak English.
The final guilty plea today is welcome. It is an indication of the strength of the Organised Crime Branch investigation and case against the defendants.
I would appeal to anyone who has information or suspicions about trafficking or sexual exploitation to contact police so that we can continue to make Northern Ireland a hostile place for organised crime groups to operate in.