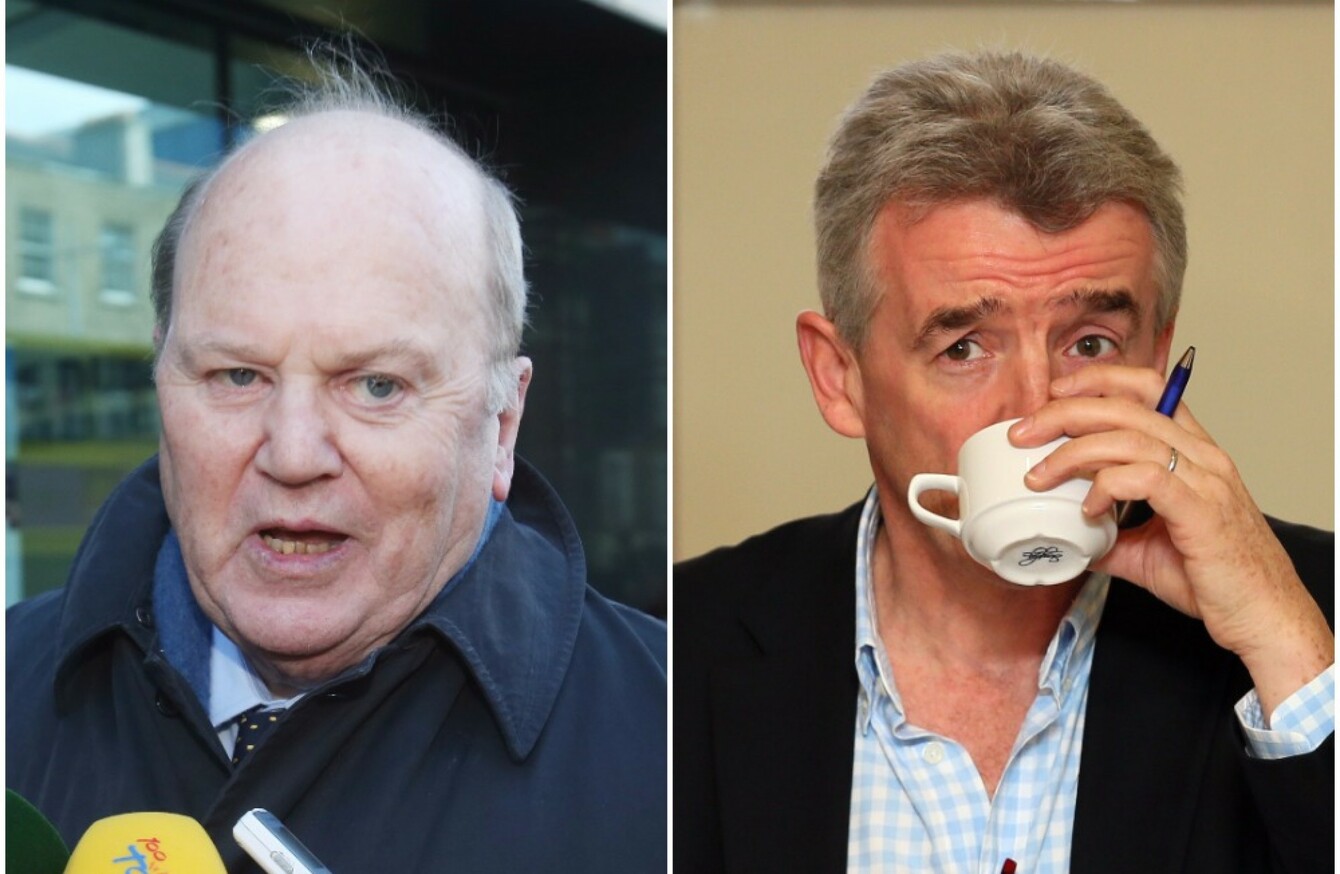 Bilderberg invitees Noonan and O'Leary.
Image: RollingNews.ie
Bilderberg invitees Noonan and O'Leary.
Image: RollingNews.ie
SUMMER IS HERE, and that means it's time for the secretive Bilderberg Group's annual meeting.
The gathering of prime ministers, finance ministers, members of parliament and CEOs takes place in the German city of Dresden from tomorrow until Sunday.
130 participants from 20 countries worldwide have confirmed their attendance – including the likes of Nixon-era former US Secretary of State Henry Kissinger, the boss of Deutsche Bank John Cryan, and the Mayor of Rotterdam.
The only two Irish luminaries on the list are Minister for Finance Michael Noonan and Ryanair CEO Michael O'Leary – both of whom have attended before.
The Bilderberg meetings are usually marked by a tight security presence – and the fact that the events are closed to the public has led to a number of conspiracy theories surrounding the goings-on at the group cropping up over the years.
Some on the left have accused it of being an overwhelmingly white, overwhelmingly male networking opportunity. Right-wing critics have accused it of attempting to promote a world government.
The event, founded in 1954 and aimed at "fostering dialogue between Europe and North America", is held according to the so-called Chatham House Rule, according to the Bilderberg website.
This means that "participants are free to use the information received, but neither the identity nor the affiliation of the speaker(s) nor of any other participant may be revealed".
"Thanks to the private nature of the conference, the participants are not bound by the conventions of their office or by pre-agreed positions. As such, they can take time to listen, reflect and gather insights," it says.
And if you were hoping for a press conference afterwards, think again:
There is no desired outcome, no minutes are taken and no report is written. Furthermore, no resolutions are proposed, no votes are taken, and no policy statements are issued.
So what goes on at the meeting? 
Documents provided to this website under Freedom of Information legislation back in 2012 provided a glimpse of what happens behind closed doors at the gathering.
Noonan also attended that year – and briefing notes sent to him show that the 'official' attendance list left off some very high profile guests who were later spotted at the conference, held that year in Washington DC.
These are the topics listed for discussion this year:
Current events
China
Europe: migration, growth, reform, vision, unity
Middle East
Russia
US political landscape, economy: growth, debt, reform
Cyber security
Geo-politics of energy and commodity prices
Precariat and middle class
Technological innovation