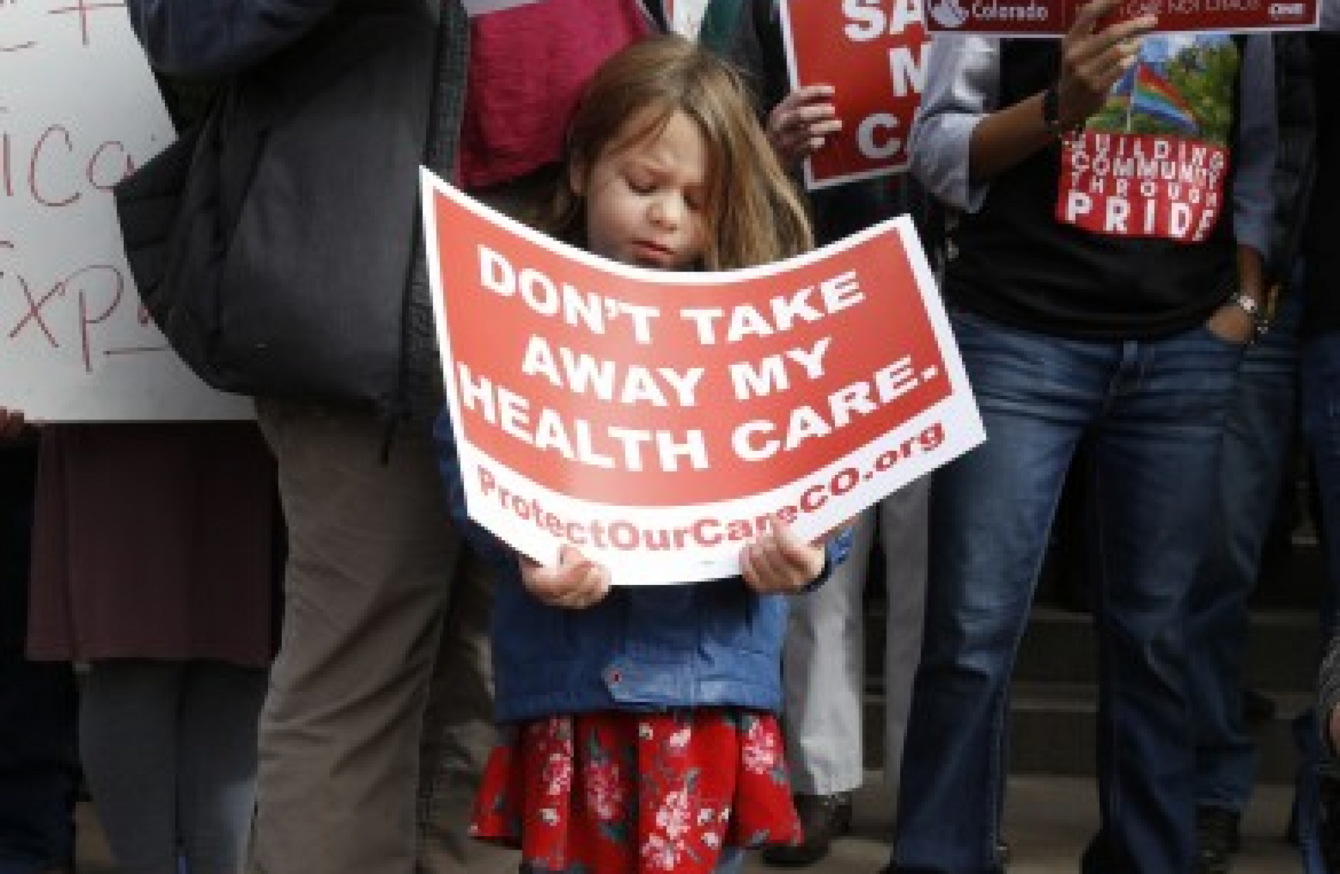 Image: AP Photo
Image: AP Photo
THE US HOUSE of Representatives has passed a bill that will repeal Obamacare.
Relieved Republicans muscled their health care bill through the House today, taking their biggest step toward dismantling the Obama health care overhaul since Donald Trump took office.
They won passage only after overcoming their own divisions that nearly sank the measure six weeks ago.
Jubilant Republicans, celebrating what they hope will soon be the demise of Obamacare, sang the pop song, Na Na Hey Hey Kiss Him Goodbye as the end of the voting neared.
The measure skirted through the House by a thin 217-213 vote, as all voting Democrats and a group of mostly moderate Republican holdouts voted no. A defeat would have been politically devastating for President Trump and Speaker Paul Ryan.
Passage was a product of heavy lobbying by the White House and Republicans leaders, plus late revisions that nailed down the final supporters needed. The bill now faces an uncertain fate in the Senate, where even GOP lawmakers say major changes are likely.
"Many of us are here because we pledged to cast this very vote," Ryan said. He added, "Are we going to keep the promises that we made, or are we going to falter?"
Leaders rallied rank-and-file lawmakers at a closed-door meeting early by playing Eye of the Tiger, the rousing 1980s song from the Rocky III film.
Repeal
Republicans have promised to erase President Barack Obama's law since its 2010 enactment, but this year — with Donald Trump in the White House and in full control of Congress — is their first real chance to deliver.
#Open journalism No news is bad news Support The Journal

Your contributions will help us continue to deliver the stories that are important to you

Support us now
But polls have shown a public distaste for the repeal effort and a gain in popularity for Obama's statute, and Democrats — solidly opposing the bill — said Republicans would pay a price in next year's congressional elections.
"You vote for this bill, you'll have walked the plank from moderate to radical," said House Minority Leader Nancy Pelosi, warning Republicans that voters would punish them. "You will glow in the dark on this one."
The bitter health care battle dominated the Capitol even as Congress prepared to give final approval to a bipartisan $1 trillion measure financing federal agencies through September. The House passed that legislation Wednesday, and certain Senate passage will head off a weekend federal shutdown that both parties preferred to avoid.