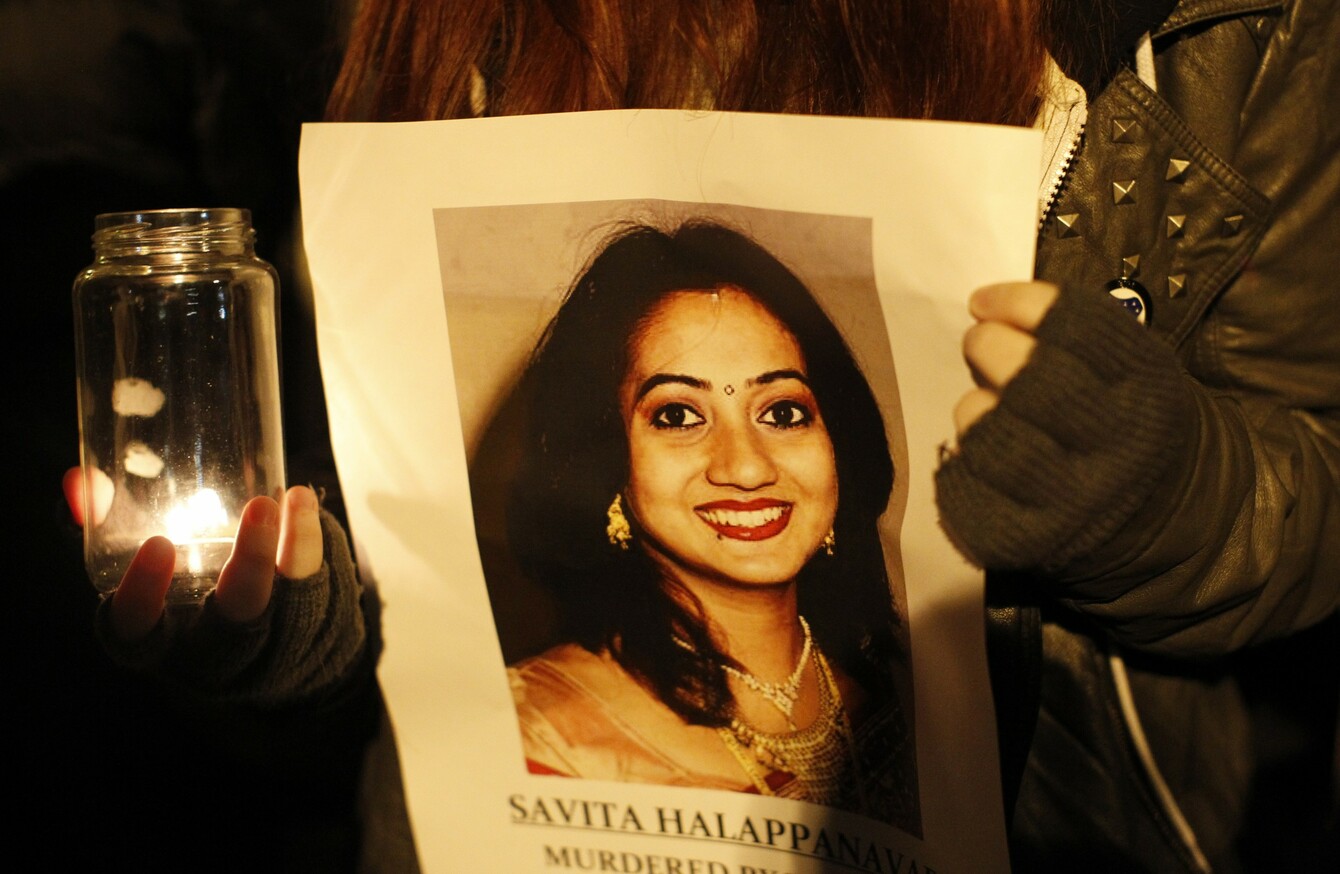 A woman holds a picture of Savita Halappanavar during a candle lit vigil outside Belfast City Hall
Image: AP/Press Association Images
A woman holds a picture of Savita Halappanavar during a candle lit vigil outside Belfast City Hall
Image: AP/Press Association Images
SAVITA HALAPPANAVAR was at the core of the new national standards for the bereaved following the loss of a pregnancy or perinatal death, according the project's chairperson.
The new national standards, which will be rolled out across all hospitals in Ireland, were launched today by the Health Minister Simon Harris and HSE CEO Tony O'Brien.
Speaking at the launch in Farmleigh House the chair of the sub-committee tasked with drawing up the standards, Ciaran Browne, said:
During our development process, Savita and many other people who have had pregnancy loss were at the core of the development of these standards. We listened to their needs during the consultation process and a lot of the parents told us about their experiences.
He told the packed auditorium that she is remembered today and said a copy of the new standards has been sent to her husband Praveen. He has made no response, said Browne.
Praveen Halappanavar settled a medical negligence case against the HSE over the death of his wife Savita in March of this year.
Due to the death of Halappanavar – a 31-year old dentist who died in 2012 due to complications with a septic miscarriage – and also Dr Peter Boylan's report on infant deaths in Portlaoise Hospital, the HSE began work on the new standards over two years ago.
Through public consultation and meetings with voluntary organisations, it was determined that there are varying standards in hospitals as to how parents are treated.
Browne said it was the most "emotionally tough" group he has ever had to chair in his whole life.
Recommendations and training
The new initiative will ensure all parents affected by pregnancy loss and perinatal death get identical care.
New training will be given to health workers, and new bereavement services teams will be established, made up of a midwife, chaplain, bereavement coordinator and a medical social worker.
Other recommendations include that there be a certain prescribed language used when breaking the news to parents, and this should be done in a "quiet and private" environment, as well as standardised treatment and procedures.
If a mother is alone, hospital staff will ask if they can contact the partner, and strive to ensure she does not leave alone.
The recommendations in the report include that if it is predicted that a woman's pregnancy will result in a loss, then she should not be scheduled for a scan with other expectant mothers.
O'Brien outlined that instead, the hospital should ensure that she is the first on the list to meet her consultant that day so that she does not have to sit in a waiting room with pregnant women.
Following input from parents as to what should happen in the incidence of perinatal death, the guidelines state the doctor should gently inquire if the parents would like to hold the baby, take photos of the baby or if available, have a professional photographer take photos of the family together.
Parents should also be given the option of creating a memory box and take a print of the baby's hand or foot or perhaps wash and dress the baby.
The minister said such practices are not in all Irish hospitals.
I think today marks a new beginning for parents who need to access bereavement services… it is extremely important we have national standards… and that we have a consistency to bereavement services, whether you are living in Donegal or Wexford, Cork or Louth.
He said he did not want to see this document sit on a shelf, but wanted it implemented country-wide.
"I trust that this work will ensure that all families who have the terrible experience of a pregnancy-related bereavement will receive the care and compassion they need," said the minister.
Fatal foetal abnormality
Guidelines on how health workers deal with grieving parents are to be updated to acknowledge cases of fatal foetal abnormalities.
This will include parents who have been affected by a fatal foetal abnormality or who have travelled abroad for an abortion.
"These standards absolutely apply to them," said Harris, speaking about parents dealing with the diagnosis of a fatal foetal abnormality.
"Regardless of how your loss came about, if you are bereaved in relation to pregnancy or perinatal death, these standards are applicable to you."
"I think it is regrettable, and I have already said this in the Dáil, that that hadn't always consistently happened in this country."
There needs to be absolute clarity for our hospitals in terms of what information they can provide, I don't think that has always been the case, we see examples of different practices in different hospitals.
He added:
"Information that is and should be made available to women should be made available in all hospitals and that there isn't a lottery depending on what hospital you go to, to what information you get."
In cases where parents choose to terminate their pregnancy, the recommendations state that parents should be provided "up to date" information and contact details of services available. This must be approached with "due regard to the provisions of relevant legislation".
Harris said he believed, historically, women in this country had not received the level of support and care from our health service.
He said he was pleased that with the very first national maternity strategy for Ireland being launched this year, as well as these new guidelines launched today, that Ireland is  "catching up".
"I think it is regrettable we didn't previously have them," he said.
O'Brien said parents' wishes are "paramount" in harrowing situations such as those recounted to the sub-committee.
He said there was an "absence of absolute clarity" on a universal basis, adding that "open disclosure" is key for when "things go wrong in the health system".
Harris said the implementation of the guidelines is supported by an additional €3 million the government pledged towards maternity services this year.
The strategy, which was peer-reviewed in Sweden and Canada, will be reviewed yearly.
You can read the full text of the National Standards for Bereavement Care Following Pregnancy Loss and Perinatal Death here>>