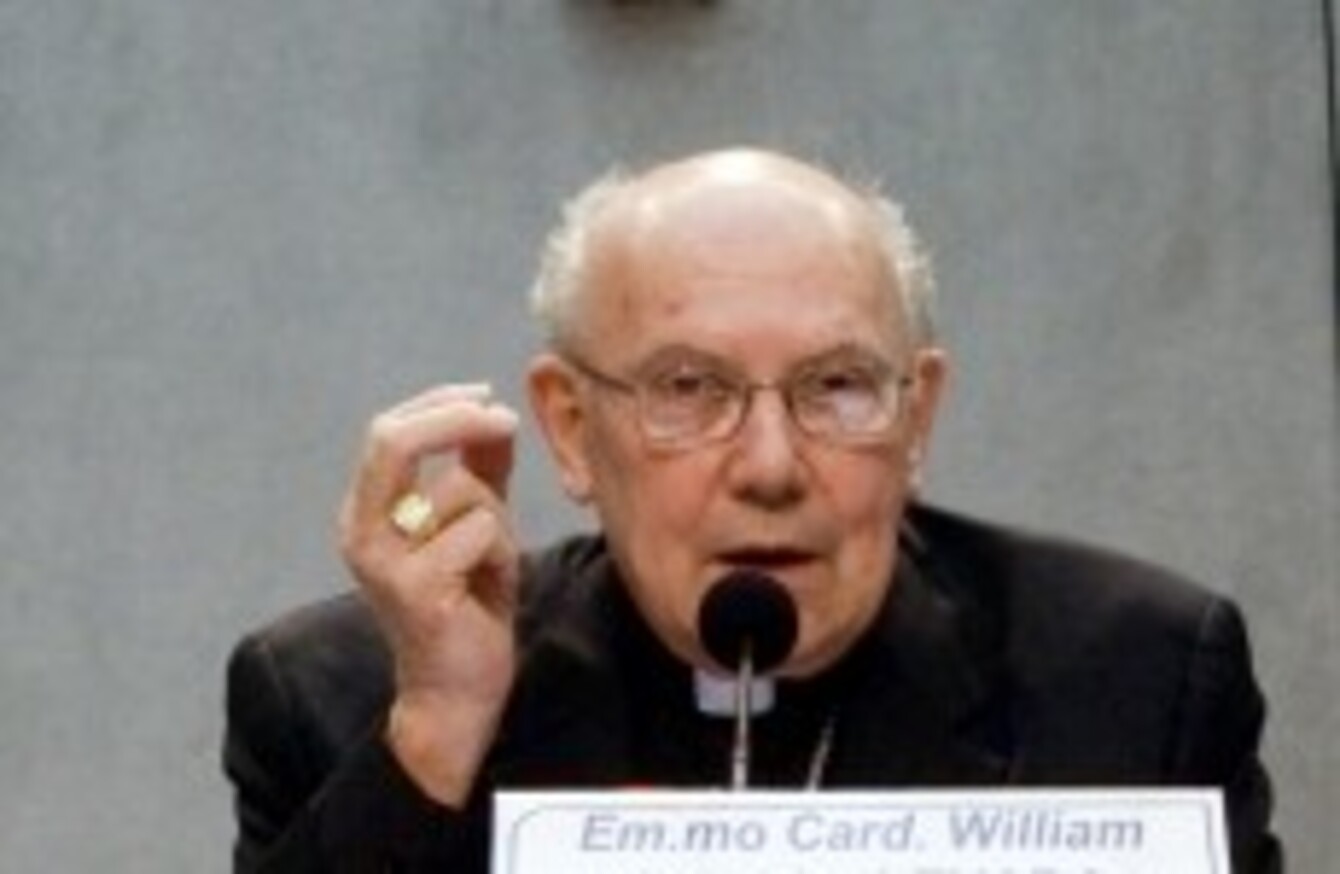 Cardinal William Levada, pictured in 2009
Image: Domenico Stinellis/AP/Press Association Images
Cardinal William Levada, pictured in 2009
Image: Domenico Stinellis/AP/Press Association Images
A SENIOR US cardinal as defended Pope Benedict's handling of clerical abuse revelations, saying people should be thankful rather than criticising the pontiff.
Cardinal William Levada told a Vatican-backed conference on safeguarding children that Benedict had been "instrumental" in implementing standards to crack down on paedophile clergy, as well as supportive of US bishops' efforts to fight the abuse.
Before becoming pontiff, Benedict held Levada's job as the head of the Congregation for the Doctrine of the Faith, the church office responsible for  shaping the Holy See's policies on handling abuse cases involving clergy.
As the symposium's keynote opening speaker, Levada lamented that the pope "has had to suffer attacks by the media over these past years in various parts of the world when he should receive the gratitude of us all, in the Church and outside it." The Vatican released copies of the speech.
SNAP, a US-based support and advocacy group for those abused as minors by clergy, was dismissive of the four-day, closed-door gathering.
"True change and child protection comes through accountability from secular authorities," a SNAP official, Joelle Casteix, said in a statement. "Until we have that, we must see Rome's meeting for exactly what it is: cheap window dressing."
She contended the Vatican "still cannot do the simplest, cheapest, and most child-friendly action possible: Make public decades of secret files on clergy sex offenders and enablers."
Marie Collins, who was raped as a teen by a priest in a Dublin hospital, will be speaking at the conference tomorrow. She urged Benedict last week to publicly seek forgiveness for church leaders who put loyalty to their institution ahead of safety of children.
Benedict, in a message sent to the symposium on his behalf, urged participants to "continue drawing on a wide range of expertise in order to promote throughout the church a vigorous culture of effective safeguarding and victim support."
Levada last year urged all bishops conferences worldwide to develop guidelines for dealing with cases of sexual abuse of minors by clergy.
"Even those of us who have been dealing with this issue for decades recognize that we are still learning, and need to help each other find the best ways to help victims, protect children, and form the priests of today and tomorrow to be aware of this scourge and to eliminate it from the priesthood," Levada told the symposium.
Cardinal Sean Brady is also attending the conference.