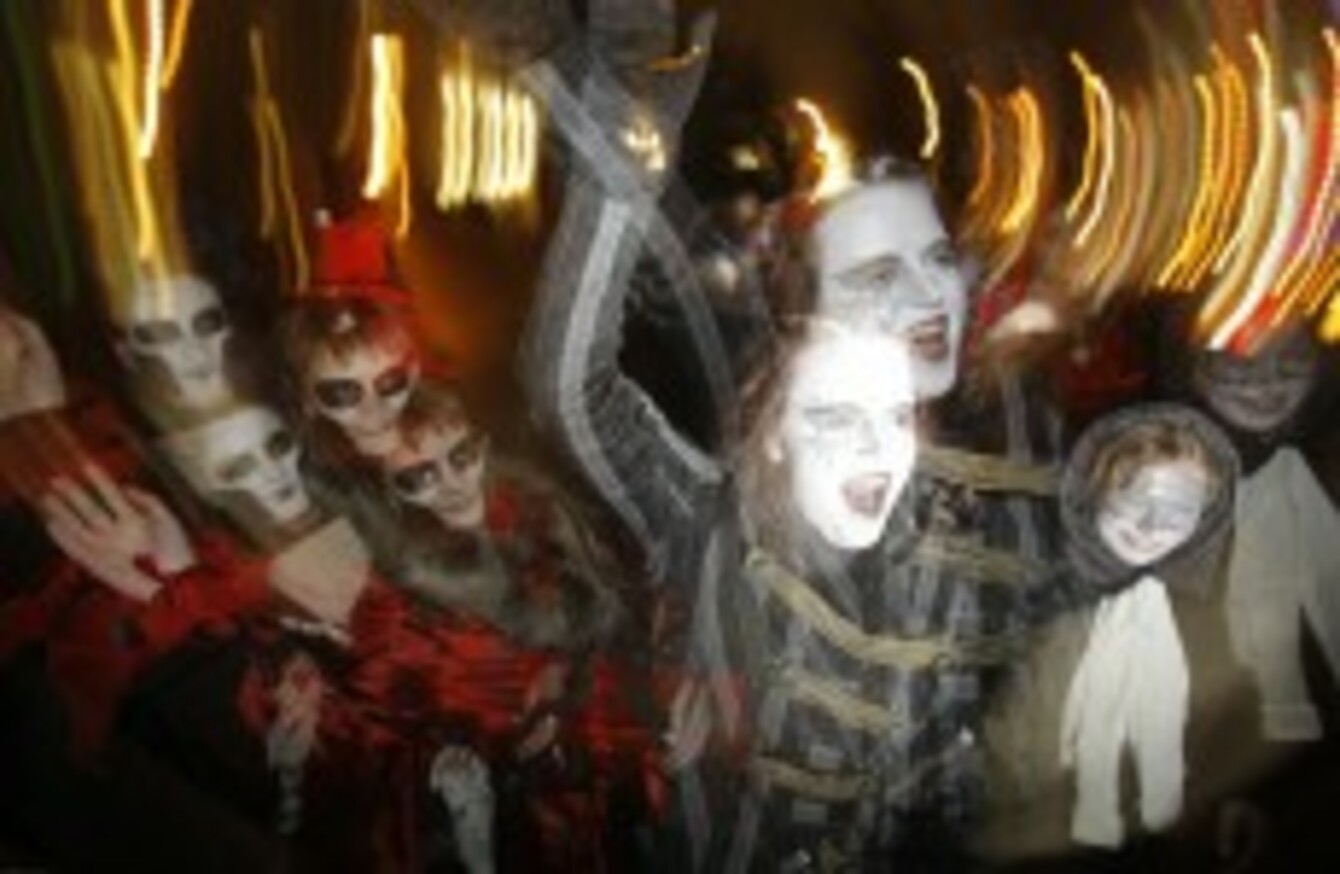 Halloween revellers in Minsk, Belarus last year.
Image: AP Photo/Sergei Grits
Halloween revellers in Minsk, Belarus last year.
Image: AP Photo/Sergei Grits
WHETHER YOU ARE a school child that loves dressing up like Dracula and scaring neighbours with the threat of a 'trick or treat', or an adult that gleefully grabs the chance to dress up as a well-known personality, Halloween is generally perceived as a lot of harmless fun.
However, a Polish Archbishop from the diocese of Szczecin-Kamien in northwest Poland does not seem to see the funny side of this age-old celebration.
Archbishop Andrzej Dziega issued a three-page statement on Sunday – to be read out at all congregations across the diocese – condemning the "dangers of pagan Halloween" and its "world of darkness, including devils and vampires". It was all very Bram Stoker indeed.
Archbishop Dziega said he was saddened to "see a growing wave of Halloween celebrations in Poland in recent years".
He said that he was particularly concerned about Halloween activities being organised in schools, which he added could "even destroy the spiritual life" of children.
Halloween celebrations in Polish schools have become increasingly popular in recent years as a new generation grows up with a love for US culture and fashion.
"Promotion of paganism"
Moreover, the Archbishop had less sympathy for adults that might want to dress up in ghoulish costumes on 31 October. Adults did not "understand the spiritual danger" of the event, he said.
The Archbishop added that Halloween was a "promotion of paganism" and the "culture of death".
Halloween falls just one day before one of Poland's largest religiously observed bank holidays. All Saints Day on 1 November, or 'The Day of the Dead' as it is called in Poland sees millions of Poles pay their respects to their deceased relatives by lighting candles at their graves.
For the Polish Catholic hierarchy, the fun-filled antics of Halloween on 31 October are at odds with the country's traditional day of mourning on 1 November.
Local online news source 'Moje Miasto Szczecin', which published the statement, has been inundated with comments both in support of, and deriding, the Archbishop's attack on Halloween.
Journalist and film-maker Liam Nolan lives in Poland. His site is at liamnolanmedia.com and he tweets here.