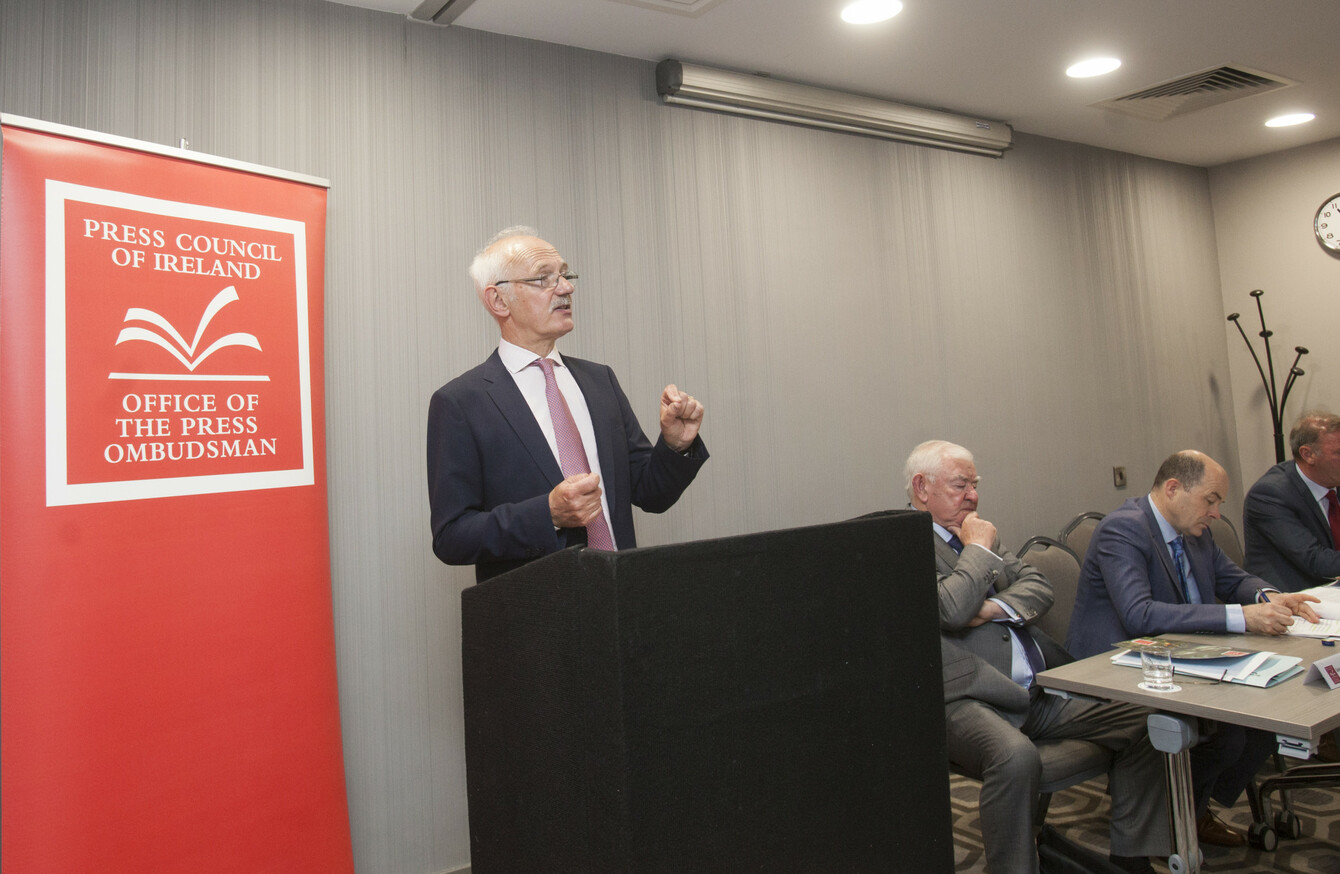 THE PRESS OMBUDSMAN has said that reports of Independent News & Media journalists' emails allegedly being accessed by an external company are "deeply disturbing" and possibly "undermine" investigative journalism.
Peter Feeney told Morning Ireland today that the reports of reporters' data being breached undermines "the very core" of investigative journalism in that it "endangers the confidentiality" that a journalist may guarantee someone.
"As Press Ombudsman, it is deeply disturbing that communications between journalists and third parties can be accessed and used for purposes other than which they originated."
It undermines investigative journalism and therefore it is a deep deep concern.
He elaborated on how it could become a problem.
"A lot of journalism depends on people passing on information to journalists, the journalist then goes and investigates it and if there's a story in it that story will be published. If a person has a doubt whether the guarantee of confidentiality means anything, they won't pass on that information and journalism will suffer."
He said that this could mean that information that should be in the public domain won't appear because whistleblowers and tipsters fear for their anonymity.
It's not just journalism that will suffer, it's Irish society that will suffer. The Fourth Estate role of journalism, investigating those in power, is undermined if confidentiality is threatened.
"If you take a classic example, Charlie Bird and George Lee investigating former TDs' advice on tax, that started out as someone saying something to Charlie Bird one night," Feeney said.
Without that chain starting, you won't reach the end point.
He said it was important that INM reassure its journalists that they can continue to do their jobs, and that the breach of the INM emails was not known by senior editors who will feel "badly let down" by their management.
There needs to be a reestablishment of confidentiality as soon as possible in the newspaper.
#Open journalism No news is bad news Support The Journal

Your contributions will help us continue to deliver the stories that are important to you

Support us now
After reports of a protected disclosure made by the INM's former CEO Robert Pitt, the State's corporate governance watchdog (the ODCE) has requested books and records relating to INM's reported bid for Communicorp station Newstalk. Last week, the ODCE announced that it would send in investigators to INM.
Following numerous reports over the past few days, the Data Protection Commissioner Helen Dixon said last night that she also intends to undertake an investigation into the suspected data breach.
Independent News & Media (INM) publishes the Irish Independent, the Sunday Independent, the Herald and other newspapers.