WHETHER IT'S HOW the line is delivered, the significance to the plot, or simply the words being said, a good film quote can stick in the mind long after you've left the cinema.
So, how well do you know your film quotes?
Test yourself.
"I was just telling Ben here he ought to sow a few wild oats. Have a good time while he can. You think that's sound advice?"


"Nobody tosses a Dwarf!"
Lord of the Rings: The Fellowship of the Ring
Lord of the Rings: The Two Towers
Lord of the Rings: The Return of the King
The Hobbit: An Unexpected Journey


"I suppose a ride's out of the question?"


"You never got me down, Ray!"


"The Korova milkbar sold milk-plus, milk plus vellocet or synthemesc or drencrom, which is what we were drinking. This would sharpen you up and make you ready for a bit of the old ultra-violence."


"Don't be afraid, Bruce. Come on. Come on. You are just an ordinary man in a cape. That's why you couldn't fight injustice, that's why you can't stop this train."


"As far back as I can remember, I always wanted to be a gangster."


"On a daily basis I consume enough drugs to sedate Manhattan, Long Island, and Queens for a month."


"I wonder what street it is you're buying your cocaine on, because it's not the same street as I'm buying my cocaine on."


"Round up the usual suspects." Answer all the questions to see your result!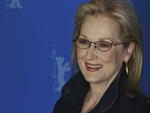 Denis Marekno/Shutterstock
You scored out of !
Meryl Streep
You've won three Oscars. You're a bona fide superstar.
Tinseltown/Shutterstock
You scored out of !
Dustin Hoffman
You've won two Oscars, and are an all-round nice person.
lev radin/shutterstock
You scored out of !
Robert De Niro
No one can take those two Oscars away from you, but we can't forgive some of those awful late-career film choices.
Tinseltown/shutterstock
You scored out of !
Adam Sandler
Some people like your films for sure, but you're not winning any awards any time soon.