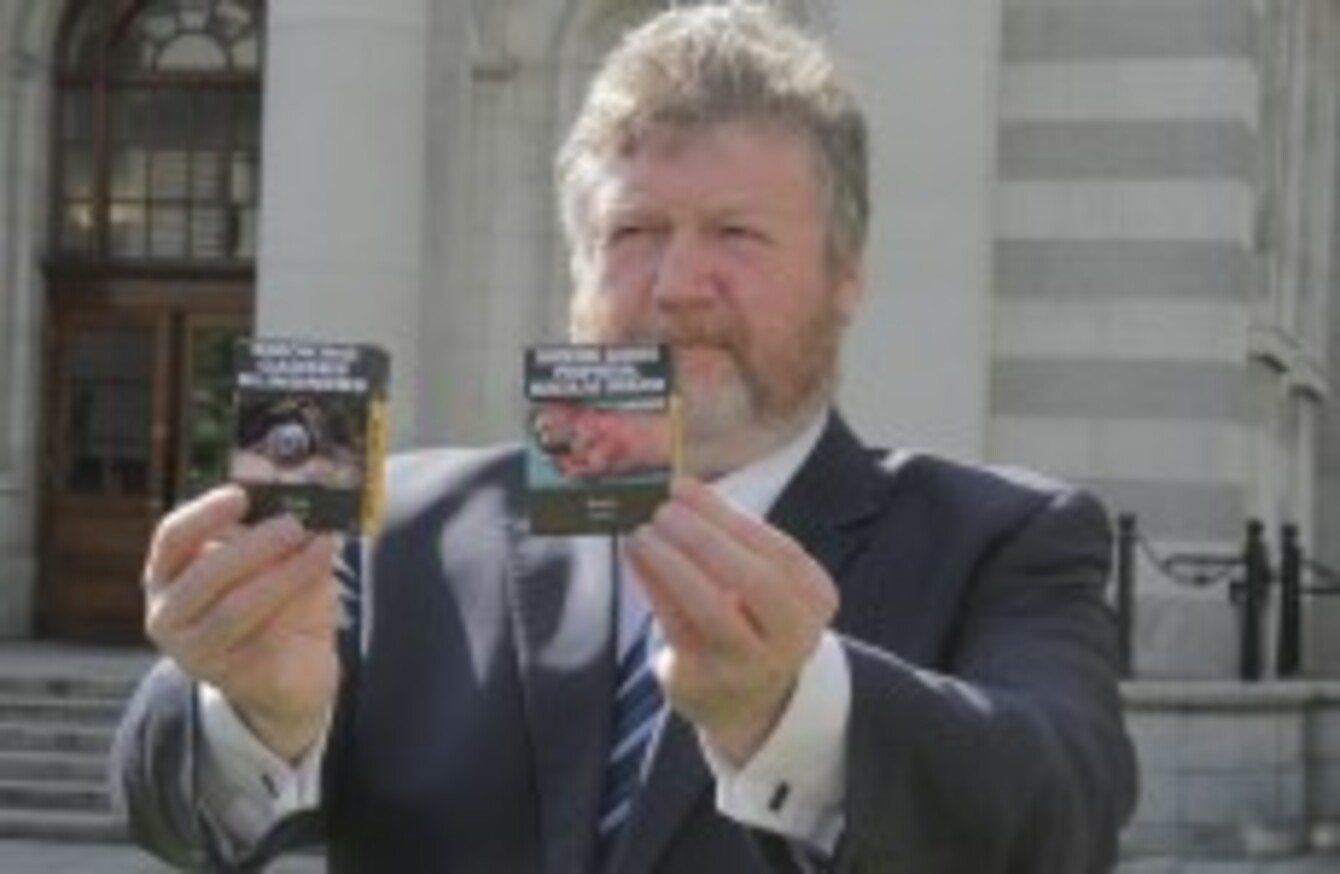 Health Minister James Reilly with a sample of the packaging (File photo)
Image: Department of Health
Health Minister James Reilly with a sample of the packaging (File photo)
Image: Department of Health
Updated 9.05pm
THE OIREACHTAS HEALTH Committee is to hold hearings on the legislation that will bring in standard cigarette packaging and larger health warnings on tobacco products.
The general scheme of the Public Health Standardising Packaging of Tobacco Bill 2013 will outlaw any branding or logos on packets of cigarettes or tobacco products and health warnings and graphic pictures will be bigger.
At a media briefing today, the Health Minister James Reilly said this legislation is "another important step in the government's fight against the scourge of tobacco" outlining the aim to "de-normalise smoking".
He said that the legislation will insist on larger warnings and "pictorial, graphic pictures" showing the example of a cigarette package in Australia with a picture of a foot with gangrene.
Irish packaging is likely to be similar with the brand name placed at the bottom of the product and the rest of the pack will be a plain, standard colour with a larger health warning.
He said there are "various studies that are being done" that indicate that this measure will work.
The draft law will now go to the Oireachtas Health Committee which will hold public hearings and compile a report to be submitted to government.
Reilly said he wanted to do this to get the bill "as perfect as possible", noting the significant tobacco lobby which will try to obstruct the bill and more than likely mount a legal challenge against it.
The committee chairman Jerry Buttimer said that it will in due course finalise public hearings and said the committee had good experience from its hearings on organ donation and the Protection of Life during Pregnancy Bill.
The general scheme of the bill will be published tomorrow or later this week.