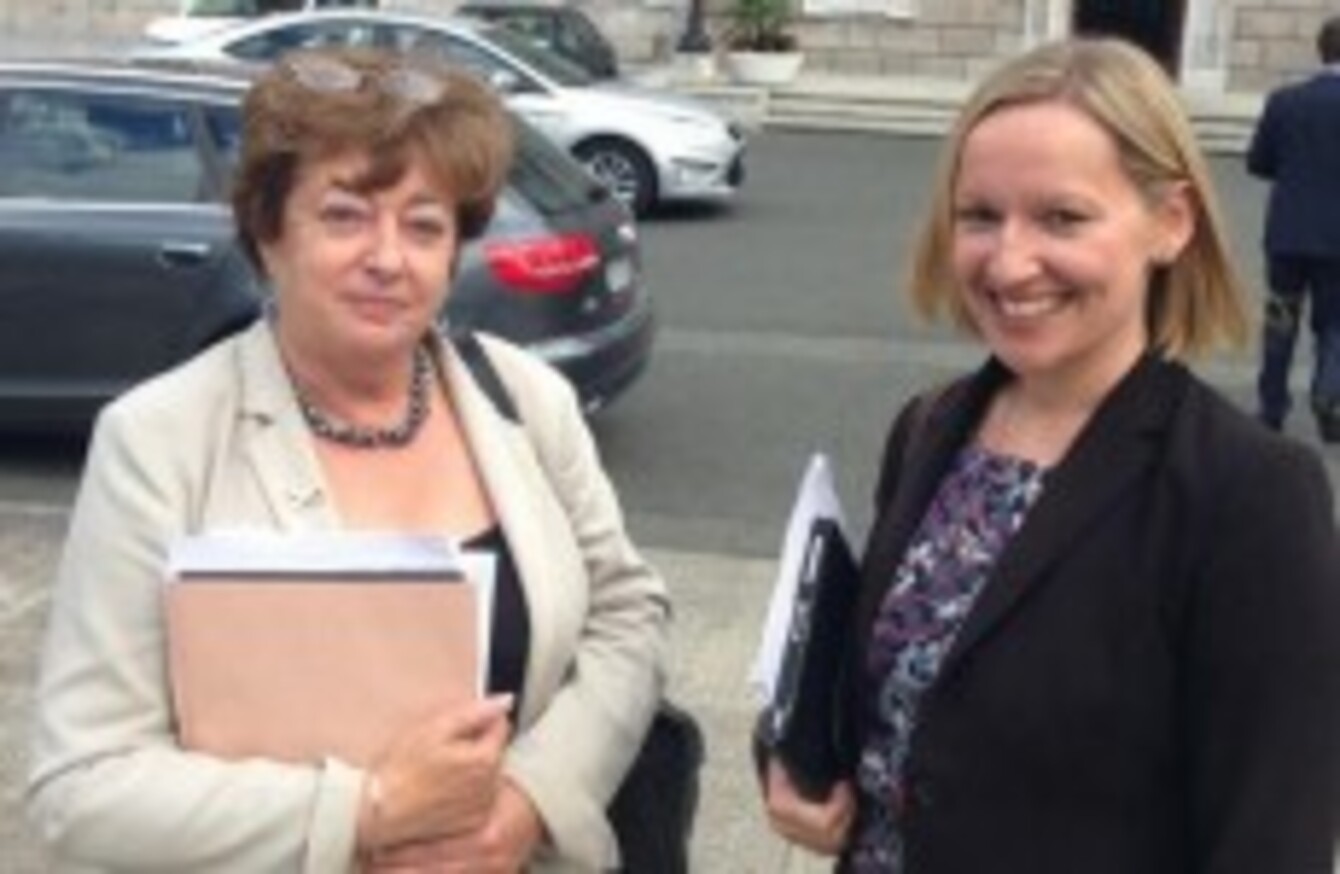 Catherine Murphy and Lucinda Creighton outside Leinster House this afternoon
Image: Hugh O'Connell/TheJournal.ie
Catherine Murphy and Lucinda Creighton outside Leinster House this afternoon
Image: Hugh O'Connell/TheJournal.ie
LUCINDA CREIGHTON AND two TDs from the Dáil's Technical Group held what was described as an 'amicable' meeting at Leinster House today after the former Fine Gael minister joined the grouping – against its wishes – last week.
Creighton met with Technical Group whip Catherine Murphy and independent TD John Halligan to discuss how the grouping could seek extra resources for staff and administration, as well as more Dáil speaking time in the wake of the increase in its membership.
Creighton announced she was joining the Technical Group last week despite opposition from members who questioned the practicalities of the Dublin South-East TD joining the group given its lack of resources.
Creighton and her colleague in the Reform Alliance, Peter Mathews, are now members of the grouping that was set up for the purposes of Dáil speaking time and Oireachtas committee memberships in 2011. 
This takes the Technical Group's numbers to 18, with Creighton telling TheJournal.ie she expects RA colleagues, Billy Timmins and Terence Flanagan, to join shortly.
This will bring the grouping's membership to 20 – the same as the largest opposition party in the Dáil, Fianna Fáil.
Return of allowances
The Technical Group now believes that this should be reflected in the ordering of Dáil business and that it should be given extra speaking time, extra time for private members' business and extra Oireachtas committee memberships.
Murphy has written to the government chief whip and the whips of Labour, Fianna Fáil and Sinn Féin seeking a meeting on these matters.
She said the grouping is also looking for more staffing and administration resources. The Technical Group currently employs one full-time and one part-time member of staff for administration, but believes it could be entitled to up to 11 staff.
Murphy has also written to the Taoiseach and Tánaiste seeking the return of the parliamentary activities allowance that Fine Gael still receives for its seven expelled members who are now known as the Reform Alliance.
The allowance has been the subject of much controversy with Creighton and RA colleagues arguing it should be theirs given they are no longer in Fine Gael.
In a letter to Enda Kenny and Joan Burton, Murphy says: "I am seeking that these funds are either returned to the exchequer or provided to the newly unaligned members [Creighton and co]."
She also believes that administrative staff resources should be provided to the Technical Group as it is required to operate under the same rules as a political party for the purposes of Dáil business.