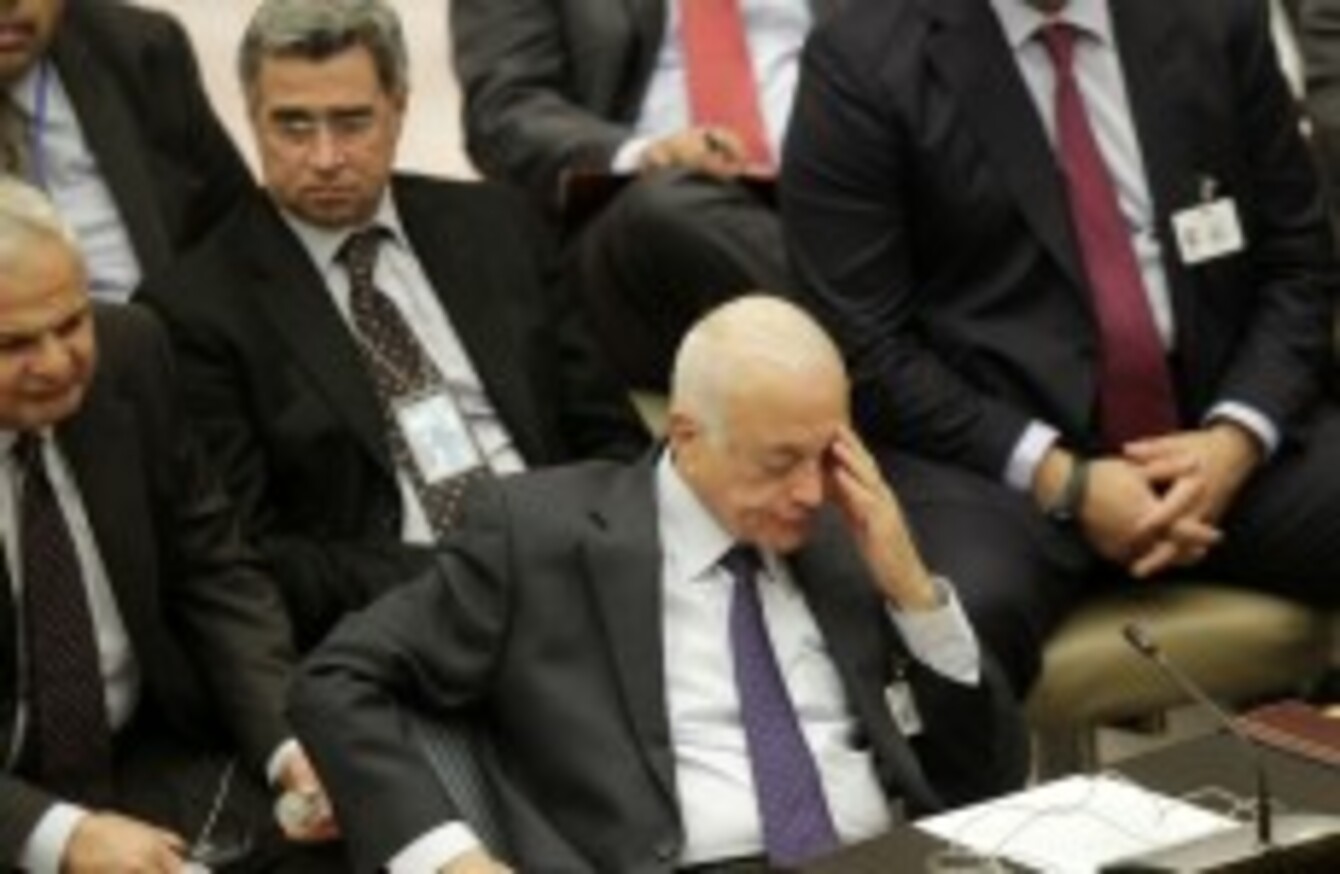 Secretary General of the League of Arab States Nabil Elaraby gestures while listening to Syrian Ambassador to the United Nations Bashar Ja'afari speak during a Security Council meeting in New York last night
Image: Seth Wenig/AP/Press Association Images
Secretary General of the League of Arab States Nabil Elaraby gestures while listening to Syrian Ambassador to the United Nations Bashar Ja'afari speak during a Security Council meeting in New York last night
Image: Seth Wenig/AP/Press Association Images
DIPLOMATS FAILED TO reach agreement on a UN resolution aimed at ending the bloodshed in Syria, leaving discussions in limbo pending consultations with their home governments.
Envoys said that yet another text is being drawn up for them to send to their capitals for consideration.
British Ambassador Mark Lyall Grant told reporters after the session that the new version will be put to a vote "as soon as possible," but it was unclear when talks might restart, or when the council might vote.
Diplomats speaking on condition of anonymity because the talks were private said that the sticking point continued to be language that western envoys interpret as support for an Arab League peace plan calling for Syrian President Bashar Assad to relinquish power.
Russia has said it will reject any resolution that can be interpreted as calling for regime change.
Russian Ambassador Vitaly Churkin did not address specifics after the session, telling reporters: "The end result is that we do have a text which we are going to report to our capitals, and we will see what the outcome will be. I will be happy if we have a process that will be successful."
As a permanent council member, Russia can use its veto to block the resolution. Russia and China, another permanent member, issued a double veto in October to block an earlier resolution condemning the violence in Syria.
Negotiations
"We had what I would characterise as sometimes difficult but ultimately useful discussions," US Ambassador Susan Rice said after yesterday's session.
"We are still working. This is not done." "There are still some complicated issues that our capitals will need to deliberate on," she added, without offering specifics.
Diplomats noted that several key meetings would be held in the coming days involving council member states that could affect negotiations and a final vote.
Among them is the Munich Security Conference this weekend in Germany, where US Secretary of State Hillary Rodham Clinton has said she'll discuss the resolution with her Russian counterpart, Sergei Lavrov.
The UN estimated in January that at least 5,400 people have been killed since the Syrian uprising against Assad's rule began 10 months ago.
The UN says it has been unable to update its tally since because the chaos in the country — including frequent power outages and electricity cuts to entire towns and cities — makes it difficult to cross-check the latest figures.
On Tuesday, Clinton and the foreign ministers of Britain and France joined Arab League officials in a high-level meeting at the UN urging council members to approve a resolution. Clinton reiterated Wednesday that it was important for the council to move quickly.
"Every member of the council has to make a decision, whose side are you on? Are you on the side of the Syrian people … or are you on the side of a brutal dictatorial regime?" she said.