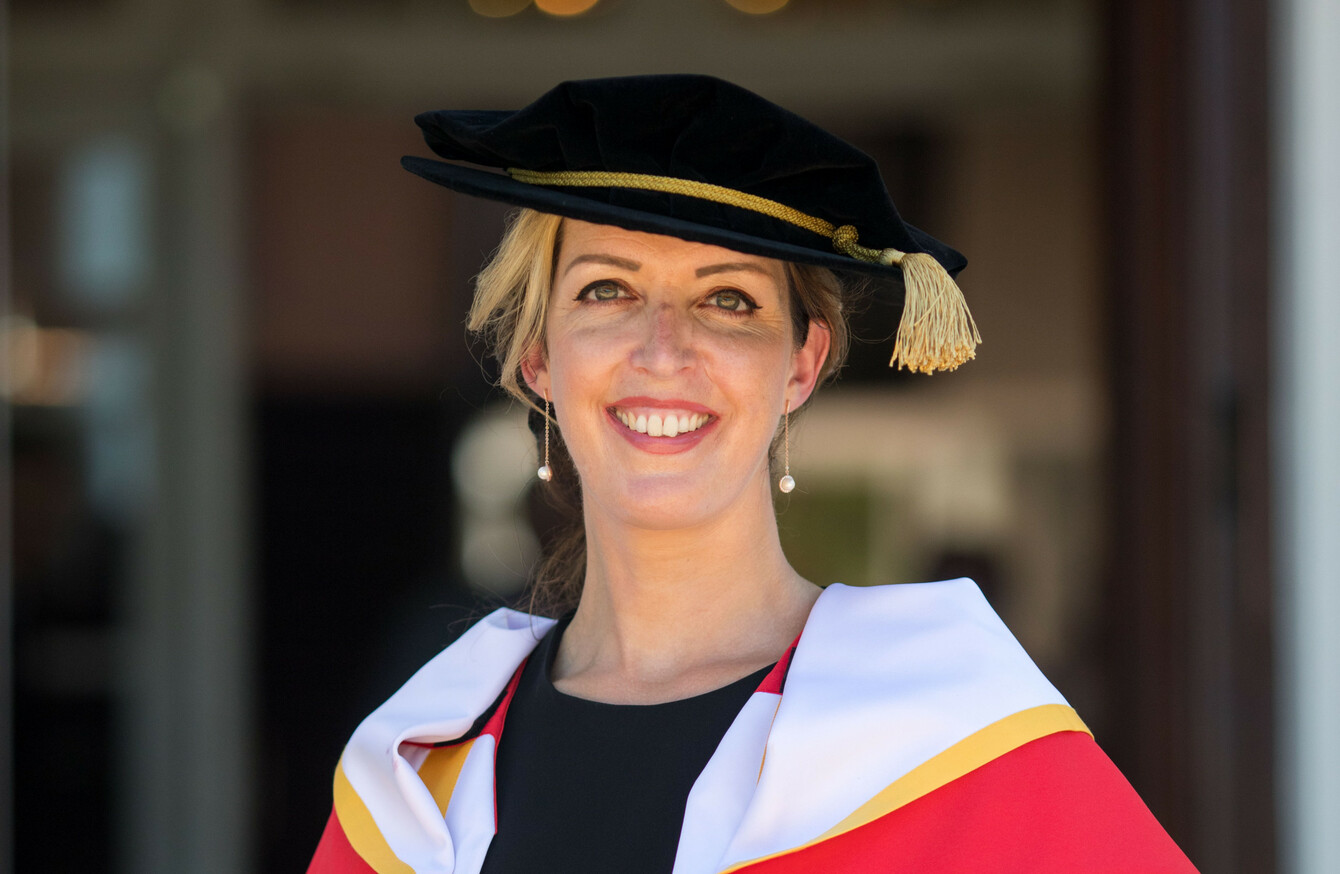 Vicky Phelan today
Image: True Media
Vicky Phelan today
Image: True Media
THERE WERE TEARS today after Vicky Phelan was awarded an honorary doctorate by the University of Limerick.
She received a false negative test after she went for a cervical smear test in 2011. Three years later she was diagnosed with cancer. Last January, she was informed she had months to live.
Last April, Vicky Phelan was awarded €2.5m in damages in the High Court over the error. Her telling her story publicly led to the CervicalCheck scandal, which involves 209 women.
Speaking ahead of the ceremony today, Phelan said: "I loved my time as a student in University of Limerick and that is where I began my professional career: I never anticipated then that I would be presented with an honorary doctorate by the university. It is an honour for me and one I am delighted to accept."
UL president Dr Des Fitzgerald praised Vicky for her selfless commitment to public service, describing her as an inspiration to students, staff and the wider university community.
"Here at University of Limerick, we aim to instil in our students the ability to reason, to solve problems, to participate as citizens, to play their part in the social and political life of this country. The conferring of a UL honorary degree embraces these ideals. It has been awarded to just a small number of women to date, including: the former President of Ireland, Mary Robinson; Adi Roche and Ali Hewson, for their contribution to volunteerism; and, to Catherine Day for her leadership in the European Commission, to name a few," he said.
"Vicky Phelan has had a major impact on people's lives in this most difficult and precious time in her own. Through her courage, commitment and exceptional communication skills, she is highlighting a major issue in the Irish healthcare system. During all of this, Vicky has encouraged the women of Ireland to have faith and to continue participating in the cervical screening programme. She is an inspiration to our students, our staff and our community, she has brought great honour to the university, and for this we have awarded Vicky Phelan an Honorary Doctor of Letters," Dr Fitzgerald continued.
After the ceremony Vicky Phelan also told reporters she plans to fund a person to be employed in a cancer care centre to provide patients with access to the latest groundbreaking drug therapies.
She said she is personally willing to fund such position to "shame" the government into following her lead and provide for similar positions on a nationwide scale.
"One of the things I want to see happening is that I would hope to try to fund a position, and that one position would lead to another, so I'm willing to do that. I think that if I got the ball rolling, it would be a goodwill gesture on my part, to again shame [the government] into doing it," Phelan told reporters at the University of Limerick (UL) today.
The mother of two has discussed her plans with Minister for Health, Simon Harris, and the idea is in its "early stages".
"If you're given a terminal diagnosis, you should be sent to [such a] person, because the oncologists don't do it - it's not part of their remit," she added.
Phelan said she was "given no hope" when she received her terminal cancer diagnosis.
There should be somebody you can go to who will help you to look up clinical trials or alternative drugs, because it's not fair to give people no hope, and expect them to go home and accept that that's your lot.
"If I had done that I wouldn't be here," she added.
Tumours have shrunk
Her "big focus" remains to push for all women with advanced cervical cancer to receive Pembrolizumab, newly licensed in the US, but which is not expected to be licensed in Ireland for another two to three years.
Since last April she has undergone four rounds of the breakthrough drug and last week was informed her tumours had shrunk significantly.
Phelan said she is now "feeling great, 100%".
However, she pulled no punches in her assessment of the health service. Asked if she had faith in the HSE, she replied: "Parts of it".
She praised paediatric services who are treating her daughter for a "congenital disorder".
However, she added: "But, there are parts of it that don't work well, which is the cervical screening side of things and also Oncology."
"From my experience of oncology, because I've had it twice… The first time around you're in such shock that you put your faith in the doctors and you assume they know what they're doing, and I never questioned what they told me, and what the treatment they offered me was going to do."
"But the second time around, you question things a bit more, especially when you know it's a terminal diagnosis."
"I was offered no hope in January so I had to go off and do all the research myself. I would be a bit sceptical about the health service from the point of view of terminally ill patients, because you're not given much hope."
She added: "If I hadn't gone ahead and looked up all these clinical trials and the immunotherapy drugs myself and pushed for them… I mean I had to push hard to get access to this drug, and the only way I got access to it was pestering people."
#Open journalism No news is bad news Support The Journal

Your contributions will help us continue to deliver the stories that are important to you

Support us now
"I had fundraising money to pay for it and they still wouldn't give it to me. So I had to keep pushing and pushing until I made a nuisance of myself to get access to it, and shame them into it in the end."
She went on:
"Before I got access to the drug, about two or three weeks beforehand, I was really going downhill to be honest. It was the first time I really thought 'this is the beginning of the end', because I was so ill and in such pain. I'm glad I did and stuck to my guns, because I'm not sure would I be here if I had gone down the palliative care route."
A full commission of inquiry into the Cervical-Check scandal will begin in September, following the initial Scally scoping enquiry.
Also present was Stephen Teap, whose wife Irene, from Carrigaline, Co Cork, was diagnosed with stage two cancer in 2015 and died on July 26 last year after receiving two false negative tests in 2010 and 2013.
Vicky Phelan said that she is doing what she is doing for women like Irene:
"But that's why I'm doing this. It's for all young women affected by this, with [young] kids. I have to use my voice because people are listening to me at the moment, so I'll keep going until I can't."
Legislation
Vicky Phelan broke down a number of times under the strain of her ordeal.
"I still feel we are weeks down the line and there is no real accountability, and I'm not happy with that to be honest," she said.
In a stinging criticism of the wider public sector, she added: "I don't think anything can happen until we have legislation put in place to allow for accountability in the public sector. I work in the public sector myself and I know and see there are people who shouldn't be in positions that they are in, and they wouldn't work to warm themselves."
"But we can't get rid of them. It's a terrible situation."
Phelan punched the air after receiving her honorary doctorate paper scroll from UL President Des Fitzgerald, proudly watched by her husband, Jim, and children Amelia (12) and Darragh (7), and parents John and Gabby Kelly.