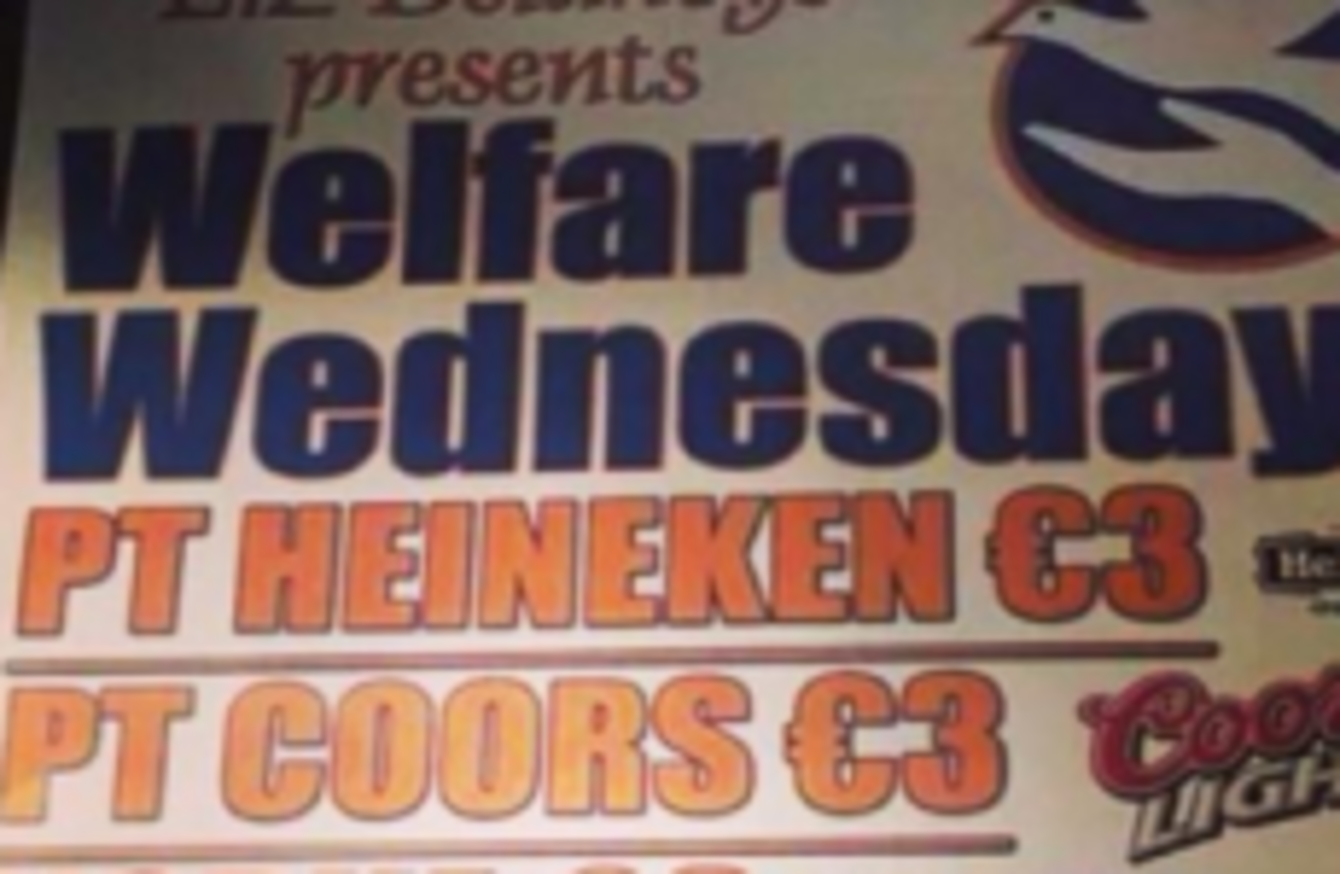 Image: Stephen Nutley via Twitter
Image: Stephen Nutley via Twitter
THE TÁNAISTE Joan Burton and the Department of Social Protection have slammed a Dublin pub for targeting social welfare recipients by promoting 'Welfare Wednesday'.
Burton and the department have called the drinks promotion as "irresponsible".
Logo 
The promotional poster shows the logo of the Department of Social Protection and several beers and spirits being offered for €3.
The Department of Protection confirmed to TheJournal.ie that it had instructed Liz Delaney's pub in Coolock, Dublin, to remove the the department's logo from its promotional advert.
Fine Gael Senator Catherine Noone has also hit out against the promotion for targeting welfare recipients.
A statement from the pub on the FM104 radio station website explains the reasoning behind the drinks promotion.
Binge drinking 
The statement says that "at no time were we ever trying to encourage binge drinking or irresponsible behaviour" adding:
It was never our intention to offend or upset anybody. We would also like to take this opportunity to sincerely apologise for any offence we might have caused anyone.
The statement goes on to say that they wanted to give everyone the opportunity to have a drink and socialise with friends, adding that the Irish pub is an integral part of Irish society and that unemployed people should not be excluded from it.
Reacting to Joan's Burton's comments about the pub being irresponsible, the pub hits out at the Tánaiste claiming that the Government subsidises multinational companies to promote below cost selling of alcohol to supermarkets.
"That's what we call irresponsible."
First published 11.05, updated 16.24