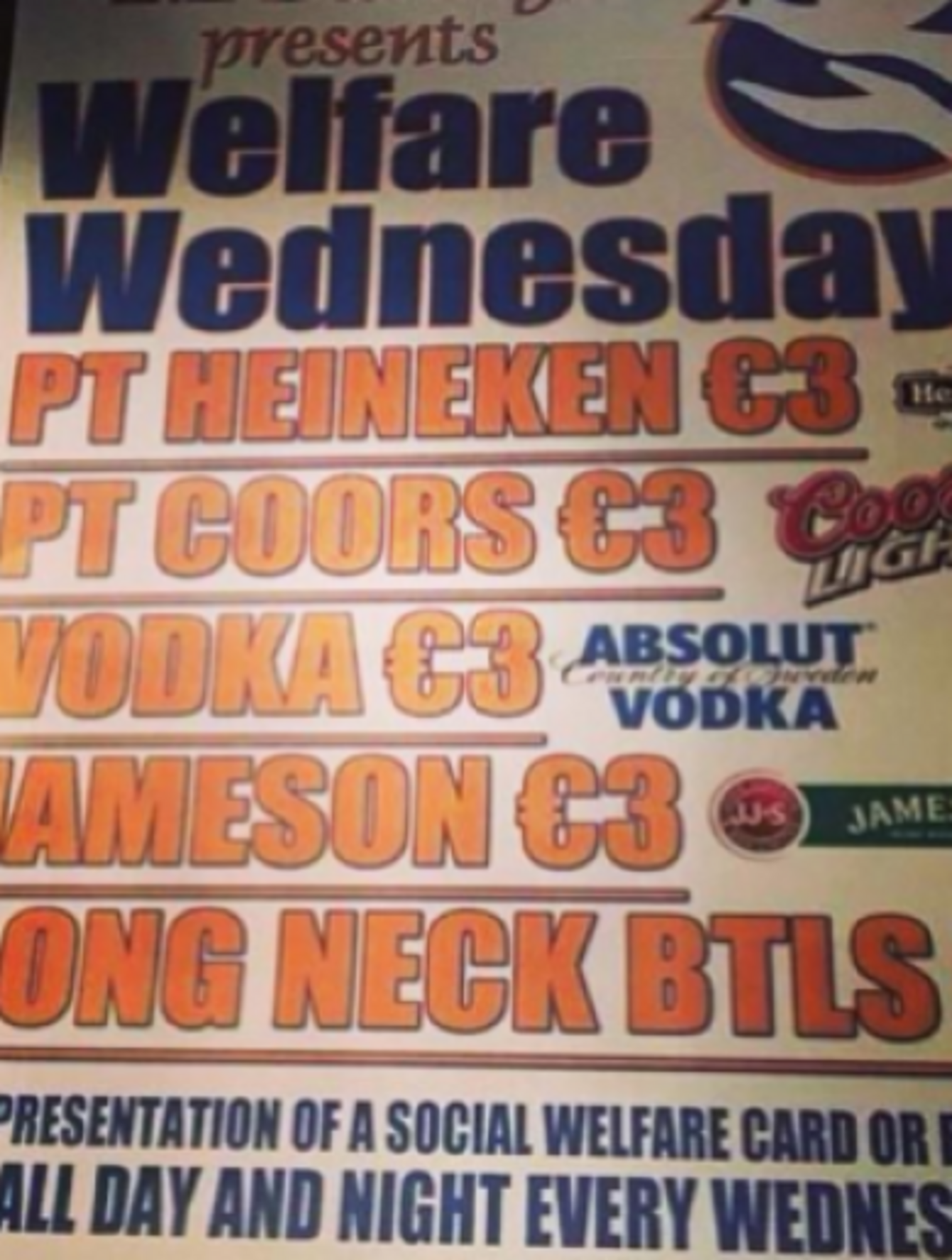 Image: Stephen Nutley via Twitter
Image: Stephen Nutley via Twitter
THE DUBLIN PUB embroiled in controversy after advertising a drinks promotion night called Welfare Wednesday has said the drinks promotion will be going ahead, but without the word "welfare".
The night was promoted on an advert which had a Department of Social Protection logo on it and was restricted to those with a social welfare card.
Both the Department of Social Welfare and the Tánaiste Joan Burton hit out at the pub yesterday, calling it "irresponsible".
The department ordered its logo to be removed from the advert yesterday.
The owner of Liz Delaney's pub in Coolock, Gary Payne, spoke to RTÉ's Louise Byrne on Morning Ireland, explaining the reasoning behind the night.
Not flush with cash
He said they were looking to do a "value based promotion for customers who were not as flush with money as they used to be. We thought it was catchy, but obviously it has caused a bit of controversy and we apologise".
Payne said that they were wrong to use the word "welfare".
"It was specific value promotion for those who were short on disposable income, obviously those on social welfare are short on disposable income and we were just trying to give them some outlet to a normal social activity of going to the pub and having a couple of pints."
He denied that they were promoting binge drinking, stating that if people want to go binge drinking they can go to supermarkets and do that for a cheaper price.
Reacting to comments made by Burton that they acted irresponsibly, Payne admitted that it was a mistake to use the word welfare, but criticised the Government for subsidising the low cost of alcohol in supermarkets.
Binge drinking 
"We have a drink issue in this country. I think we should tackle the low cost selling and move on from there," he said.
"We have far bigger problems in the country at the moment," said Payne, adding that  binge drinking and law and order are both big problems.
"I accept it was mistake using the word, but to say we are irresponsible is a bit much coming from a Government who are sponsoring low selling of alcohol…"
Payne said that up until the poster was picked up on social media they had not received any negative or positive feedback about the promotion from customers, adding that it was not about generating publicity for the pub.
He said that the drinks promotion will go ahead, but that the wording will have changed and it will not be known as Welfare Wednesday. The promotion will be for all customers, not specifically targeted at social welfare recipients.
Payne said he was apologising for upsetting anyone with the promotion, stating it was was never his intention. "It's not the business we are in."
He said there seemed to be a misconception that they were portraying people on welfare as going to the pub all the time.
"We would find the exact opposite, that people can't afford to go to the pub, which is why we were trying to give a value offering to those short on disposable income".
He concluded by saying that he did regret it and he hoped that no damage had been caused to his business and apologised again for any offence.