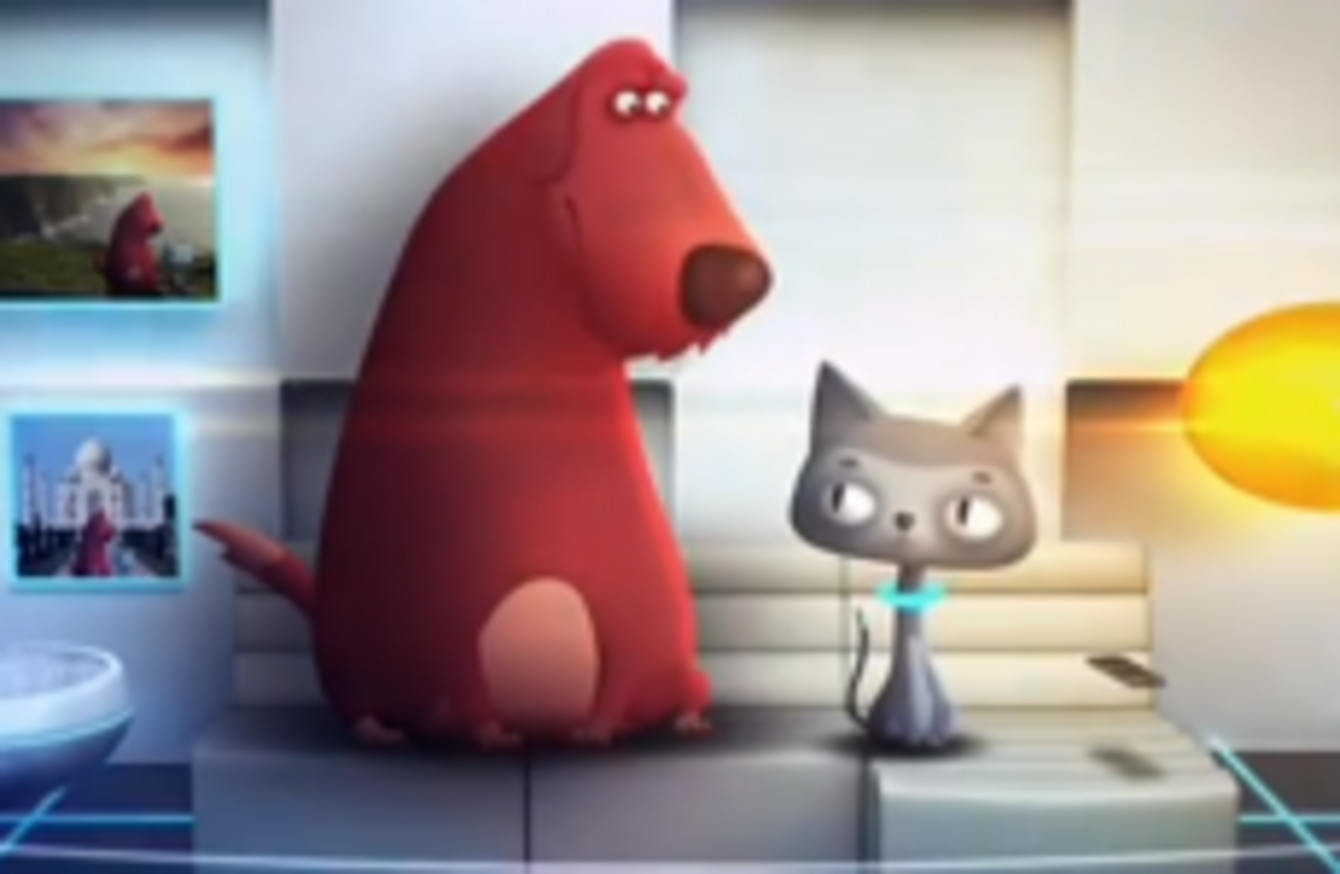 If Tommy and PJ haven't already helped you make the switch, perhaps we can help.
Image: YouTube screengrab
If Tommy and PJ haven't already helped you make the switch, perhaps we can help.
Image: YouTube screengrab
IN 123 DAYS' TIME, the analogue TV service – which has powered TV viewing in this country for over half a century – will be turned off for good.
Ireland, like the rest of the European Union, is moving to a digital-only TV system – and some parts of the UK have already turned off the analogue broadcast ahead of schedule.
The changeover means if you don't already get your TV through some sort of digital medium, you're going to have to act to make sure your screen doesn't look like this after October 24.
That's because, as you may have heard, Ireland's adopting a platform called 'Saorview' – a digital-only replacement which is intended to replace the older system which is now considered inefficient and too cumbersome to maintain into the future.
It's thought that around 250,000 Irish households receive TV signals through analogue signals and nothing else – so there are plenty of people in Ireland who need to get their skates on and put some other arrangements in place.
Given that there's only four months left to get your stuff together, we thought we'd try to explain what's going on – and give you some advice on whether you need to act to make sure you don't lose your TV services later this year.
What's it all about?
Like we said, everywhere in Europe, all TV series will be broadcast in digital by the end of this year – all analogue services are being turned off.
By 'analogue' we mean the traditional format of TV pictures that you've been able to use to get your telly signals for the last few decades.
It might help to consider the analogue-versus-digital debate a bit like this: when they first came out, you were probably impressed with the idea of video tapes – allowing you to view a pre-prepared broadcast at the time of your choosing, without needing to abide by TV schedules, simply by sticking the tape into your VCR (or, God love you, your Betamax player).
But compare that to DVDs – which are smaller, more portable, and are capable of holding far more content at a far higher quality, with sharper pictures and clearer sound – and you'll begin to get a sense of the comparisons between the two generations of TV signals.
Though there's nothing wrong with the quality provided by the current standards of broadcasting, it's simply inferior to the quality you can get through a digital one.
What's more, digital broadcasts are more efficient, in that they take up less space in the airwaves – meaning the use of digital-only broadcasts would ultimately free up more of the spectrum, and eventually allow a greater number of channels to be broadcast.
The extra space also means the government can auction off licences for other parts of the spectrum – allowing new mobile phone or wireless broadband services, which in turn can bring in more money for the State.
Incidentally, don't be confused into thinking that you need to take out some sort of new subscription to get this service – all Saorview is is a replacement for the old analogue system.
Just like the old one, it's free to access: you just need to have the right equipment. If you need a new box or TV, so be it – but there's no fee to access the signal itself (other than the TV licence, of course).
What you can get
If you don't have a commercial TV package – with the likes of Sky or UPC Digital – and you get your TV through an aerial plugged directly into your TV, then you probably receive four TV channels: RTÉ One, RTÉ Two, TV3 and TG4.
If this is the case, then you're off to a good start at least: you know that you live in an area that's also covered by digital broadcasts as well as analogue ones.
Upgrading to digital means you'll get the same four channels as you currently get with your bunny ears, as well as four new ones.
Those other four are RTÉ's dedicated News Now channel, the children's RTÉ Jr channel, TV3′s sister channel 3e, and the time-delayed RTÉ One +1 service (which rebroadcasts all RTÉ One content, beginning with Six One, an hour later. Plenty of time for your Fair City fix, then).
There's also a new, fancy-looking version of Aertel – which gets rid of the old school white-text-on-blue-boxes-on-black motif and replaces it with a slightly more web-style facade – while RTÉ Two also broadcasts in HD, which is handy for those big sporting occasions.
What's more, you'll be able to get RTÉ's six digital-only radio stations – including Radio 1 Extra, 2XM (the slightly more indie version of 2FM), a radio version of RTÉ Jr, the RTÉ Pulse dance station, the golden oldies station RTÉ Gold, RTÉ Choice which features radio content from around the world, and the specialised dance music station RTÉ Pulse.
Again, this is a straightforward indication of how the use of digital TV frees up the airwaves for the use of even more stations. (It's a similar story with radio, where the DAB digital broadcasts allow for more precise frequencies, and therefore a greater number of stations – but you needn't worry about a radio switch-off any time soon.)
On top of the extra broadcasts, there's also a feature that you might find useful: an on-screen electronic programme guide (or EPG) which shows you the listings on each channel for the next seven days. This allows you to set reminders about programmes you want to watch, and so on.

A video showing the final BBC Two broadcast in London earlier this year, when the analogue system – the world's oldest colour TV transmission system – was turned off for the last time. (heymystuff/YouTube)
Right. So how do I make sure if I've got it?
Well, first of all, ask yourself how you watch TV to begin with. If you already have a UPC Digital or Sky subscription (or something similar), with a set-top box and a special remote, etc, then you've nothing to worry about – those signals aren't affected by this switchover, and therefore you don't need to take any action.
If you get your TV through the traditional bunny-ears, or through an aerial on your roof or your garden, you should be aware that you probably won't need to change your aerial. As long as you can get the four existing channels (and even if you can't get TV3) your aerial is just fine.
The question really is: how old is your TV? If it was sold within the last few years, the chances are it probably has Integrated Digital Television (or iDTV) – a system which means your TV can make sense of both the analogue and digital broadcasting formats.
You might want to check the manuals, or look up the details for your make and model – but if your TV is fairly new, it should have iDTV, and your problems are solved (though you should make sure that when you turn on the TV, you're looking at its digital channels and not its analogue ones).
If you don't have iDTV – which is probable if your TV is on the older side – then you'll need to buy a little machine which converts the new digital signals into the older ones which your TV can read. This is what is known as a set-top box.
Thankfully, these aren't terribly expensive, and are coming down in price all the time. The safest way to pick a box is to visit the Saorview website and look at the boxes listed there.
But how do I know they'll work?
Conveniently, some of those boxes will come with the 'Saorview approved' logo on them, meaning they've been tested by RTÉ and are proven to work with the Saorview digital broadcasts.
Of course, if you wanted to, you could also take this opportunity to upgrade your TV – to one which would undoubtedly have iDTV built in. (This is now the industry standard – after all, who's going to sell a TV which would be guaranteed to become obsolete within four months?) Again, there's a list of TVs which come with the Saorview sticker on them to guarantee that they work.
Either way, someone in your local electrical retailer will be nicely experienced in dealing with Saorview queries by now, and will be in the best position to help you.
We should mention at this point that neither RTÉ nor Saorview are sending people door-to-door, so if you get someone coming to your door offering to check your equipment, be very wary.
Communications minister Pat Rabbitte told the Dáil last month that Saorview has set up relationships with three trade bodies: the Irish Satellite and Aerial Association (ISAA), the National Guild of Master Craftsmen, and the Confederation of Aerial Industries (CAI).
Each of those is therefore allowed to include the Saorview logo alongside their own. If you do get someone visiting you, check if they're accredited with one of those bodies – and if they're not, steer clear.
Can I use my box with other services?
They can also give you advice on some of the Saorview boxes which work with other TV platforms – such as the Freeview platform in the UK. Because Freeview came along before Saorview did, the technology it uses is a more basic version (using MPEG-2 encoding) than Saorview (which uses MPEG-4).
This means that some (though not all) of the Saorview boxes will also be able to receive Freeview broadcasts too. So, if you live in an area that also has Freeview coverage (i.e. the easterly or northern parts of the Republic, which are close enough to the UK to pick up British broadcasts), you should be able to invest in a box that will accept both.
There are no official means by which you can get your UPC and Sky facilities through the same box as Saorview – but as we mentioned above you won't need to worry, as if you're already on Sky or UPC you won't lose your RTÉ/TV3/TG4 channels, and you can already get the six extra radio stations.
What if I can't get regular TV anyway?
Given the surface of Ireland it's simply impossible to guarantee 100 per cent coverage using the traditional broadcast means – in fact, even the current system doesn't provide 100 per cent coverage, as broadcasts need a line of sight to be able to reach an aerial. This means if you live in a mountainous spot, or one in a valley, you won't be able to get traditional broadcasts to begin with.
Saorview will cover 98 per cent of the population, but the remainder of homes will be covered by Saorsat – a service carrying the same channels and services as Saorview, except with the broadcast delivered via satellite instead of through a transmitter (or 'mast').
There's no advantage to using Saorsat over Saorview, so you're best off trying to get Saorview first, but if you can't (and you'll probably know already, as you won't be able to get TV through the traditional means) then any approved Saorview retailer will also have some Saorsat equipment you can consider.
More details on that can be found here.