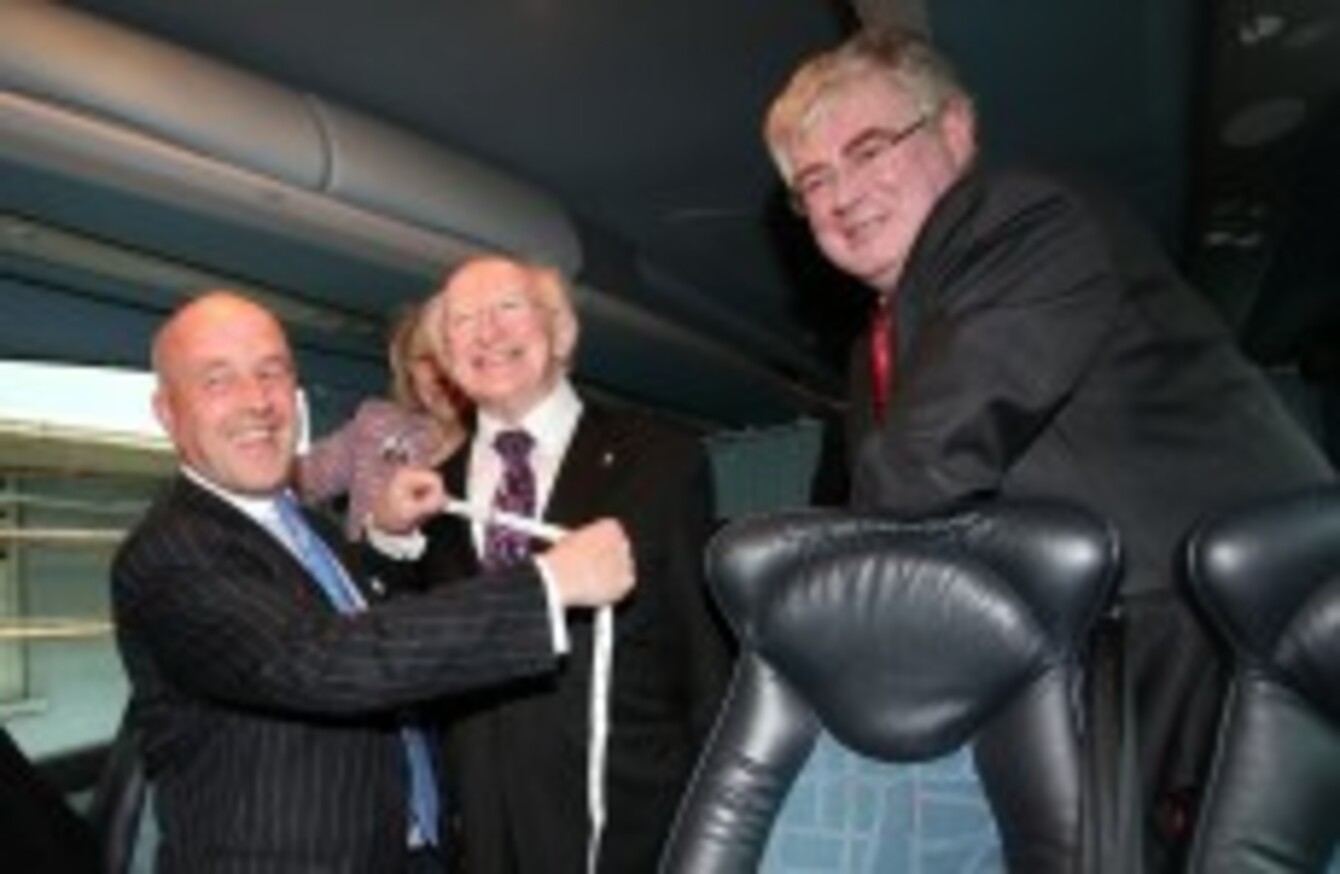 If the suit fits... Michael D got fitted for a swish new suit by tailor Louis Copeland on his campaign bus last weekend. It will get a good airing now...
Image: Stephen Kilkenny
If the suit fits... Michael D got fitted for a swish new suit by tailor Louis Copeland on his campaign bus last weekend. It will get a good airing now...
Image: Stephen Kilkenny
MICHAEL D HIGGINS WILL BE celebrating today after bagging the highest office in the land – and securing a ticket to lifelong financial security.
The new President will enjoy at least seven years at a salary of almost €250,000. And even if he's sore about the planned reduction from the current salary of over €325,000, he won't be showing it. The position also comes with an additional allowance of €317,434 annually for official entertainment and other expenses, plus a generous pension.
But what awaits the six candidates who were pipped to the presidential post? Here TheJournal.ie looks at the earning prospects of those who didn't quite make it…
David Norris is likely to go back to the cut and thrust of the Seanad chamber. He has said spending on his presidential campaign has left him "in the red". But Norris does have a comfortable Seanad salary of more than €60,000, plus allowances, to return to – and previously told TheJournal.ie that he is "not going to bellyache" about his finances.
Mary Davis is still listed on the Special Olympics website as their MD for Europe and Eurasia. Her salary there is hardly presidential, but she certainly has earning potential: tax forms released by her campaign show that she was paid in the region of €150,000 gross in 2009 and 2010 from her job and various board positions.
Seán Gallagher's future is more uncertain. His career on Dragon's Den appears to be over, with the Evening Herald reporting this week that he had pulled out of the show in February. And P60 forms released by his campaign show that he earned just €12,133 last year. Presumably he'll be hoping that some of his investments pay off.
Martin McGuinness will return to his position as Deputy First Minister in the North. The job comes with a salary of almost £112,000 (€127,000), but McGuinness has said he lives on the average industrial wage, donating the rest to Sinn Féin. He has released bank statements showing that he receives a monthly wage of £1,605 (€1,820) from the party.
Gay Mitchell is sitting pretty: his term as an MEP lasts for another three years, during which he will draw the standard salary of €91,984 plus €298 per day in expenses for attending the parliament. However, his earnings aren't as handsome as they might be: he has donated his pension entitlements as a former minister and TD to the State.
#Open journalism No news is bad news Support The Journal

Your contributions will help us continue to deliver the stories that are important to you

Support us now
Dana Rosemary Scallon's prospects are not clear. The announcement that the All Ireland Talent Show will not be returning to our screens left her with no regular TV job; while she lost her MEP's salary along with her seat in 2004. According to her website, Dana currently has no concerts booked. However, she will of course still earn royalties from the no fewer than 41 albums she has released since 1970.
And IF Michael D hadn't made it to the Áras….
…he still could have retired as gracefully as he wished. Having stepped down as a TD in February to contest the presidential election, the 70-year-old had no salary to draw on – but pension entitlements of some €110,000 a year would have kept him warm at night.