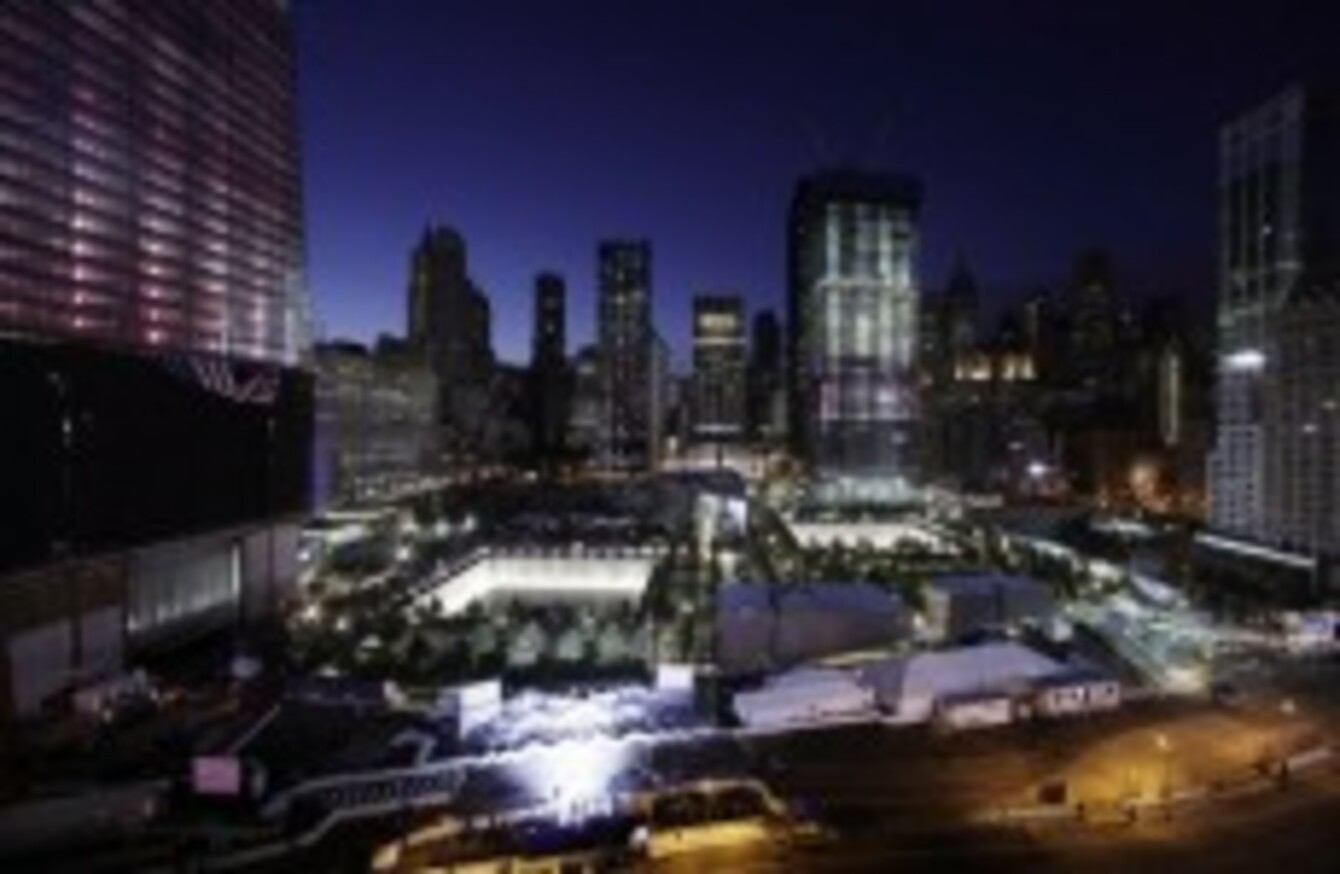 The site of the World Trade Centre as it is today.
Image: Mark Lennihan/AP/Press Association Images
The site of the World Trade Centre as it is today.
Image: Mark Lennihan/AP/Press Association Images
BEFORE COMMEMORATION CEREMONIES got underway in Dublin and New York today, some of Ireland's politicians shared their memories of this day 10 years ago with TheJournal.ie.
Ordinary tasks such as changing a car tyre, fixing a bike and ordering a sandwich have now been etched into the minds of the country's leaders.
Here they are, in their own words.
Enda Kenny, Taoiseach. In September 2001, he was a Dáil deputy and member of the Fine Gael party.
The events of 11 September, 2001 cast a long and dark shadow over the world. It is a day that has left an indelible mark on our memories allowing us all to recall exactly where we were and what we were doing at that time.

I clearly remember that I was at home. I was changing a wheel on the car outside when I got a phone call to tell me that a plane had hit the World Trade Centre. Along with the rest of the world I watched with horror as the awful truth began to dawn that this was not just a random accident but a major atrocity.

It was a day of disbelief, of emotional turmoil with scenes of devastation and destruction matched by scenes of personal sacrifice and remarkable heroism. One of my abiding memories was the magnificent reaction on the part of the American people, their swift response to the crisis itself, and their determination not to be defeated by these terrible events.

What was also very striking was the immediate solidarity felt around the world with so many countries quick to express their sympathy with the people of the United States.

Here at home, our many deep ties with the US were reflected in the depth of feeling that was evident throughout the country.
Eamon Gilmore, now Tánaiste and Minister for Foreign Affairs. Then, Deputy in the Dáil and member of the Labour party.
I was in Foley's on the corner of Merrion Street and Merrion Row for a lunchtime sandwich. As I was ordering I noticed a group of customers gathered around the television. At first I assumed that they were glued to the screen for a horse race or some other sporting event. However, after a few moments of looking at the screen and seeing only sky I asked what was happening.

When hearing that a plane had crashed into one of the Twin Towers my first thought was that it must have been an accident, a private plane that had gone off course – that sort of thing.

However when the second plane crashed it was clear that there was something more sinister was behind it.

I remember thinking about the people on the plane and trying to comprehend their terror as they realised what was about to happen and then the horrendous reality for those trapped within the Towers.

I have a recollection of a radio report by Conor O'Cleary that was broadcast later that evening. He described how some of those trapped in the top of the towers had chosen to jump to their death rather than what awaited them as the towers went up in flames. You just have to think about what that period of time was like.

My other lasting memory of September 11 and the days that followed is of the heroism of those who risked, and even forfeited, their own lives in their attempts to rescue others. My thoughts now on the 10th Anniversary of the atrocity are with the families and loved ones who were left to grieve.
Ruairi Quinn, now Minister for Education. Then, Leader of the Labour Party.
I remember the Tuesday morning well. I was sitting in the Labour Party Leader's office in Leinster House with advisers, waiting on Derek McDowell to arrive for a meeting. As we were waiting, I was conscious of strange images on the television over to my left. Having glanced a few times, I was convinced it was a drama, until the ticker-tape of Sky News and the urgency of the voices brought home the awful reality. Needless to say, the meeting did not go ahead.
Eamon Ryan, now leader of the Green Party. Then, Dublin City Councillor.

I remember I was fixing bikes that day in the bike shop we had and it was around the time of the Joe Duffy Show. I was listening in and there was something in the back of my mind thinking, 'is this a dramatisation?' It was a sort of radio that was very different and shocking. I didn't have access to a television.

Later on, I was driving somewhere and called into the Goat Grill and watched it on telly. I remember driving back from there and listening to the radio on the way home. I remember Conor O'Clery describing watching someone fall, I remember that sense of 'there's someone falling right now'. It felt like the War of the Worlds on the radio – 'Is this for real? What is this?'

I remember going home that night and we didn't have a telly at the time so I remember going to places to watch it on television but it was strangely powerful on the radio. I can't think of any other event that was similar in my lifetime. When Kennedy was assassinated I was all of a week old or something like that, but I can't think of any event in the 40 years prior to 9/11 which was a similar moment.

The people of Ireland will never forget those who lost their lives on 11 September 2001. A decade on, we continue to honour their memories and reflect on how the world was changed that day.
-Additional reporting by Hugh O'Connell, Susan Ryan and Jen Wade.