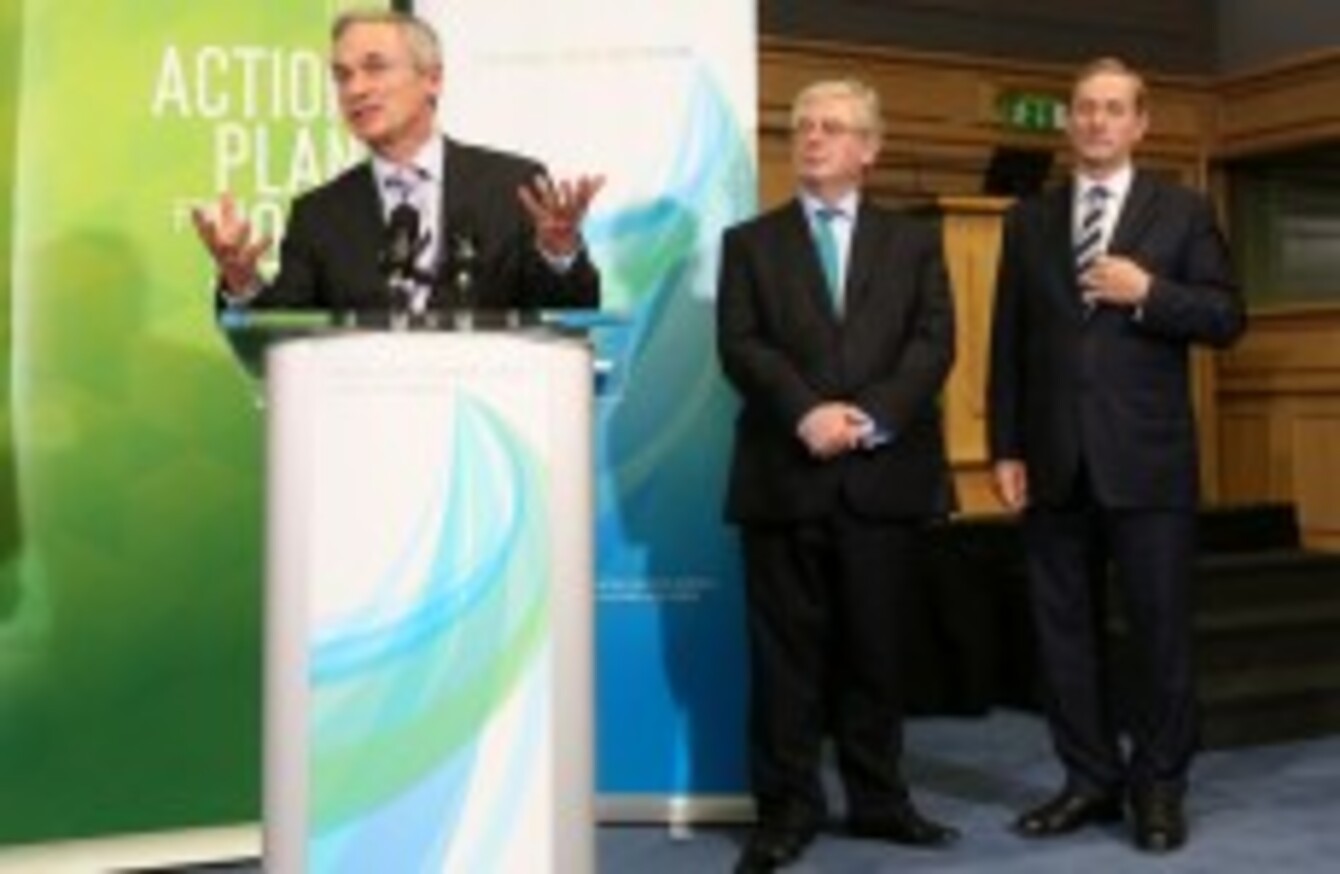 Richard Bruton with Tánaiste Eamon Gilmore and Taoiseach Enda Kenny (File photo)
Image: Laura Hutton/Photocall Ireland
Richard Bruton with Tánaiste Eamon Gilmore and Taoiseach Enda Kenny (File photo)
Image: Laura Hutton/Photocall Ireland
THE GOVERNMENT HAS hailed another report showing it achieved a 90 per cent success rate on its much-publicised Action Plan for Jobs last year – although the plan was not as successful in implementation as in 2012.
The government strategy to boost employment saw various departments deliver on 299 of the 333 actions that were committed to in the plan for 2013, giving an overall implementation rate of 90 per cent.
This is down on the 92 per cent implementation rate in 2012, where 249 out of 270 actions were delivered on time in 2012.
Actions set down in the documentation include everything from simply completing and publishing reports to achieving certain levels of investment in sectors of the economy.
Speaking at Government Buildings today, the Jobs Minister Richard Bruton insisted that setting the targets helped ensure they are delivered, and rejected claims of spin.
"The key point about this is we are setting targets that mean they are delivered so that even though some of them won't be delivered this quarter it 's our determination to have them delivered in the next quarter," he said.
"So by having the targets, by holding people to account we are delivering change. If I came in and we were saying: 'We had a 100 per cent success rate', you'd say: 'Well that's just spin'.
He said every one of the targets is "scrutinised to see why it didn't meet up and actions are put in place to deliver it".
The overall aim of the plan is to increase the number of people at work by 100,000 by the time the current administration leaves office in 2016 and that the overall workforce will exceed 2 million people by 2020.
Today's media event was attended by the Taoiseach and the Tánaiste and followed a special cabinet meeting on jobs this morning.
At the event the government announced an additional €3.5 million in funding for Local Enterprise Offices (LEOs) in 2014.
The LEOs are based in each local authority and tasked with developing plans for those areas to boost enterprise.