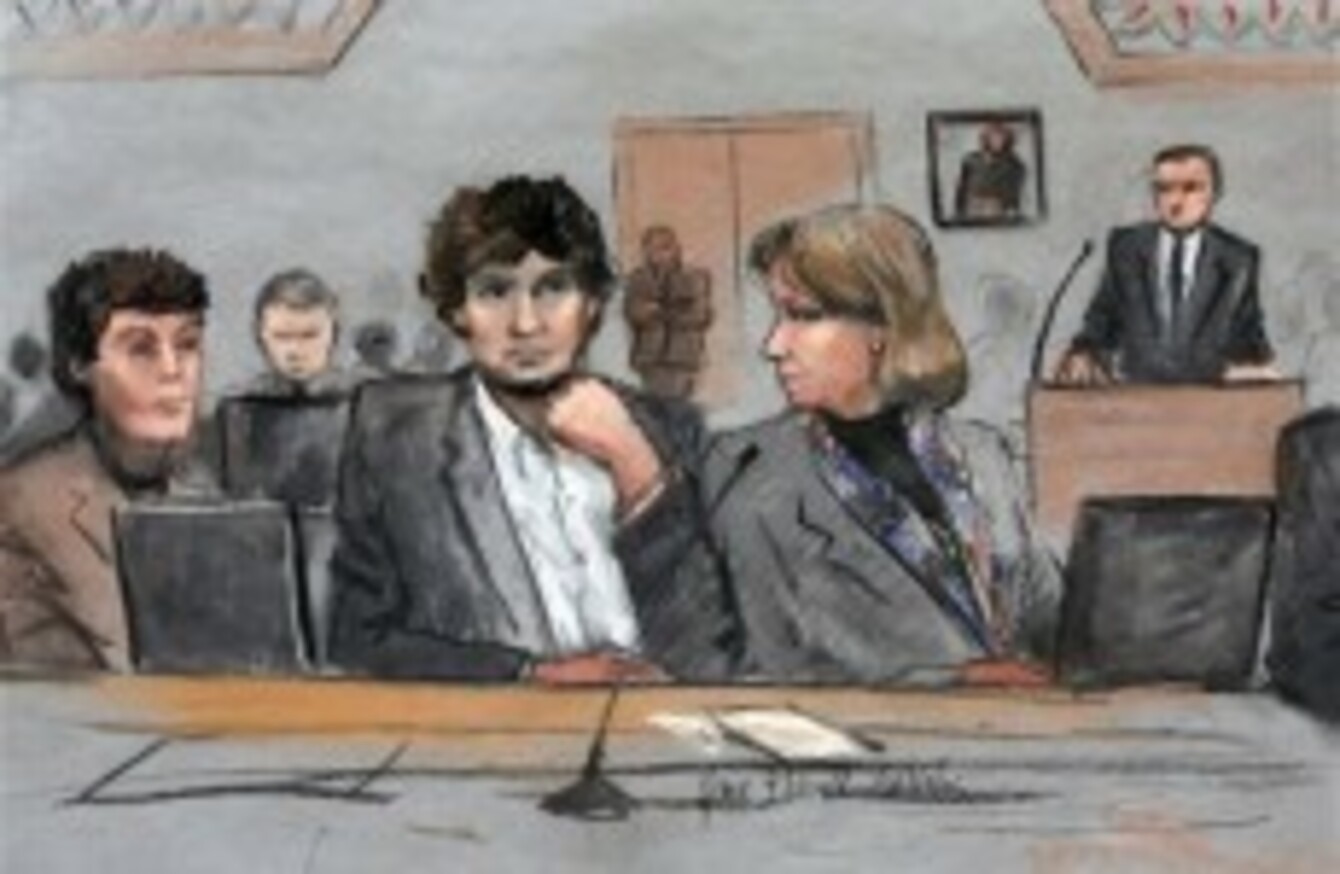 Dzhokhar Tsarnaev, center, is depicted between defense attorneys Miriam Conrad, left, and Judy Clarke, right, during his federal death penalty trial in Boston
Dzhokhar Tsarnaev, center, is depicted between defense attorneys Miriam Conrad, left, and Judy Clarke, right, during his federal death penalty trial in Boston
BOSTON MARATHON BOMBER Dzhokhar Tsarnaev targeted men, women and children at the marathon because he wanted to terrorise the United States on a day when the eyes of the world would be on Boston, a federal prosecutor told jurors in closing arguments.
"He chose a day when there would be civilians on the side-walks. He and his brother targeted those civilians, men, woman and children, because he wanted to make a point. He wanted to terrorise this country. He wanted to punish America for what it was doing to his people," Assistant U.S. Attorney Aloke Chakravarty said.
"So that's what he did."
Tsarnaev is charged with conspiring with his older brother, Tamerlan, to bomb the marathon in April 2013. Three people were killed and more than 260 were injured when two pressure-cooker bombs exploded near the finish line. Dzhokhar could face the death penalty if convicted; Tamerlan was killed in a gun battle with police days after the bombing.
Chakravarty showed the jury a photo of Tsarnaev standing just feet behind 8-year-old victim Martin Richard, his family, and other children who were standing on a metal barricade to watch the runners cross the finish line.
He said Tsarnaev placed his bomb right there, the second bomb that would explode that day.
These children weren't innocent to him. They were American. …Of all the places that he could have placed the bomb, he placed it right here.
Chakravarty also played a gruesome video of the aftermath of the first bombing, which showed gravely injured people scattered on the side walk and huge pools of blood. As first responders and volunteers try to help the injured, screams and moans punctuate the video, along with shouts of "Help!"
Tsarnaev's lawyer admitted he participated in the bombings during her opening statement to the jury. "It was him," said attorney Judy Clarke, a renowned death penalty lawyer.
But Clarke told the jury that it was Tamerlan Tsarnaev who was the mastermind of the attack.
Clarke said the 26-year-old had become increasingly radicalised and enlisted Dzhokhar, then 19, to help him in an attack meant to retaliate against the US for its actions in Muslim countries.