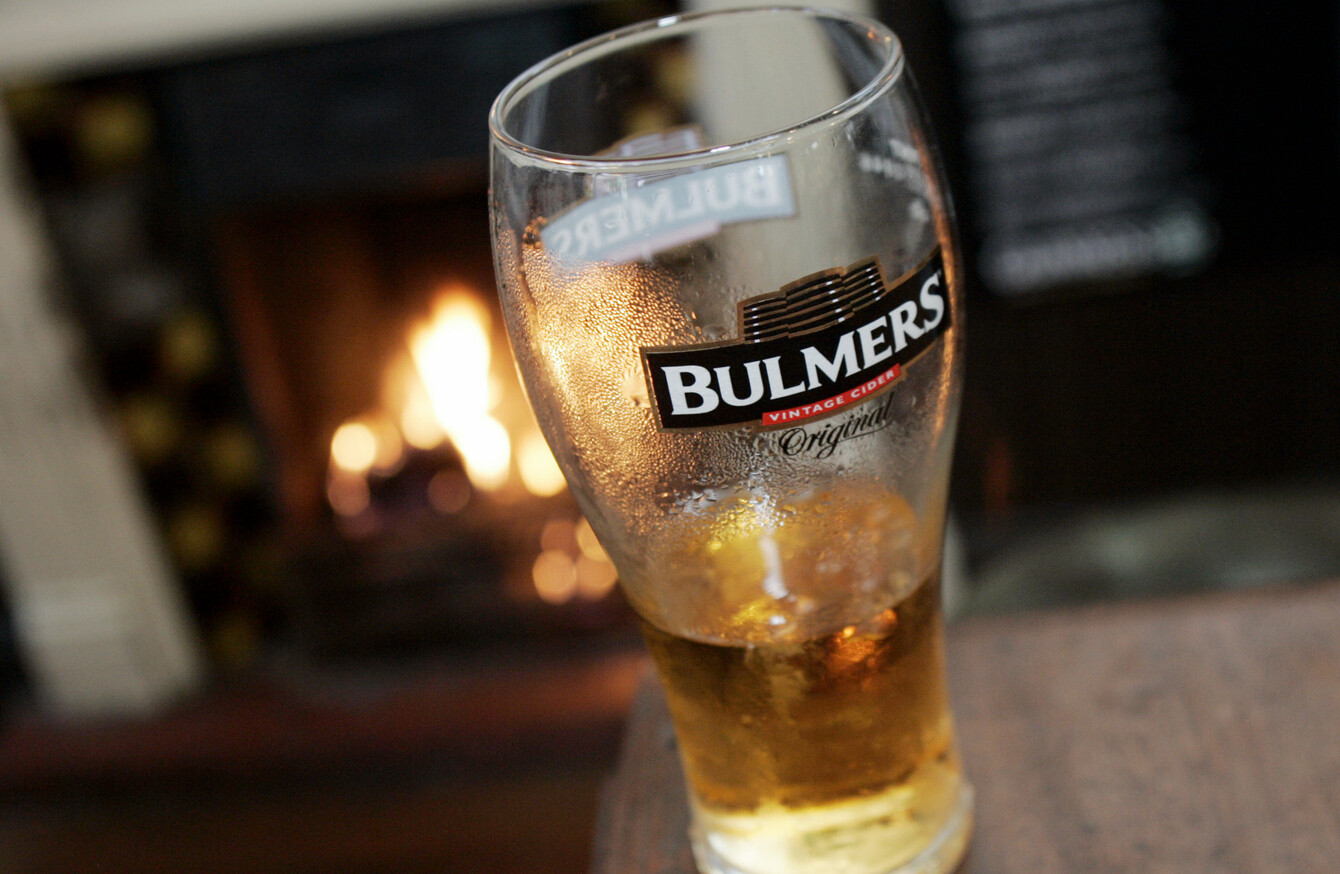 Image: Mark Stedman/RollingNews.ie
Image: Mark Stedman/RollingNews.ie
THE DRINKS GIANT that owns Bulmers plans to reverse its slipping cider sales – by prompting publicans to lay off the ice.
In an interview with Fora, Belinda Kelly, the Irish marketing director of publicly traded group C&C, said the cider is performing well in off-licences, but the pub trade is "where the challenges are".
Annual sales at C&C's Irish operation took a hit last financial year, dipping 4.4% to about €312 million during the 12 months to the end of February 2018.
The outfit's operating profit also declined, dropping 6.7% to just over €40 million. Volume sales for the Bulmers brands fell by 6%.
The company blamed the dip on increased competition from international rivals and the loss of several wholesale accounts.
In pubs – where "the battle is on" – Bulmers pint bottles are performing well, but C&C is struggling when it comes to selling the drink on draught, Kelly said.
In a bid to reverse the decline, C&C – which also owns or distributes several alcoholic and soft drinks brands like Tennent's lager and Finches Sparking Orange – is concentrating its Irish marketing efforts on so-called 'in-outlet' campaigns.
"We're going back into the pubs and really trying to get our brand back onto the counter as well as in the fridge," Kelly said.
Naturally, Bulmers has less visibility in a fridge than on a counter top, which falls within punters' "decision corridor" – marketing lingo for the last three feet before the bar.
"It's us and Orchards Thieves on draught," Kelly said, referring to the cider brand launched by rival Heineken in 2015. "Some outlets will only want one cider (on tap). We've been going back in and trying to grow our distribution (in pubs)."
C&C's on-the-ground sales team is conducting a shoe-leather campaign to convince pub owners to sell the cider on draught as well as in pint bottles. They'll be arguing a peculiar business case for why pub owners should add a Bulmers tap to their arsenal.
"The bottle is always served over ice. It's our iconic pack. Some people just don't like Bulmers over ice, so the draught consumer can just have a draught without ice," Kelly said.
Although Bulmers accounts for about 50% of the Irish cider market, Heineken's Orchard Thieves has taken a decent slice of the pie since its launch three years ago.
According to 2017 data compiled by consumer insights group Kantar Worldpanel, the brand owns a near-15% share of the market, with its sales growing faster than the overall cider market. Bulmers' sales, in contrast, are lagging behind the trend.
Events
Kelly has worked for the C&C Group for almost a decade and was appointed marketing director for the Republic and Northern Ireland two years ago.
Prior to joining C&C, Kelly spent eight years at the Irish wing of US behemoth Coca-Cola, an experience that helped inspire the annual Bulmers Forbidden Fruit music festival, which has taken place in Dublin every June bank holiday weekend since 2011.
"Coming from a background in Coca-Cola, experiential and events were a very big thing. We didn't really have a music strategy (at C&C)," she said.
We reached out to two different promoters to come up with a festival that would be our own. That's where Forbidden Fruit came from.
The beauty of events like Forbidden Fruit from a marketing perspective is that they create a year's worth of social media fodder and other such 'content', Kelly said.
The company sponsors a number of music festivals, including next weekend's Body & Soul in Co Westmeath.
The bit that ties it all together is the Bulmers 100% Irish stage at each event, which serves as a showcase for up-and-coming artists – and a chance for C&C to push its brand.
The campaign came out around the same time the group revamped its marketing message for Bulmers last year.
The group spent €10 million on a campaign that saw it replace its long-running 'time' campaign with a more humorous marketing message that featured "sharp, witty observations of life in Ireland", according to Kelly.
"The 'time' campaign worked extremely well for us. But a lot of the time we were talking about how the product was made. The key of the campaign last year was bringing the product into people's lives," she said.
New brands
The Bulmers rejig coincided with the launch of Outcider, a more 'youthful' cider that rivals Heineken's Orchard Thieves. Kelly was instrumental in bringing the drink to market.
"Before Orchard Thieves came, Bulmers was always a brand that people loved," she said.
We got to be seen as slightly older when Orchard Thieves came in … We'd never done a sweet apple cider. That's what Outcider was for; to capture that youthful market that's looking for a sweeter cider.
The C&C group owns and distributes several other cider brands, like Wyder's in the US and fruit-flavoured Hornsby's cider, which was introduced to the Irish market but "didn't necessarily stick".
"Hornsby's worked OK in the off-trade, but it's a slightly different cider than what the Irish consumer is used to," Kelly said.
"The Irish consumer is very much about apple cider. Flavoured cider is still very small here, it's only about 5-6% of the total market. I think there's probably newer innovations that we can do, but it'll be an apple cider innovation in the existing family of Bulmers."
When asked whether C&C plans to test other foreign ciders in the Irish market, Kelly said the group's UK-based Orchard Pig craft cider – which it acquired last year – is "something that we'll look at for over here".
Sign up to our newsletter to receive a regular digest of Fora's top articles delivered to your inbox.
Written by Conor McMahon and posted on Fora.ie