Image: PA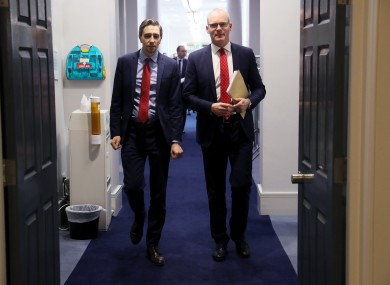 Image: PA
Updated Mar 12th 2020, 11:43 AM
THE GOVERNMENT HAS announced that schools across the country are to close to prevent the spread of Covid-19.
The move comes as the coronavirus was declared a pandemic by the World Health Organisation and US President Donald Trump has banned travel from some European countries. 
There are now 43 cases in Ireland. There are 18 cases in Northern Ireland, bringing the total on the island of Ireland to 61. Ireland recorded its first death. 
Meanwhile, Executive Director of the WHO Dr Michael Ryan praised Ireland's and Spain's work to contain the spread of the coronavirus, describing it as "coherent", and a "comprehensive" strategy of contact tracing, case isolation and some social distancing.
Here's what's new today:
Twenty-seven new cases of Covid-19 were confirmed in Ireland this evening. The total number here is now 70. Six patients are now in intensive care. 
Taoiseach orders school, colleges and childcare facilities from 6pm this evening to close to prevent spread of coronavirus. 
Shops will remain open and there is a plan in place to ensure the supply chain will not be interrupted, the Taoiseach said. 
The GAA announced a suspension on all activities until 29 March.
There were nine new cases confirmed yesterday: six were associated with travel, and a further three were in close contact with a confirmed case
A woman who had the disease died in a hospital in the east of the country yesterday
Iconic nightclub CopperFaceJacks announced they will be shutting until 29 March.
A second Covid-19 case at Trinity College has been confirmed; the first case associated with the university was said to be making "a good recovery"
Basketball Ireland has become the first Irish sporting body to suspend all its competitions and events, with immediate effect
Tánaiste Simon Coveney increased the government's travel advice to Madrid and other Spanish destinations to advise against all "non essential travel"
The shamrock ceremony in Washington has been cancelled – but it's understood that Leo Varadkar will still meet Donald Trump.
Here's the latest from around the world:
The Governor of New York has announced that Broadway will be shut down.
US President Donald Trump says he's suspending all travel between the US and Europe for 30 days from tomorrow – but this excludes Ireland and the UK
European Council President Charles Michel said that "economic disruption must be avoided" after the travel ban announced by Trump
Italy plans to shut all stores except for pharmacies and food shops to curb the spread of coronavirus
"Siami tutti italiani", meaning 'we're all Italians', was the message from European Commission chief Ursula von der Leyen
Actors Tom Hanks and Rita Wilson have confirmed that they have tested positive for coronavirus
Decisions by Germany and the Czech Republic to restrict the export of face-masks and respirators have been criticised, as have decisions by Austria, Slovenia and Malta to prevent the entry of Italians
Russia has sent test kits to countries including Iran, North Korea, Uzbekistan and Azerbaijan free of charge
Twitter has ordered all staff globally to work from home.
Prevention
Covid-19 is spread through droplets caused by sneezing or coughing, or by touching a surface that someone has sneezed or coughed on within a particular time frame. It cannot be passed through your skin, and it's thought that it's unlikely to be airborne.
It may take up to 14 days for symptoms to show. 
The best ways to protect yourself and others from the virus are to wash hands properly and often, cover your mouth and nose with a tissue/your sleeve when coughing and sneezing, and put used tissues in a bin and wash your hands. 
Symptoms of Covid-19 include:
Cough
Shortness of breath
Fever
Breathing difficulties.
Further resources:
A helpline for older people who are concerned about the coronavirus has been launched by Alone. The number is 0818 222 024, and it's open Mon-Fri, 8am-8pm.
- with reporting from AFP