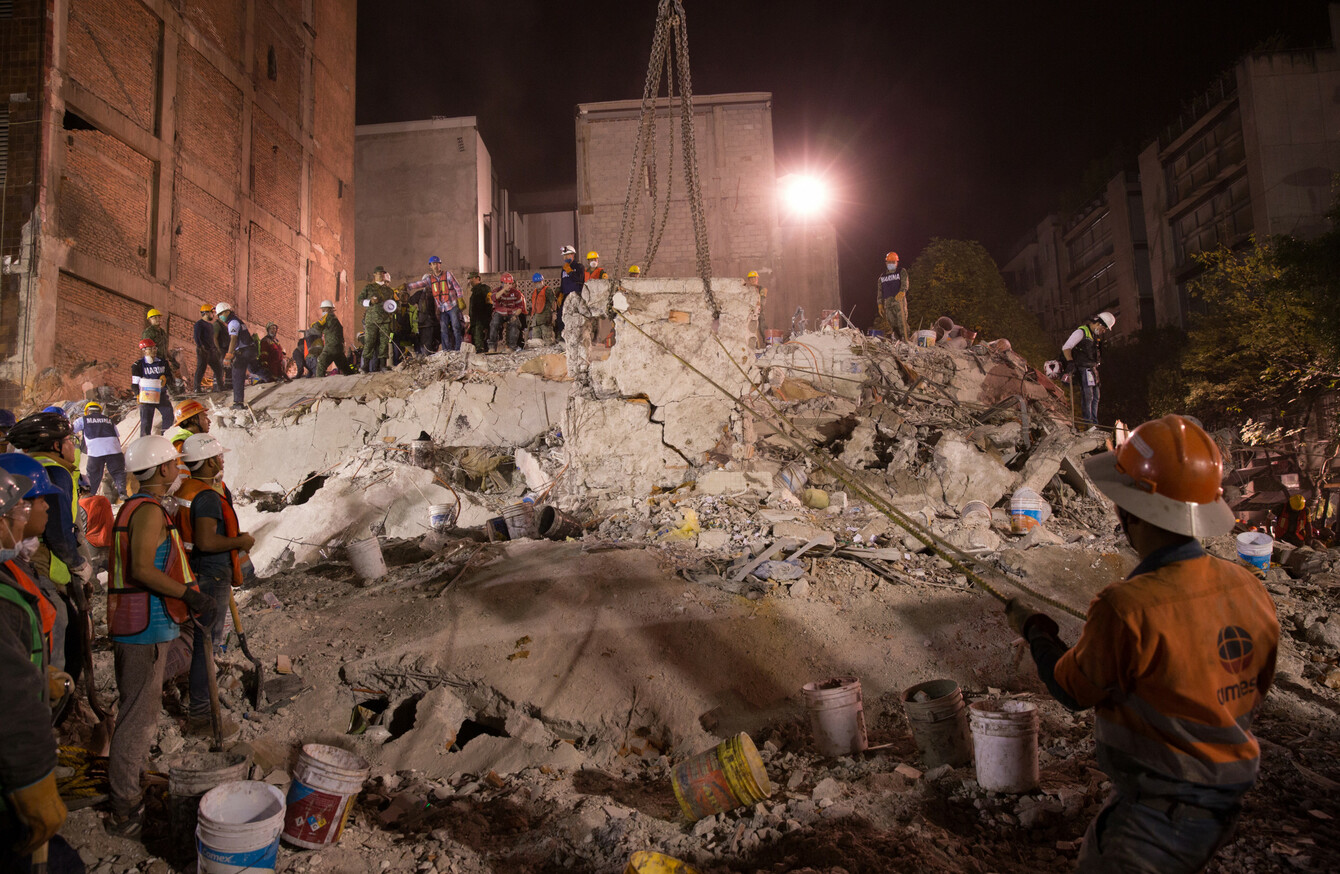 The earthquake that struck Mexico City on 21 September 2017 was 7.1 in magnitude.
Image: SIPA USA/PA Images
The earthquake that struck Mexico City on 21 September 2017 was 7.1 in magnitude.
Image: SIPA USA/PA Images
THERE COULD BE a big increase in the number of major earthquakes this year, scientists are warning.
It's believed increased seismic activity could be triggered by variations in the speed of Earth's rotation, which changes the length of days by a tiny amount.
"On five occasions in the past century a 25-30% increase in annual numbers of [earthquakes of magnitude of 7.0 or higher] has coincided with a slowing in the mean rotation velocity of the Earth," according to an abstract of a study by Roger Bilham of the University of Colorado in Boulder and Rebecca Bendick of the University of Montana.
Earthquakes of magnitude 7.0 or more are the most damaging, and can cause significant damage and loss of life.
Bilham, who spoke to the BBC programme Science in Action, said that there was a good existing record of earthquakes of that level of power going back over 100 years – as even more rudimentary seismometers could pick up tremors at that level.
And while it had been thought the pattern was, more or less, random – Bilham said the new study analysed the correlation "between the number of earthquakes you're likely to have and whether the day is a fraction of a second more or less than the average length of the day".
"As the Earth slows down – like a skater on ice – its equatorial diameter decreases," he said.
Explaining how it worked, he said:
Its waistline gets smaller but its clothes – the tectonic plates on Earth – remain the same size, which means they get rumpled up and where they get rumpled up is at the plate boundaries.
#Open journalism No news is bad news Support The Journal

Your contributions will help us continue to deliver the stories that are important to you

Support us now
The circumference of the Earth only reduces by a miniscule amount – around 12 milimetres – but the difference is enough to give the plates a nudge, and possibly trigger an earthquake.
Looking back over the records from the last century, Bilham and Bendick found there had been periods of around five years when the planet's rotation slowed. The number of powerful earthquakes increased in the periods following this.
"It is straightforward," Bilham told The Observer. "The Earth is offering us a five-year heads-up on future earthquakes."
The number of powerful earthquakes averaged 15 a year, he said, but could drop as low as six. This year, he said, it could reach 20.