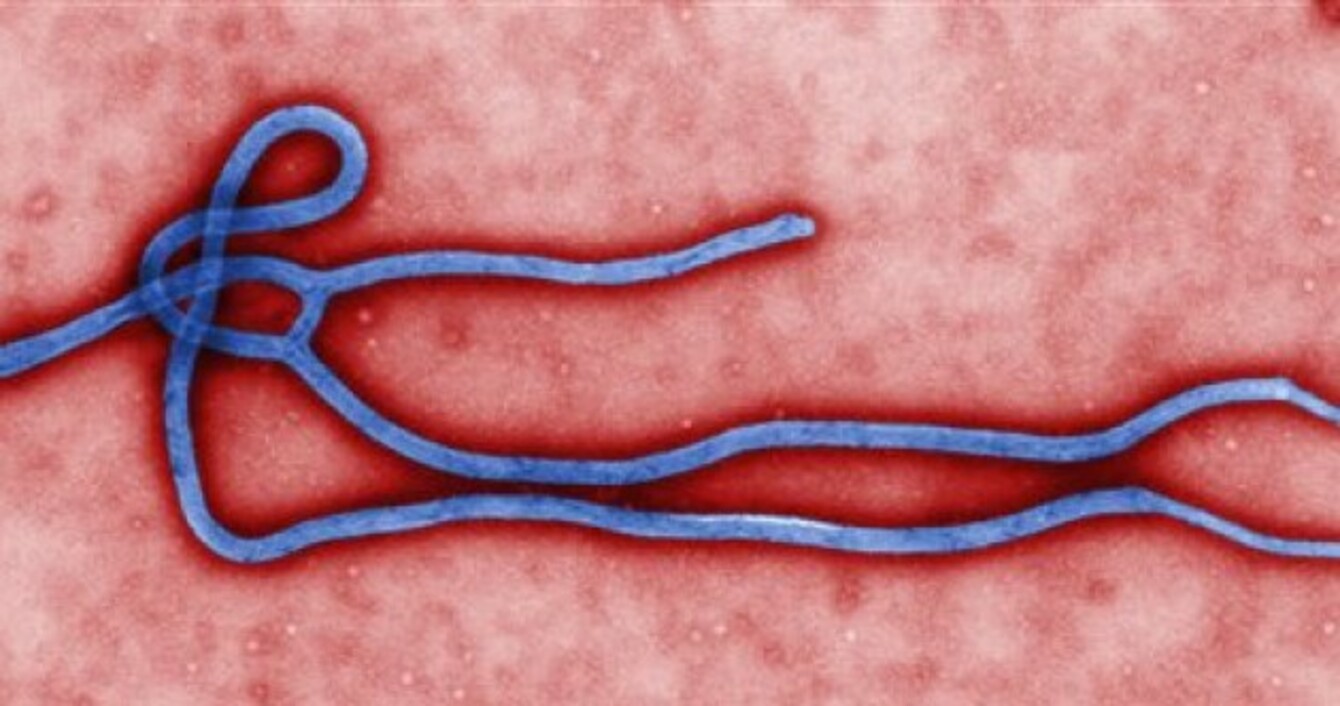 The Ebola virus
Image: AP
The Ebola virus
Image: AP
WITH THE NEWS that a health worker has been infected with Ebola in the US, the worries about Ebola and how it spreads is worrying many.
Speaking in Dallas yesterday, the health experts said that recent Ebola case in Texas should not cause a panic, with the County Judge Clay Jenkin stressing the point that the virus can not be spread by simply walking past someone on the street.
So, what are the facts about Ebola?
When is Ebola contagious?
Only when someone is showing symptoms, which can start with vague symptoms including a fever, flu-like body aches and abdominal pain, and then vomiting and diarrhea.
How does Ebola spread?
Through close contact with a symptomatic person's bodily fluids, such as blood, sweat, vomit, feces, urine, saliva or semen. Those fluids must have an entry point, like a cut or scrape or someone touching the nose, mouth or eyes with contaminated hands, or being splashed. That's why health care workers wear protective gloves and other equipment.
The World Health Organisation says blood, feces and vomit are the most infectious fluids, while the virus is found in saliva mostly once patients are severely ill and the whole live virus has never been culled from sweat.
The Texas Department of State Health Services said on Sunday that a health-care worker who provided hospital care for the first patient to die from Ebola in the United States has tested positive for the virus. The worker, who was not identified, was wearing full protective gear while attending to the patient during his second visit to the hospital.
What about casual contact?
Ebola isn't airborne. Dr Tom Frieden, director of the Centers for Disease Control and Prevention, has said people don't get exposed by sitting next to someone on the bus.
"This is not like flu. It's not like measles, not like the common cold. It's not as spreadable, it's not as infectious as those conditions," he added.
What happens if someone is suspected of having Ebola?
Hospitals with a suspected case would call the health department. The Minister for Health Leo Varadkar says there are protocols in place to deal with any suspected case, should it come to Ireland, and there is an isolation room available in the Mater Hospital in Dublin.
What are the symptoms?
If someone in an area known to have Ebola or someone who has been in contact with someone with Ebola begin to have symptoms such as a fever, bleeding around the eyes and nose, vomiting, sometimes with blood in it, a skin rash, muscle and joint pain and/or diarrhoea, sometimes with blood in it, then they should immediately seek medical treatment. UNICEF says that Ebola is not a death sentence and those that present early for treatment have a better chance of survival.
How is it cleaned up?
In the US, the CDC says bleach and other hospital disinfectants kill Ebola. Dried virus on surfaces survives only for several hours.
Additional reporting Christina Finn