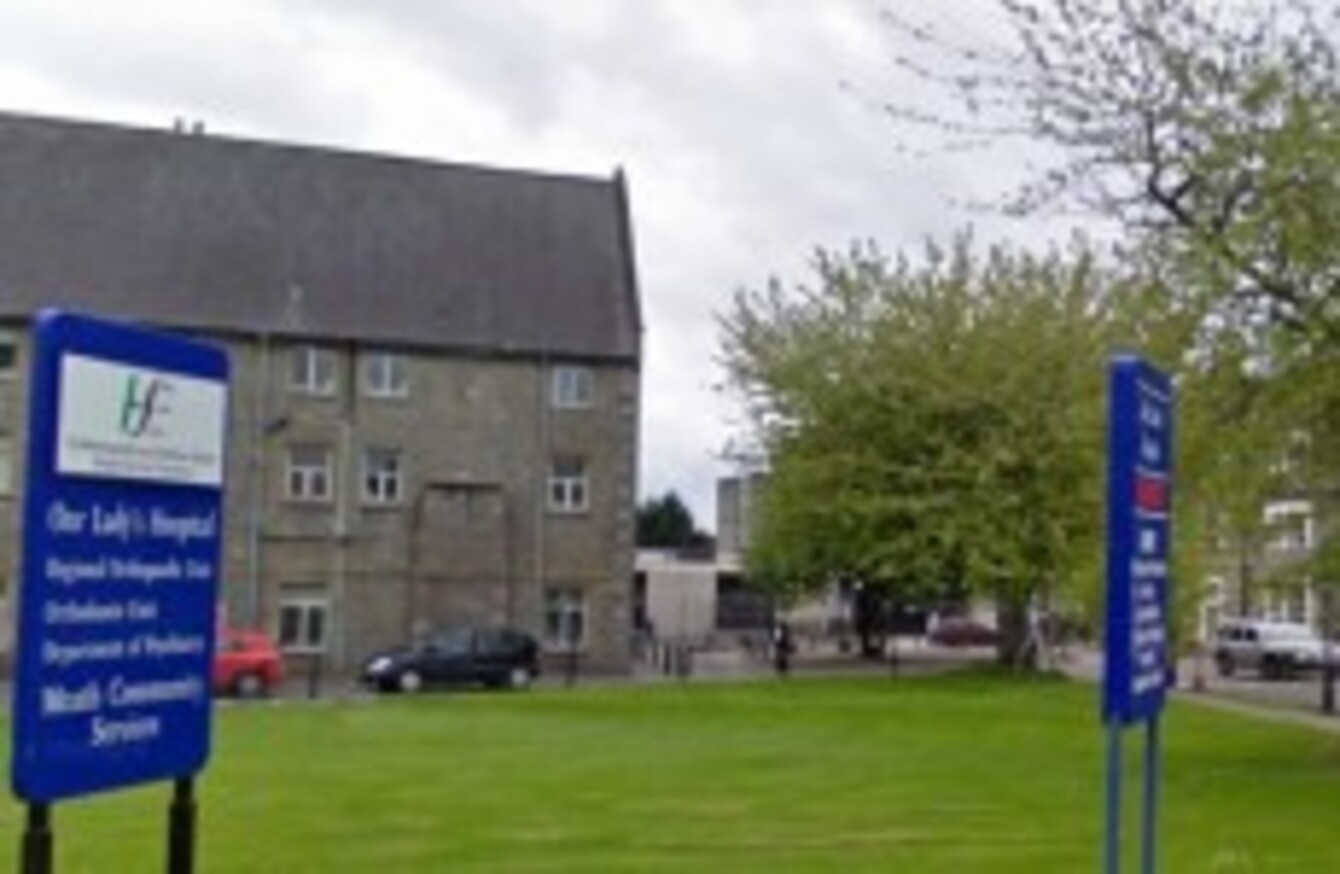 Our Lady's Hospital, Navan
Image: Screengrab/Google Maps
Our Lady's Hospital, Navan
Image: Screengrab/Google Maps
Updated 16.10pm
A RESTAURANT IN Our Lady's Hospital in Navan, County Meath was issued with a closure order last month.
C.C's Coffee Dock was ordered to close by the Food Safety Authority of Ireland (FSAI) under the European Commissions Official Control of Foodstuffs Regulations, 2010.
A statement from the HSE confirmed that the coffee dock was closed due a pest control issue. 

The issue of pest control is treated very seriously by Hospital Management and every effort is made to ensure premises are free from vermin and other pests and to ensure that measures are in place to control access points, particularly at ground floor level and particularly during maintenance and construction projects.
It added that hospitals, as part of the ongoing maintenance and environmental hygiene management, contract specialist pest control companies to undertake regular inspections.
The HSE said the enforcement notice was lifted at 5pm on Saturday 4 April, after compliance with the actions recommended by the Environmental Health Officer.
The closure order is just one of eight enforcement notices served on food businesses in April.
Immediate closures 
Seven closure orders were issued to the following businesses:
Hartley's Fish & Food, 8 Main Street, Tramore, Waterford (Closed area: enclosed yard area at the rear)
Star Pizza (take away), 36 Denmark Street, Limerick
Joe's Family Butchers, Athlumney Centre, Johnstown, Navan, Meath (Closed activity: the mincing of meat in the premises)
Mace/Duleek Service Station (grocery), Carranstown, Duleek, Meath
Growing Enterprise Together Ltd at Jim O'Donnell's Yard (grocery), Atlas Avenue, Dock Road, Limerick
C.C's Coffee Dock, Restaurant in Our Lady's Hospital, Navan, Meath
Polski Sklep Miesny (butcher) Basement, 50 South Street, New Ross, Wexford (Closure relating to handling and cutting raw meat and raw meat products)
One Prohibition Order was also served on fish processor, Shellfish De La Mer on Dinish Island, Castletownbere, Cork.
Dr Bernard Hegarty, Director of Service Contracts, FSAI, states that food businesses need to be vigilant at all times in relation to food safety to ensure full compliance with food legislation.
"Food safety must be paramount.  Time and time again, there are instances where food businesses are potentially putting their customers' health at risk by not complying with their legal obligations for food safety and hygiene."
He said that food businesses must recognise that the legal onus is on them to make sure that the food they serve is safe to eat.
Orders may be lifted when the premises have improved to the satisfaction of the authorised officer.
Closure orders remain listed on the website for a period of three months from the date of when a premises is adjudged to have corrected its food safety issue.
First published 11.43am