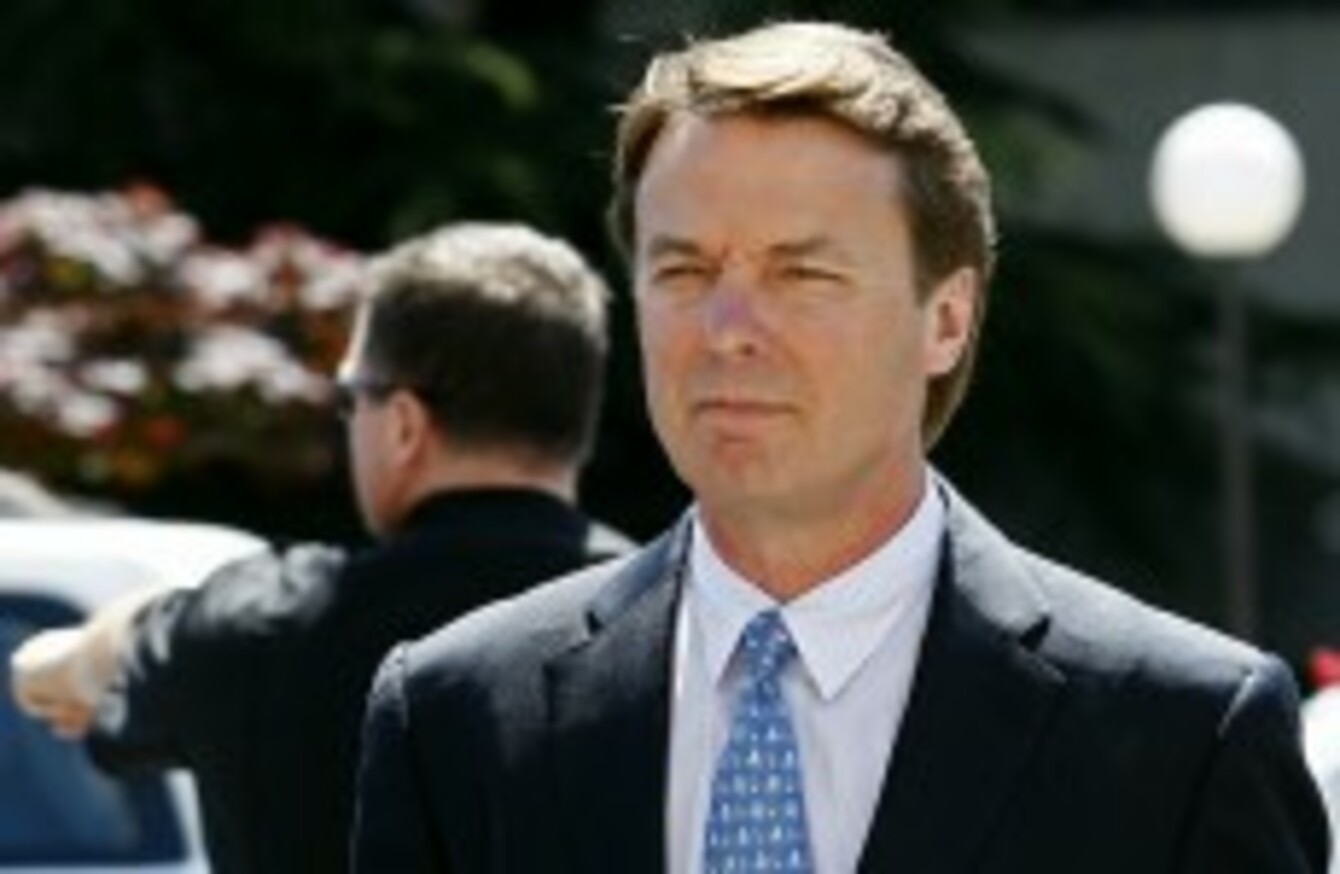 Former US presidential candidate John Edwards
Image: AP Photo/Gerry Broome
Former US presidential candidate John Edwards
Image: AP Photo/Gerry Broome
AN INTERIOR DESIGNER has testified about his role in funnelling secret money from a reclusive 101-year-old millionaire to an aide of John Edwards, as the trial of the former US presidential candidate continues.
Bryan Huffman described receiving a $100,000 cheque from 101-year-old heiress Rachel "Bunny" Mellon with "Antique Charleston Table" written in the memo line. It was part of an elaborate ruse to hide $725,000 intended for Edwards from the Mellon family's money managers by sending cheques to the designer for a fantasy furniture business.
The designer then endorsed the cheques and sent them on to a fundraiser for Edwards' 2008 campaign.
A prosecutor asked Huffman if Mellon was aware of a federal law that then limited individual political contributions to $2,300 per election cycle.
"She thought it was a little low," Huffman, 48, replied to laughter. "Our furniture business did not really involve furniture. It was money for Senator Edwards."
Edwards has pleaded not guilty to six criminal counts related to campaign finance violations involving about $1 million provided by Mellon and another donor. Some of the money was used to hide the Democratic candidate's pregnant mistress as he sought the White House in 2008. He faces up to 30 years in prison and $1.5 million in fines if convicted.
Huffman took the stand after several of Edwards' former aides testified about their knowledge or suspicions of the married candidate's affair with Rielle Hunter, a videographer seen going to and from his hotel rooms on campaign stops.
The ongoing trial
After nearly two weeks of tense testimony from witnesses in somber suits, the interior designer breezed into the windowless, oak-paneled courtroom in a yellow checked blazer with matching yellow tie and pocket square. His mouth perpetually poised in a smile, he spoke in a drawl suited for the sitting parlor of an antebellum mansion.
Huffman said he met Mellon in 2004, after he visited the small town near her estate, wrote her a note and received an invitation to visit.
The two hit it off and the heiress asked Huffman to become "evening friends," a familiar voice to call before bed. Their conversations ranged "from the state of the world to how much her plant had grown in the pot."
Huffman said Mellon had become enamored of the handsome and youthful senator from North Carolina, who reminded her of John Kennedy. He made it his mission to arrange an introduction. Huffman's sister had gone to law school with Edwards' close aide, Andrew Young, and he called to invite Edwards to Mellon's estate.
Huffman was on hand in December 2005 when Edwards arrived at Mellon's home for what the campaign called a "prospecting" visit.
At dusk, Edwards lifted off from the airstrip on Mellon's estate in her private jet, headed to Chapel Hill. "There goes the next president of the United States," Huffman recounted her saying.
In the spring of 2006, Edwards was heavily criticised for spending campaign funds on $400 haircuts. Incensed, Mellon sent Young a handwritten note requesting that any future expenses for the senator's personal needs be sent to her lawyer in New York, so that they could be paid "without government restrictions."
Young previously testified the note arrived about the same time Edwards was struggling to find money to provide for his mistress, Rielle Hunter, without his vigilant wife finding out.
In early June, Huffman said Mellon called and told him she'd sent a $10,000 cheque by "fast mail," her term for FedEx. She instructed him to cash the cheque and give the money to Young, who had asked her for up to $600,000 for a "non-campaign purpose." Several more cheques followed, each increasing in size.
He said neither he nor Mellon knew how the money was being spent. The heiress closely followed the primary campaign against then-senators Barack Obama and Hillary Clinton, whom she referred to in a letter shown to the jury as the "Old Rag."
"She was having fun with this," he said
In addition to the $725,000 in secret money, Mellon provided $6.4 million to Edwards' political action committee and his poverty center. The checks stopped after her lawyer learned about them and confronted the interior designer, who confessed that the money had gone to Young. The lawyer, Alex Forger, is expected to testify Friday.
'Very much in love'
Earlier Thursday, former Edwards staff member John Davis recounted running into Hunter in the elevator of a Detroit hotel where the candidate was staying, even though her contract making videos for the campaign had expired weeks earlier.
When he saw that she pushed the button for Edwards' floor — where Davis also had his room — he stopped on another floor just so he could get into a different elevator car. Shortly after, he was on the phone with his wife to express his shock at seeing Hunter. He heard a knock at the door of his room. It was the mistress, who came in to talk.
"She told me that she and Sen. Edwards were very much in love and that he was concerned that I had seen her," Davis said.
The next morning, Edwards called Davis to his room and, without being asked, denied that he was having an affair with Hunter.
"He told me she was crazy and that we should make sure she didn't talk to him," Davis said.