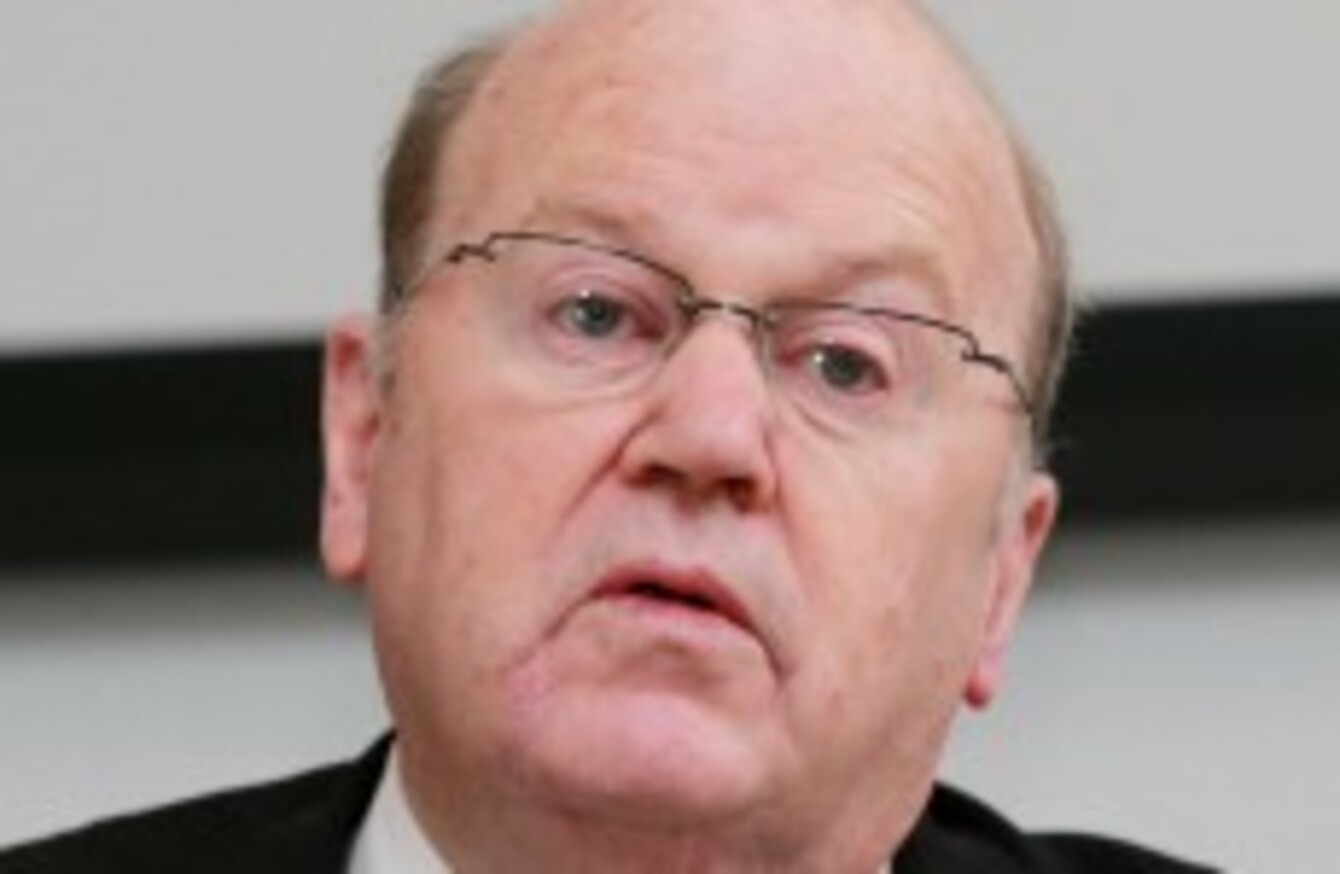 Image: Laura Hutton/Photocall Ireland
Image: Laura Hutton/Photocall Ireland
MICHAEL NOONAN HAS downplayed fears that Universal Social Charge for 360,000 people will increase from 4 per cent top 7 per cent next year.
Noonan was responding to a story on the front of today's Irish Independent which said that it would mean an increase of as much as €700 annually for a single income family on €40,000 a year.
The Finance Minister told RTÉ's News at One that it was Fianna Fáil who had imposed the expiry date on the 4 per cent concession for certain categories of taxpayers, including families with a medical card and income not exceeding €60,000, in 2010.
"They're like the people who planted the time-bomb and they want other people to change the timing mechanism on the bomb," he said.
Continuing the analogy he had earlier deployed on Newstalk's Lunchtime, Noonan said that the bomb was set "to go off" on 1 January next year but that the matter will be considered "very carefully" in the Budget in October.
"These things are manageable and when our priority is to protect vulnerable people you can see how it might be managed," he said.
Noonan's bombing analogy was criticised by one Fianna Fail TD, Barry Cowen responding on Twitter by saying there are "a lot of Angola's (sic) about" – a reference to his brother Brian's alleged remark that the Department of Health was like Angola because of the administrative landmines:
The veteran Fine Gael TD Noonan said it was too soon to be accurate about what the government might do, saying that this issue is among "hundreds" that will be discussed between now and Budget day in October.
He insisted: "I can't make Budget announcements in the middle of May".
The Finance Minister's comments this lunchtime were in addition to a series of statements issued by Fine Gael and Labour backbenchers criticising Fianna Fáil for raising the matter in the first place.
"The fact of the matter is that the only reason there is any chance at all that people on medical cards will have to pay more next year, is because it was a specific provision of the budget legislation that Fianna Fáil rammed through in the dying days of the last government," Labour's Ciarán Lynch said.
Noonan also defend his welcoming of billionaire Donald Trump to Ireland earlier this week, saying that 'The Donald' had made an important investment in the country.
He added: "I can assure you if it was the IDA that were bringing a factory into Clare and I was invited to go down there and there was 300 jobs in it, I'd be there. "