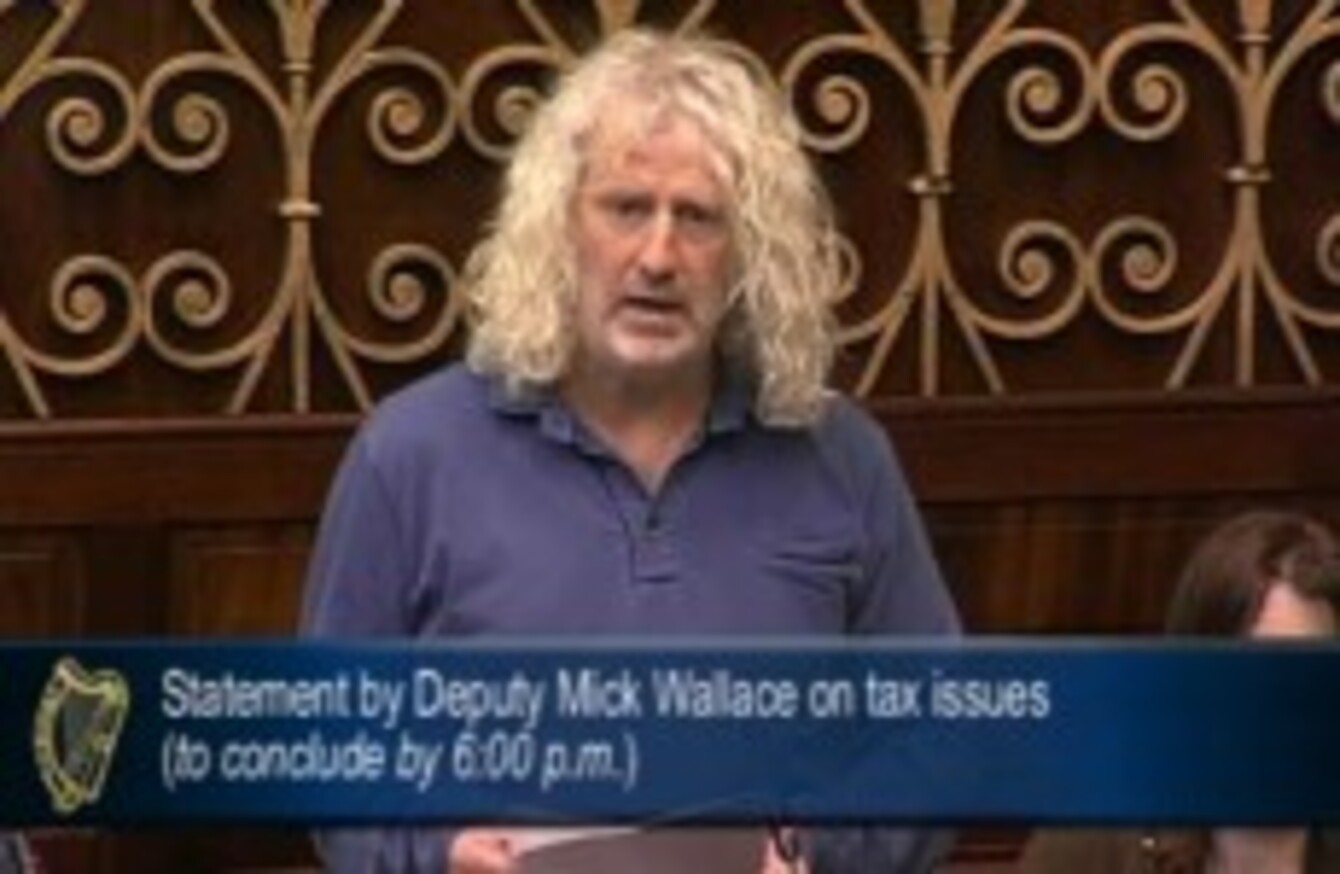 Mick Wallace in the Dáil this evening.
Image: Screengrab
Mick Wallace in the Dáil this evening.
Image: Screengrab
THE INDEPENDENT TD Mick Wallace has apologised for his company's under-declaration of VAT and pledged to use half of his Dáil salary to make repayments to the Revenue.
In a statement to the Dáil this evening Wallace said that he had made an "error of judgement" in not paying VAT his construction company owed to the Revenue Commissioners and claimed that at the time of the issue arising he believed he would eventually be able to do so.
He has come in for considerable criticism after it emerged a week ago that he had made a settlement with the Revenue for €2.13 million following an under-declaration of €1.4 million in VAT by his construction company M and J Wallace Ltd, which is now insolvent.
Speaking in the Dáil this evening after he was granted a request to do so by the government and party whips, he explained that the company had sold apartments in 2008 and 2009 with the proceeds going to the bank.
He said the lack of cash flow meant the company was unable to deal with the outstanding VAT liability and that further problems arose when the bank "pulled the plug" on a construction project on the North Circular Road in Dublin.
This meant serious and unforeseen cash flow problems for the company. M and J Wallace Ltd had committed a lot more money to the project than it ultimately received from the bank, it had to let some men go, pay redundancy, it was coming under pressure for payment from suppliers and subcontractors, and having to deal with four banks becoming increasingly aggressive.
"The company was not able to pay the VAT at the time but was convinced that it was possible to work our way through the crisis," he said.
"There was never any intention that the money that was owed would not be paid to the Revenue," he said saying he had "strived to demonstrate the distinction" between his own personal tax affairs and those of his now insolvent company.
He also said in his statement:
We were never big developers which meant that we did not go into NAMA as the company's debts were not large enough with the Irish banks, most money being owed to foreign banks, which are not subject to State guarantee and who have been more aggressive in their pursuit of debts as a result.
He said his personal tax affairs are in order and that he wanted to apologise to the people of Wexford, to the people of Ireland and the members of the Dáil.
I understand that many people suffering under vicious austerity were upset by my statement last week that M and J Wallace Ltd would not be able to repay the tax debt – this was not a cavalier comment but rather an honest statement of fact.
Wallace said that in "solidarity with the citizens of this country" he would strive to make personal repayments in relation to the tax debt of the company and pledged half of his Dáil salary to the debt owed to the Revenue.
The Wexford deputy said he had considered resigning and running in a by-election as well as resigning and walking away from politics altogether but said: "I have never been good at quitting".
He highlighted the fact he had worked with his constituents on the various cuts to local services and said he felt "privileged" to have done so, pledging to continue to serve them.
As he came to the end of his statement he became visibly emotional, concluding: "I am answerable to the people of Wexford who elected me and they will discard me when they see fit.
"It is their seat, not mine. In the meantime I will strive to serve them and all the people of Ireland as well as I can."