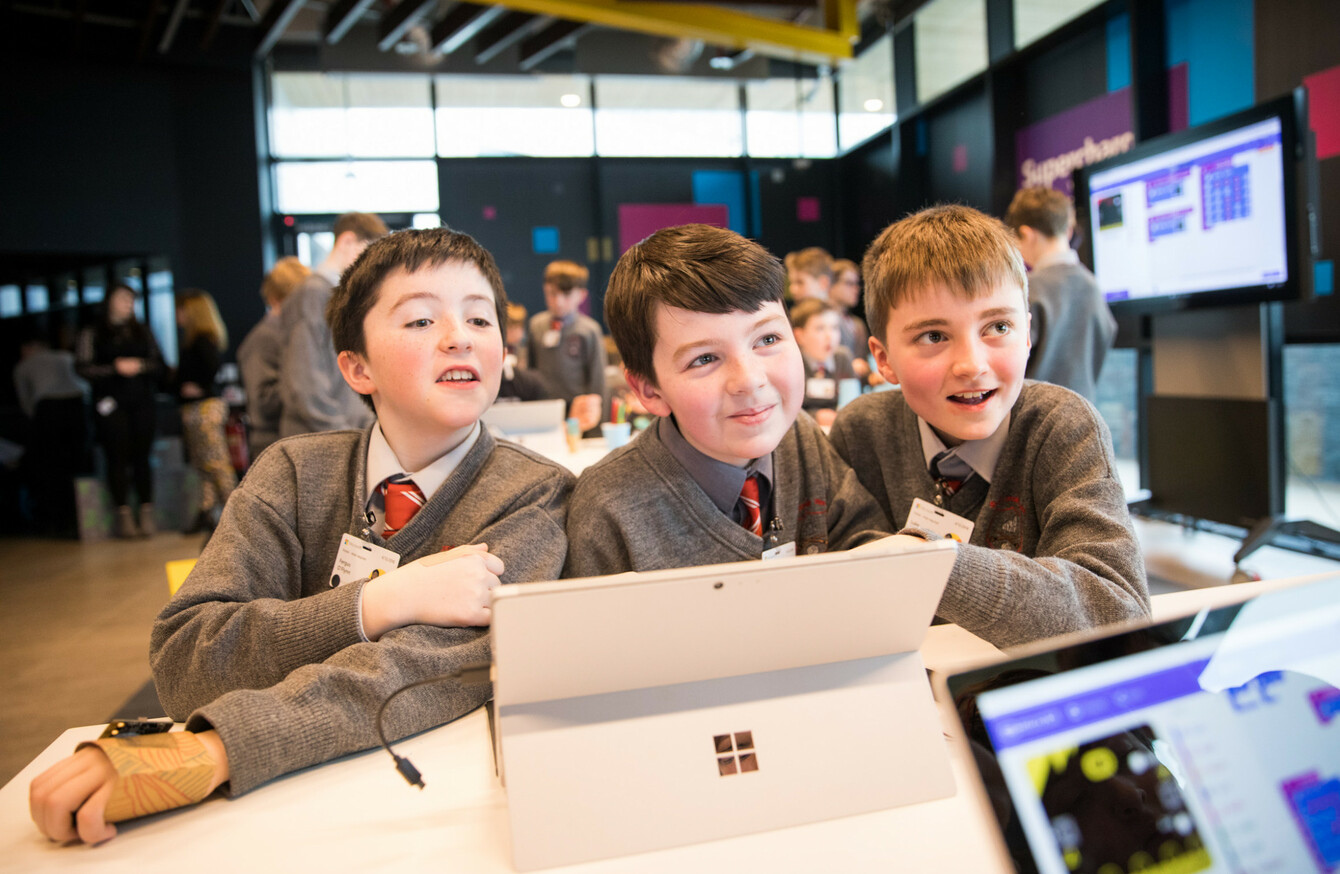 Image: Naoise Culhane
Image: Naoise Culhane
Source: Journal Media Studio/YouTube
"WE WANT DREAMSPACE to be a catalyst for schools – we're just the starter."
For Amanda Jolliffe, Lead at DreamSpace, an educational initiative from Microsoft Ireland, it's about creating the right conditions for students to thrive in technology.
Students from two sides of the country were in Leopardstown, Co Dublin to experience DreamSpace for themselves, hailing from Coláiste Bhaile Chláir, Claregalway and St Laurence's Boys National School.
They're the first two groups of what Microsoft hopes will amount to 100,000 primary and secondary students to visit DreamSpace, a €5 million technology education facility at Microsoft's new campus in Leopardstown, Dublin.
It's hoped that by giving them an immersive digital skills experience here that they will be inspired by technology at the earliest possible age, giving them skills in both coding and creative design.
At DreamSpace, students will be taught critical thinking, problem-solving and self-learning skills. It's hoped that experiences like these will encourage more young people to pursue studies and careers in STEM (science, technology, engineering and maths).
The transition year students will undertake a coding and sport session that combines the world of technology with an unlikely match – hurling.
Their task for the day? To create a digital skeleton playing different positions on a hurling pitch – in the process learning the names of joints, muscles and bones involved in each.
It's a far cry from simply memorising a diagram in a biology book as previous generations have. It's hoped that DreamSpace will also equip teachers to broaden their skill set, allowing them to teach in innovative ways like this.
To do this, Microsoft has built partnerships with St Patrick's College and Dublin City University. It's part of a broader programme to prepare young people with the STEM skills they will need for their career, and to support the government's goal of making Ireland the European leader in STEM by 2026.
For six years now, Microsoft has worked closely with CoderDojo, teaching kids how to code. They've also worked with the likes of GirlCrew, FIT and Junior Achievement to help increase the number of girls taking STEM subjects by 40% – showcasing skills at DreamSpace to 10,000 female students.
To see the power of some of these skills first-hand, primary school students from St Laurence's Boys National School Stillorgan were also challenged to build robots and bridges to navigate a new route between towns at DreamSpace.
It's something that even at their age, they can appreciate, with one student saying: "I think it's very interesting and it's good for your education when you get older as well". Two of their classmates answered "software engineer", when asked what they'd like to be when they grow up.
The primary school students on the other hand are challenged to a 'Robots and Bridges' challenge, where they both assemble and programme robots to join two futuristic cities. They have two dedicated DreamSpace staff to inspire the students that visit each day.
When asked had any of the children done coding before, many raised their hands, citing programmes like Scratch as their introduction. As Amanda Jolliffe explains, it's also about that students can continue to foster these skills in technology:
We want teachers to be able to see the activities but we also want them to be achievable – so that when they leave here they can continue them with their students back in their own classrooms.
Ultimately, Microsoft hope that DreamSpace will equip these students with the skills they need to fully engage with technology and inspire them to think about their own vision for the future.
As one transition year student explained, what they learn at DreamSpace could shape the career that they choose: "It just shows us different avenues and how we can use it for future jobs".
Intrigued by DreamSpace? Microsoft are inviting both students and teachers to the immersive technology experience at their new campus at One Microsoft Place. In doing so, they are hoping that DreamSpace will provide 100,000 students with critical collaborative and problem-solving skills in technology over the next four years.