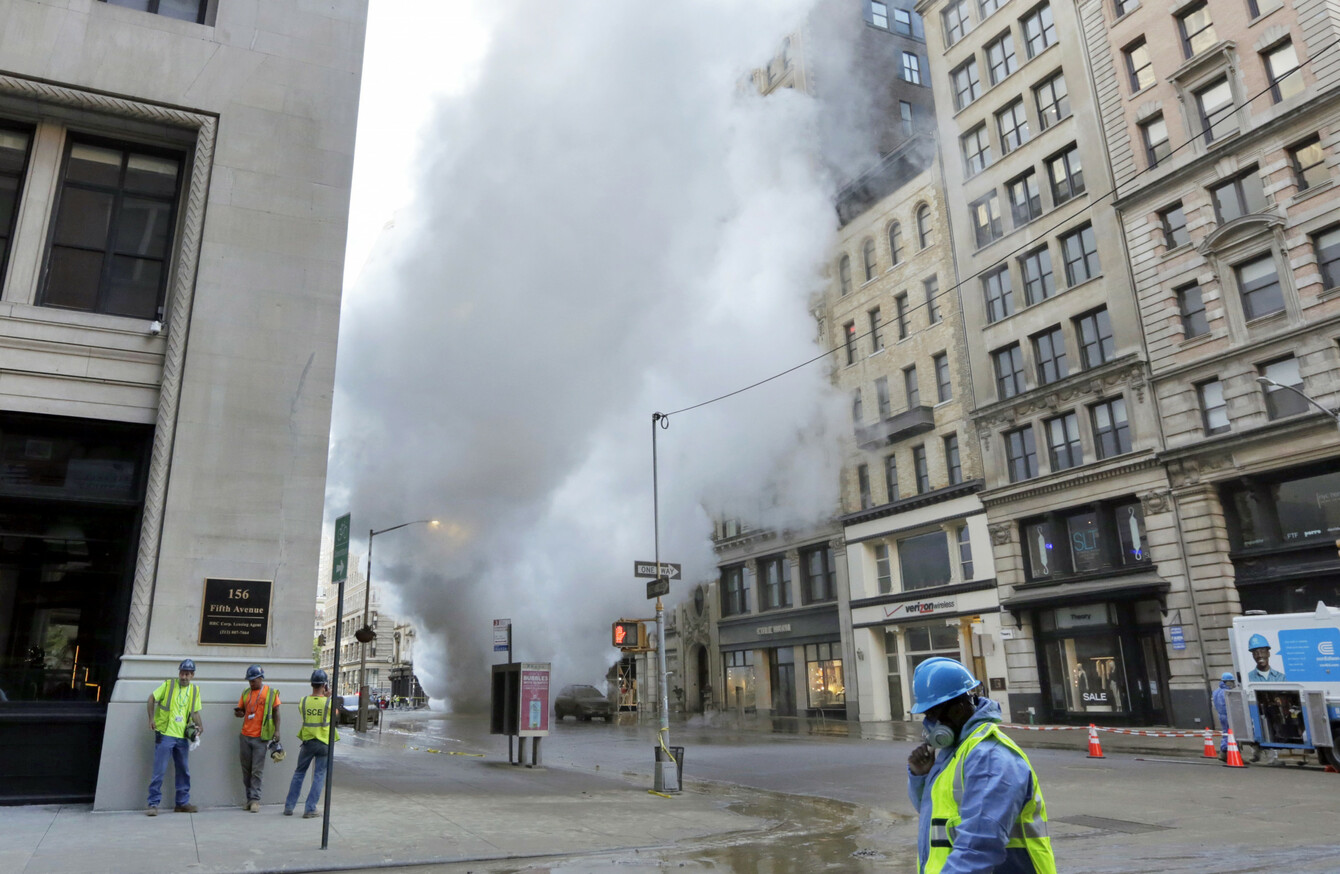 Image: Richard Drew
Image: Richard Drew
A STEAM PIPE exploded beneath Fifth Avenue in Manhattan early today, hurling chunks of asphalt, sending a geyser of billowing white steam stories into the air and forcing pedestrians to take cover.
No injuries were reported, but energy company Con Edison, which owns the subterranean pipe, warned people who may have gotten material on them to bag their clothes and shower immediately as a precaution against possible asbestos.
Buildings along several blocks of Fifth Avenue have been evacuated as a precaution.
The high-pressure steam leak was reported at around 6.40am. The steam was still billowing about 10 stories high two hours later.
WABC reported there also were manhole explosions from West 19th Street to West 21st streets. Some subway trains were bypassing the area.
"I looked around and saw this big huge plume of steam shoot into the air," said Daniel Lizio-Katzen, 42, who was riding his bike home to the West Village.
"It was a pretty violent explosion," Lizio-Katzen told the Daily News. "The steam was shooting up into the air about 70 feet. It was pushing up at such a high pressure that it was spewing all of this dirt and debris. The cars around were coated in mud … It left a huge crater in the middle of the street."
Brendan Walsh, 22, a senior at New York University, had just gotten off a train and was headed to class when he saw the plume.
"The billows were about six stories high. There was a large scatter of debris," he said. "I was standing behind the police line when a Con Ed worker came rushing over and screaming at police and firefighters to push everyone north because he was worried that there could be secondary manhole explosions."
#Open journalism No news is bad news Support The Journal

Your contributions will help us continue to deliver the stories that are important to you

Support us now
"Everyone — including the police and firefighters who were standing by — started moving back," he said.
Source: CBS New York/YouTube
Firefighters stripped off their heavy outerwear, bagged it and entered a red decontamination tent in their gym shorts and t-shirts to take showers.
Businesses were braced for the worst as the response dragged on and police and firefighters blocked access to buildings close to the explosion, crippling their neighbourhood and their workday.