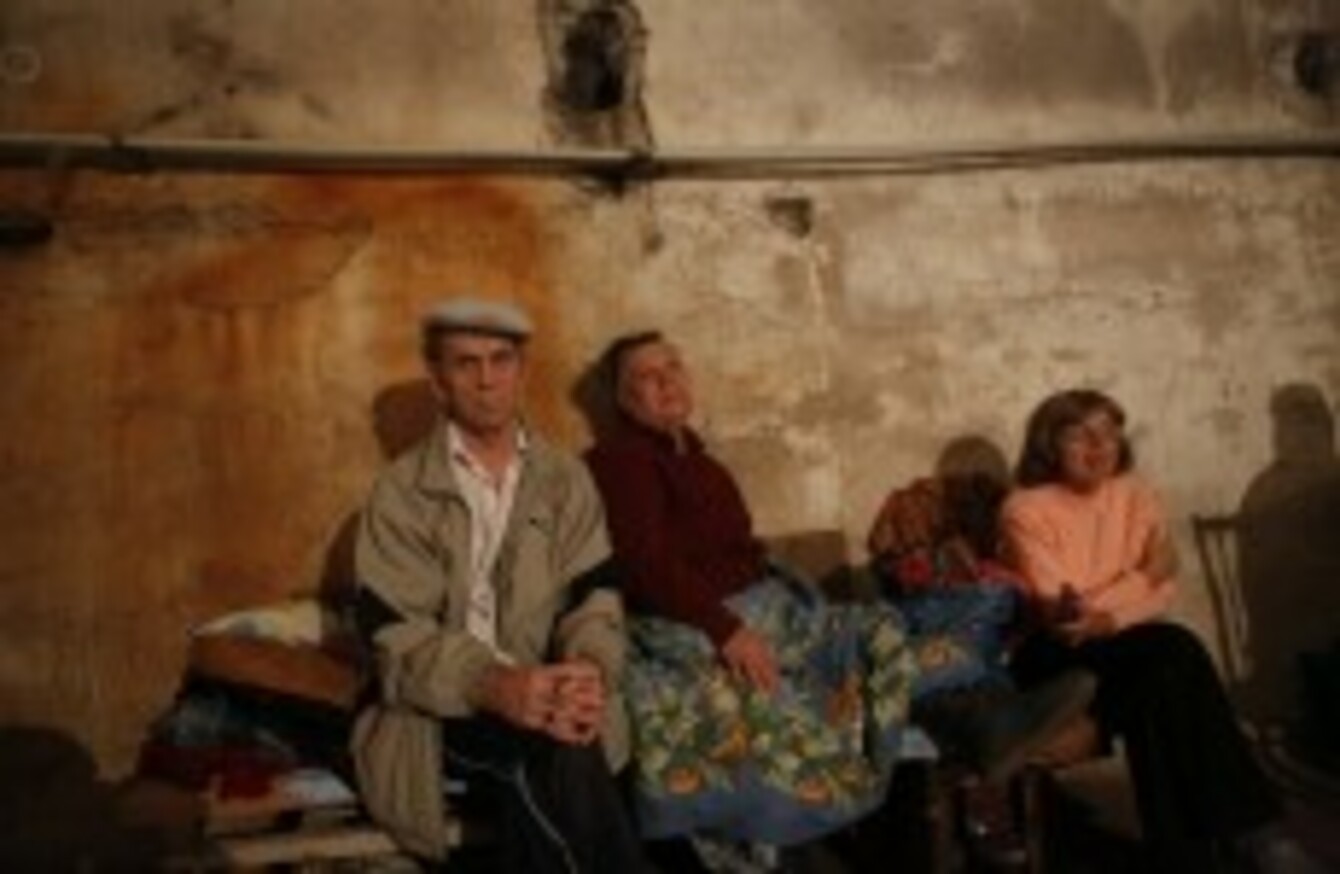 Locals sit in a basement used as a shelter after shelling in Donetsk, eastern Ukraine yesterday.
Image: AP/Press Association Images
Locals sit in a basement used as a shelter after shelling in Donetsk, eastern Ukraine yesterday.
Image: AP/Press Association Images
SOME OF THE trucks in a controversial Russian aid convoy to eastern Ukraine have begun clearing customs at a rebel-held border crossing, Ukraine's border guard service said today.
Trucks have been cleared at the Russian side of the border, but now must be cleared by Ukrainian authorities.
Russia sent over 200 trucks to provide humanitarian aid for civilians in the besieged city of Luhansk (Lugansk), but the move was criticised by Ukraine as a plot to provide support for pro-Russian separatists in the region.
Moscow has denied claims it has been providing arms and support for the separatists since fighting began in mid-April. Over 2,100 people have been killed in the conflict to date and more than 340,000 people have fled their homes.
The convoy has been held up on the border for a week by the dispute over the conditions under which the trucks could be permitted to cross the border. Water, electricity and phone connections have been cut off in Luhansk for more than a fortnight and food and medical supplies are scarce.
"People hardly leave their homes for fear of being caught in the middle of ongoing fighting, with intermittent shelling into residential areas placing civilians at risk," the ICRC said in a statement today, following a visit to Luhansk yesterday.
The agency said it has taken all necessary preparatory steps for the passage of the Russian convoy. It said it was ready to deliver the aid to Luhansk if both Russia and Ukraine agreed on the strictly humanitarian nature of the convoy and all parties in the fighting gave the Red Cross assurances of safe passage.
"With fighting ongoing, we urge the parties involved to take constant care to spare the civilian population and civilian objects. In Lugansk and other affected areas, there is an urgent need for essentials like food and medical supplies and to restore contact between separated loved ones," said Laurent Corbaz, ICRC head of operations for Europe and Central Asia.
Rayan Farukshin, spokesman for Southern Customs district of Russia, said 16 aid trucks entered the Russian customs zone that links up with Izvaryne in Ukraine yesterday. He said four of the trucks have been successfully checked by the Russian side, while another four were in the process of being checked.
After that, the trucks need to get Ukrainian approval.
Fighting continues
Fierce fighting was still reported in eastern Ukraine as government troops pressed to recapture more territory from the separatists. Five troops were killed and two civilians died in the past 24 hours in rebel-held areas, authorities said. That followed over 50 deaths in the region yesterday.
Ukrainian troops claimed today to have seized two Russian armored vehicles outside of Luhansk. Photos provided by the defence ministry showed one vehicle and an array of Russian civilian and army IDs.
Moscow denied the reports. A spokesman for Russia's defence ministry told Russian news agencies that the armored vehicle in the photos did not belong to Russia and the documents found in the vehicle had not been used for five years.
- Additional reporting by Susan Ryan