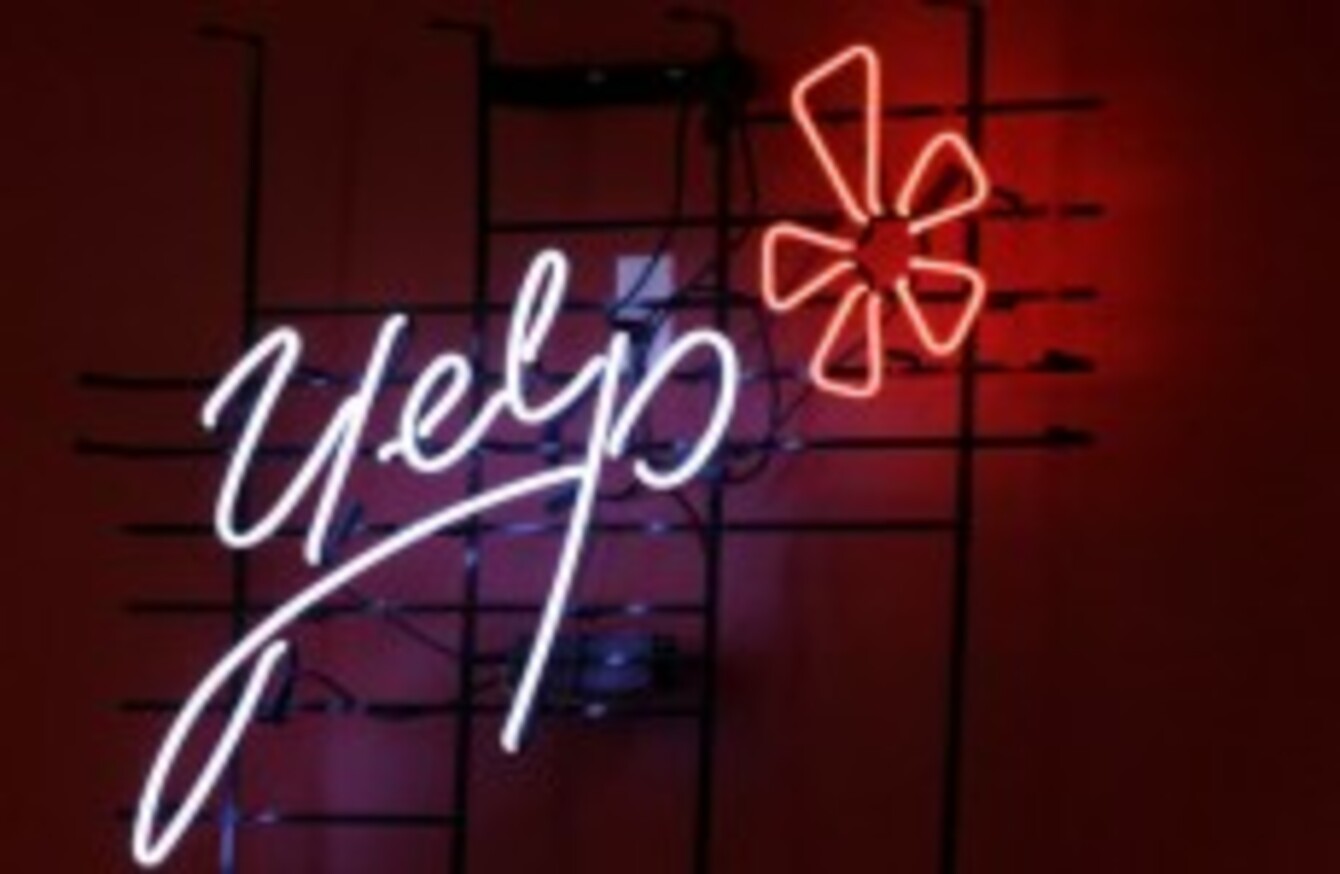 Image: AP Photo/Kathy Willens/PA File
Image: AP Photo/Kathy Willens/PA File
YELP'S STOCK opened to five-star reviews from investors today, soaring 65 per cent after pricing above its targeted range last night.
The online reviews site's initial public offering priced at $15 per share, above the expected $12 to $14 per share. That already suggested strong investor demand for a slice of the 8-year-old company, which has yet to turn a profit.
Yelp's shares added about $9.80 to $24.80 in midday trading today.
The offering nets Yelp about $96 million after expenses, the company estimated. Yelp sold 7.1 million shares and its charitable foundation another 50,000. Investment bankers also have an option to buy an additional 1 million shares, depending on investor demand. If those shares are sold, Yelp expects net proceeds of $111.2 million.
The IPO price valued Yelp at $900 million. With Friday's stock price jump, the San Francisco company is valued at $1.49 billion. Such a big first-day jump is common for high-profile Internet companies such as Yelp. The stock price of LinkedIn Corp., the professional networking service, nearly tripled on its first trading day, reaching as high as $122.70 after pricing at $45. On Friday, LinkedIn's stock was worth nearly double the IPO price. Others haven't fared so well. Online deals site Groupon Inc's stock jumped 31 per cent on its first trading day, but as of Friday was changing hands slightly below its $20 IPO price.
Reviews
Though it's best known for restaurant reviews, Yelp's users have reviewed churches, strip clubs, hospitals, hotels and high schools. The company makes money from advertising. Most of the ads come from the local businesses that its users review. As of the end of last year, Yelp says it had 66 million monthly unique visitors. Based on figures from comScore, Yelp.com was the 36th most visited website in January, the latest available figure. That's ahead of Netflix.com but behind ESPN, Twitter and LinkedIn.
In 2011, the company booked revenue of $83.3 million, up 74 per cent from 2010. It had a net loss of $16.7 million last year and $9.6 million in 2010.
"Yelp's active community of users writing reviews of local businesses is difficult to replicate," said Morningstar analyst Rick Summer. "Unfortunately, the company faces challenges translating the small advertising budgets of local businesses into profitability, as about 70 per cent of ad revenues are eaten up by sales and marketing expenses."
That said, the company is still in the early stages of making money, said Renaissance Capital research analyst Nick Einhorn. A big chunk of Yelp's revenue comes from its 20 oldest markets, he added, so the company should be able to keep growing in its other 51 markets, as well as new ones.
"The business is a little more mature than the likes of Groupon and Zynga and therefore maybe a little less risky — of course, it doesn't generate the kind of cash flow that Zynga does," Einhorn said. "Its closest public competitor is probably Angie's List, which is currently losing a lot of money, so investors may prefer it for that reason."
Shares of Angie's List Inc, a reviews site that charges users a fee for accessing its content, was trading at $16 Friday, above its IPO price of $13.
With Yelp's IPO out of the way, investors will be gearing up for Facebook's debut, expected in the next couple of months. The world's largest online social network could be worth as much as $100 billion once it goes public.