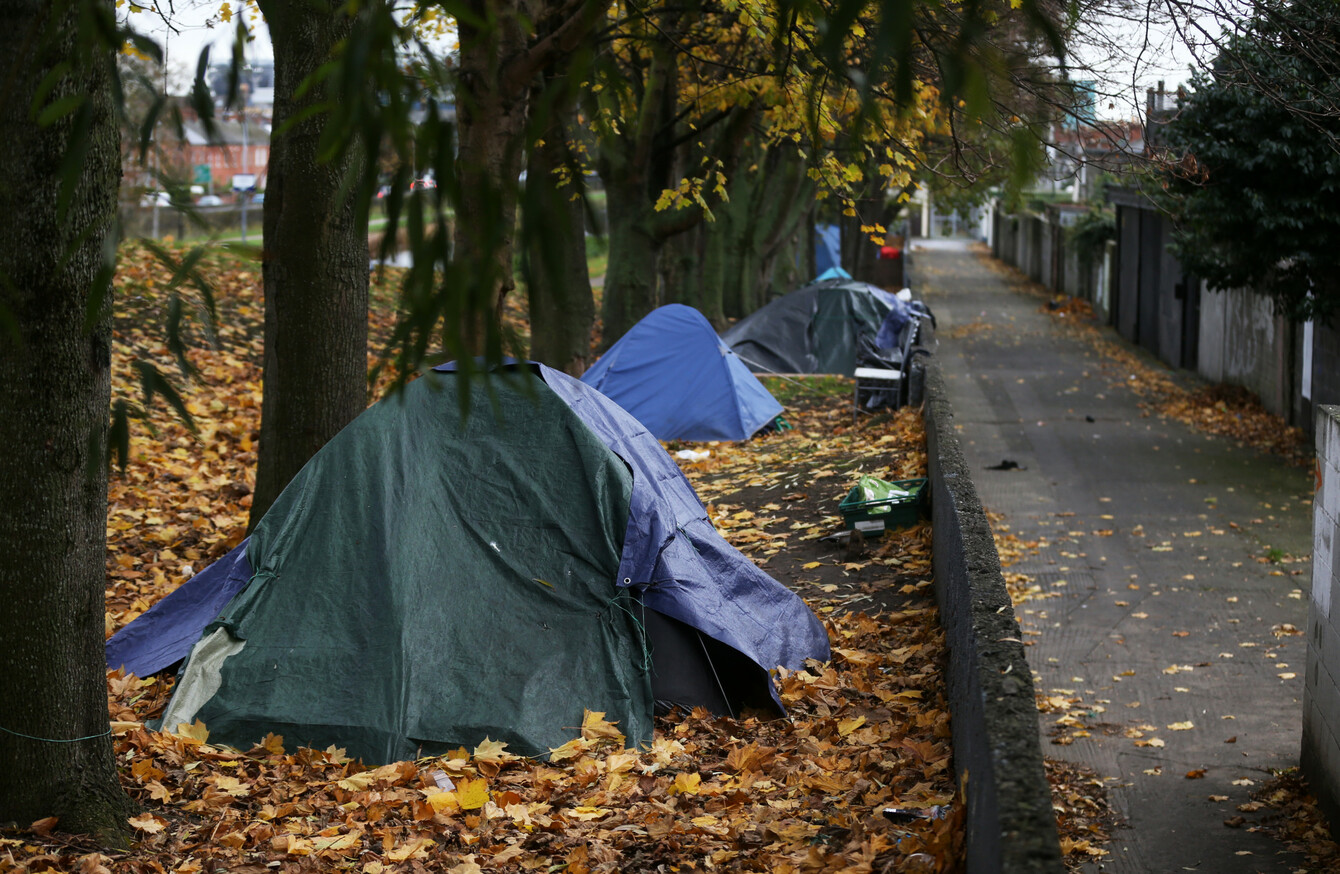 Image: Sam Boal via Rolling News
Image: Sam Boal via Rolling News
THE ISSUE OF homelessness has become a national crisis in Ireland in recent years and two teenagers from Cork have examined the harrowing impact it is having on children affected by it for the upcoming BT Young Scientist competition.
Shauna Linehan and Nóirina O'Sullivan, both aged 16, from Coláiste Treasa surveyed 20 parents who were made homeless to examine the impact it had on their children.
Linehan and O'Sullivan approached the Cork Simon Community with their project idea earlier this year.
With the help of the charity, the students distributed a purpose-built survey to service users staying at the emergency accommodation shelter of Cork Simon Community.
"We made out a survey because we wanted to find out more about a sub-group of children who are not experiencing homelessness but are being impacted by homelessness," the pair said.
They found that children who have had homeless parents have been found to have an increased likelihood of having justice issues, mental health issues or even early death during adulthood.
Linehan explained to TheJournal.ie why they chose the issue of homelessness for their project: "Homelessness is our national emergency and there has been a rapid increase in the number of people becoming homeless in Ireland.
We thought about the major consequences of people becoming homeless and that's when we thought one of the most difficult and common things parents go through after they become homeless is being separated from their children.
Survey method
The survey used an ACE scoring system – Adverse Childhood Experiences – to determine the results. The respondents were asked about how their homelessness affected their children.
The ACE score ranges from 0-10. The scores are determined through a 10-question survey which covers 10 areas of trauma that can be experienced before the age of 18.
Experiencing traumatic events during childhood can have an effect on people during adulthood.
Through the 11 people surveyed, 47 children were impacted by their homelessness.
About 30% of individuals said that their children were in State care. 73% of individuals said they had formerly lived with their children but more than 33% said the court had decided where their children would reside after they became homeless.
In relation to well being, the survey found that 16% of children suffered from depression, 12% suffered from anxiety and 9% suffered from loneliness.
The survey also addressed the issue of participants being reunited with their children.
It found that 83% of individuals require housing which has a minimum of two beds in order to be reunited with their family - 17% of respondents required one bedroom, 44% required two bedrooms and 39% required three bedrooms.
Impact of project
Both Linehan and O'Sullivan hope the findings of the project can be used to actively address the issue of family reunification following homelessness.
#Open journalism No news is bad news Support The Journal

Your contributions will help us continue to deliver the stories that are important to you

Support us now
"From our results, we found that most parents who answered could reunite with their children if they had proper housing," O'Sullivan told TheJournal.ie. 
"There are over 3,000 vacant homes in Ireland and over 44,000 people on a waiting list for social housing. If we fill these vacant homes with families who have been separated after experiencing homelessness we could address their crisis," she said.
Linehan called for better facilities for children affected by homelessness.
This generation of children need help, so we argue that there should be better facilities for these children.
"They need help because if this generation of children aren't helped, then they are going to be the next generation of homeless adults.
"We want to introduce an intervention programme or maybe some sort of facility to reunite parents with their children."
In total, there were 1,530 families with 3,333 children staying in emergency accommodation in November.
The Coláiste Treasa project is just one of a number taking on homelessness. The team from Mercy Secondary School in Kerry have collated the opinions of young people on the homelessness situation in Ireland while Claire Gregg of Loreto College in St. Stephen's Green, Dublin has analysed the housing shortage using agent-based modelling.
The BT Young Scientist and Technology Exhibition runs from 10-13 January 2018 at Dublin's RDS.