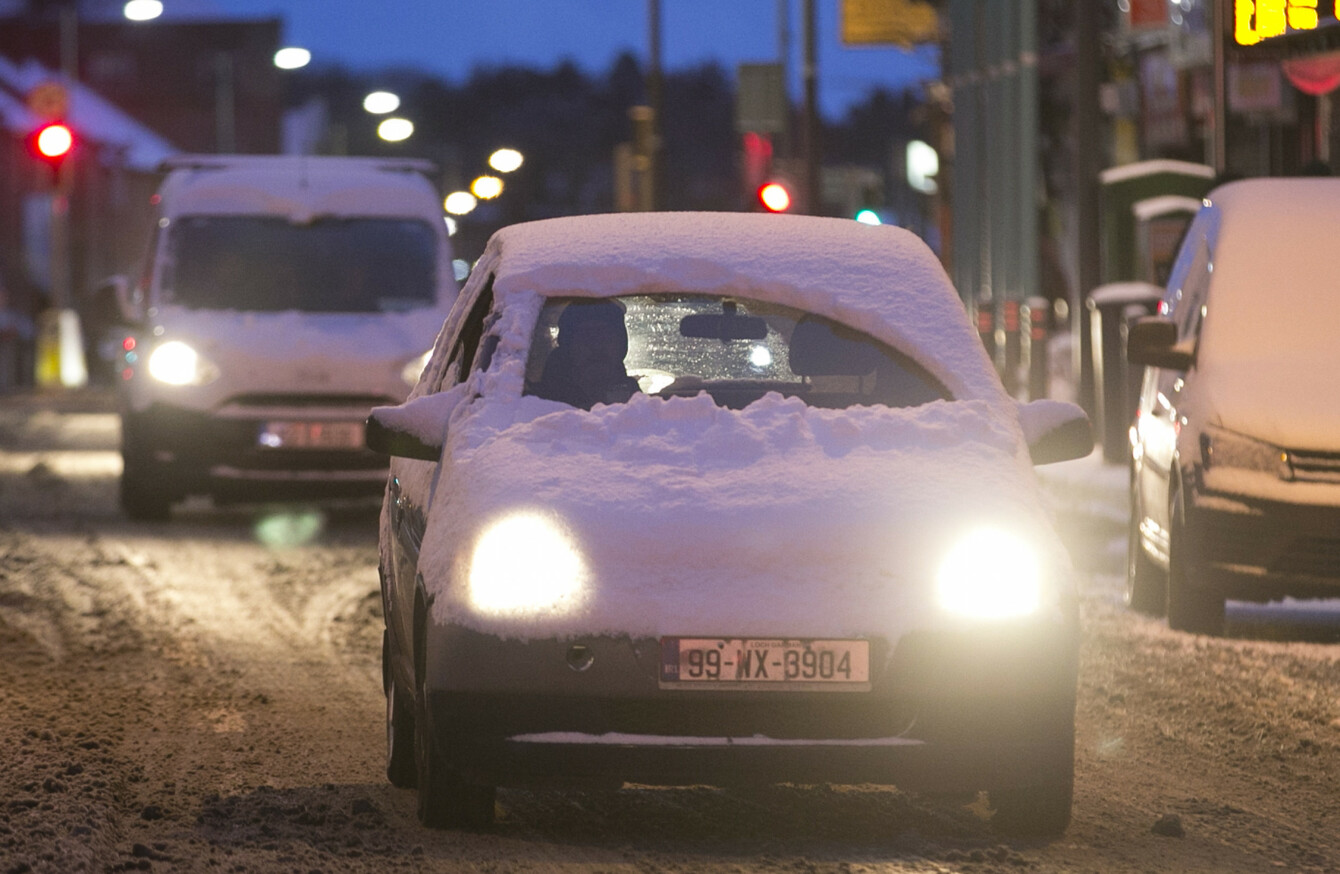 Image: Sam Boal
Image: Sam Boal
BY NOW YOU know that the weather is bad – and it's going to get worse as the day goes on.
It's going to get so bad that a red warning has been issued across the country by Met Éireann and the National Emergency Coordination Group has told people to stay indoors from 4pm today until noon tomorrow.
But why is weather getting so bad today – and is that due to Storm Emma or the Beast from the East?
Speaking yesterday, Met Éireann's Evelyn Cusack warned that there is going to be further heavy snowfall over the coming days.
This is because Storm Emma is arriving in from the west and will clash with the Beast from the East.
What is the Beast from the East?
As you've no-doubt guessed, the name isn't a proper meteorological term. This weather event has been brought about by a polar vortex. This is an area of low pressure in the upper parts of Earth's atmosphere that normally resides at the poles. It frequently has centres in Canada and over north-east Siberia.
Usually this vortex helps to keep in arctic air. But sometimes these vortexes weaken and in this case it has not just weakened but has broken in two.
The vortex originated in Siberia and has swept across from Russia to eastern Europe due to prevailing winds, and then to western Europe. Ireland is its last stop.
The Beast brings with it low temperatures and dry arctic winds – which means snow. And that's why parts of Europe like Austria and Italy as well as Britain have found themselves under heavy snow.
Storm Emma
Then there's Storm Emma. This is a separate storm to the Beast from the East and was due to reach Ireland today. It's bringing with it winds and other stormy conditions.
And the two are going to combine.
Earlier this week Evelyn Cusack explained:
"As Emma moves in, it's going to clash with the cold polar air and that's going to produce the continuous snow that we are forecasting for Thursday evening, Thursday night and Friday."
So that means not only do we get low temperatures and arctic air but we get gales too – and that's what will lead to blizzards. The two are going to clash today and into tomorrow which is why Met Éireann put a red warning in place (this was also due to seeing the impact of the Beast from the East before it even met Storm Emma).
#Open journalism No news is bad news Support The Journal

Your contributions will help us continue to deliver the stories that are important to you

Support us now
Here's more from Cusack earlier this week: "There's a storm system just off the west coast of Portugal this morning heading towards Ireland and this has a lot of rain associated with it.
"This system, Storm Emma, as it hits Ireland there's a strong possibility of it turning back into snow."
We had snow showers last night leading to snow accumulations this morning. And Met Éireann was forecasting a severe frost with lowest temperatures of up to -6 degrees. But temperatures are expected to deteriorate further today as Storm Emma moves in from the west.
By midday today, Met Éireann expects up to 25cm of snow to have fallen.
Cusack has warned of a possibility of more heavy snowfall this evening and tonight, with temperatures dropping as low as -4 degrees.
Sean Hogan of the National Emergency Coordination Group has said that the wintry conditions are set to last for another four to five days.
We are anticipating very difficult conditions on Thursday night. That combined with the very strong wind we're expecting, blizzard conditions, that's not something we have seen in this country since 1982.
- Additional reporting by Rónán Duffy and Hayley Halpin.