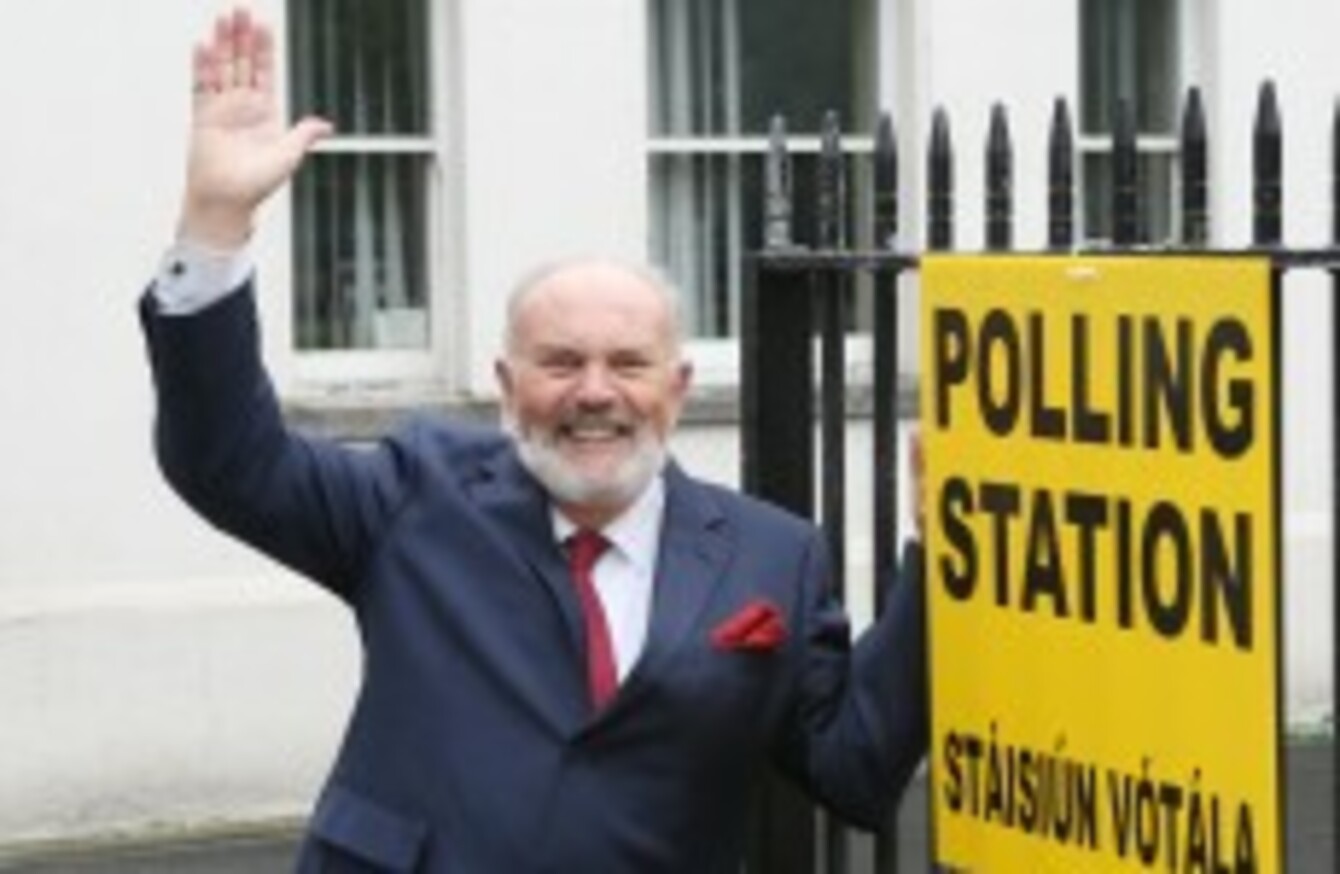 Senator David Norris is pictured outside the polling station at the Marlbourgh street
Image: Sam Boal/Photocall Ireland
Senator David Norris is pictured outside the polling station at the Marlbourgh street
Image: Sam Boal/Photocall Ireland
EVERY SATURDAY MORNING we take a look at all the best comments left on the site by our readers over the past seven days.
This week talk on the site was dominated by Peggy Mangan, a gay cake-topper, the Pope, abortion and global warming.
So here, in no particular order, are the standout comments from the week that was.
The top 5 articles which received the most comments this week:
1. Pictures: Crowds take to the streets for pro-choice march (573 comments)
2. Dublin business owner in storm over gay cake-topper row (535 comments)
3. Body of Peggy Mangan found in Ballymun (338 comments)
4. Poll: Do you believe in global warming? (333 comments)
5.Priest resigns from Mater Hospital board over decision to comply with abortion law (309 comments)
Some of the best comments left on the site this week
(Laura Hutton/Photocall Ireland)
As part of road safety efforts, Gardaí published a list of the top 10 locations where drivers speed in Dublin. Terry O'Dowd took commentators to task over blaming pedestrians:
Celbridge road, Lucan. My uncle was decapitated there by a speeding driver.

You all keep worrying about your fines though, because that's what it's all about.
It's nothing to do with speed limits being in place for a reason.

You're all great drivers, and would never break the speed limit. Well, unless the speed limit doesn't suit you and your needs. Then it's just an annoyance, right?

Along with my uncle being killed, I'm also missing a parent due to a speeding driver. It took six weeks for my father to die after being knocked down at a pedestrian crossing, but it must have been his fault. After all, you shouldn't have to stop for pedestrians.

Yeah. Those damn Gardaí and their speed traps. How dare they do their jobs by enforcing the law? They really have some cheek
Sinead O'Connor and Miley Cyrus were involved in some online argy-bargy this week. Tom Lawlor didn't like Miley taking control of the moniker:
Miley's biggest mistake was cheating on Biddy with that Fidelma one.
Global warming is 'extremely likely' to be caused by humans according to UN scientists. Desmond O'Toole hit the nail on the head in our poll on the this issue:
It's not a question of belief, it's a question of evidence. We're not talking fairies at the bottom of your garden here. Also, it's not global warming, it's climate change and whether human activity is a primary causal factor.
Emigration and the Irish Disapora was in the news for several reasons ways this week. Brendan Daly showed why there is no catch all reason for the 'brain drain':
My wife, kids and I left over 2.5 years ago, we discussed this over the weekend and have to say while we didn't want to leave, our lives are better by multitudes, we both had jobs at the time. I think that these politicians have a cheek to comment on people who have left, most did not want to leave but for the sake of their family and sanity, they have.
Fine Gael uses giant jigsaw to argue for abolition of 'hijacked' Seanad this week. Ronan McGrath chuckled.
As with every jigsaw, our Dear Leader Enda has a few pieces missing.
An abortion rights march in Dublin last week predictably stirred emotion in the comments section. Sharon Reid outlined her heartbreaking story among many others:
Hadn't heard a thing about it I would have certainly been there, even though I am married and already have a child who is 2-years-old  it doesn't mean that what ever happens in the future I shouldn't have a choice. My pregnancy was awful and I was hospitalised over it and while I would go through it again for my princess I'm not sure I could go through it for a child that was the result of something horrific or that I may actually die as a result (extremely possible next time with the condition I had on last pregnancy) but it would be a decision my husband and I would come too. The choice should be ours.
In our poll on the Seanad,  only 18 per cent wanted it abolished. Derek Cullen gave his reasons:
I agree that the Séanad / Dáil needs to be reformed completely but to just abolish the Séanad without our country's leader even willing to take part in a debate on why it should be abolished is what is making me wonder, well why should I vote for something when the man leading the party who are looking for this isn't willing to show me a live argument against the No vote. I would also be very, very foolish to think that Richard Bruton will be presenting a cheque in 2017 to the value of €20m to prove the savings if the Séanad was abolished!
The 6 of the most popular comments this week
Many of the top ten comments of the week all related to the tragic death of Peggy Mangan The top two are included below.
1. Top of the pile, Catriona Lowry received 3,881 thumbs up for this tribute to Peggy:
…so heartbroken for the family… It was so touching to hear her little doggie stayed by her side; not easy for a dog for 4 days with no food! She must have been a wonderful owner and lady. RIP
2. David O'Connor, also offered his contribution and received 1,871 thumbs up:
This is terrible…how come people in her position aren't issued with gps enabled wrist tags so when this happens they can be quickly tracked and found and brought back out of harms way…
3. One of our top stories of the week related to delays at motor-tax offices. Eric Davies says tax and petrol should be connected and got 1,626 green thumbs:
easy way to stop non payment of road tax is to scrap it altogether and put a fixed amount on every litre of petrol instead, that way those who use the roads more, pay more. those with bigger fuel hungry vehicles pay more, those with smaller more efficient cars pay less. either way it saves a lot of time and money, no need for all those tax offices, the people working in them could be relocated to another sector of the civil service, the money saved could then be used to equip the garda with up to date number plate recognition units in their cars, which would warn them of any vehicle without insuranceor n.c.t.
4. On the story about an Irish store owner refusing to stock a cake-topper of a homosexual couple, Ireland Uncensored says he has the freedom to do so and got 1,571 likes:
Luckily he has the freedom to do what he likes and sell what he wants , I dont necessarily agree with him but just as he has the freedom to do this, members of the lgbt community have the freedom not to shop there
5. An old friend of TheJournal.ie retired from the comments section this week and signed off with a veteran's wisdom that received 1,270 thumbs up. We will miss you Capt. Adebayo Flynn:
Us irish have a name for being massive boozers but when it comes to tea, we are king.

On a different note, guys I want to say goodbye to you all. I've been commenting for about a year now and after probably a thousand or so I have had too much debate and craic with so many of you to split without signing off burning your ears one last time. I wouldn't leave a party without saying goodbye so here goes.

It's been a blast and I have learned a lot from other peoples points of view and of course from the articles from the 'down with the kids' staff who I wanna give a big shoutout to. But I'm gonna move on as you gotta call it some day. The journals a great site and irish media needs it. The comments section for me was what made it, so thanks for the laughs and education fellow commenters, I am in no doubt you are a massive part of this sites success. I'm gonna watch from the stands now.
In closing I wanna say this,
Be proud of your country and your countrymen regardless of all the sh1t we are going through & I'd ask you not to turn, on each other. Debate using your heads and respect each other, don't say anything you wouldn't to someone's face, have a laugh and keep it real. Like all my comments I ever wrote I'm not writing this to get green thumbs, I'm writing it to say thanks and good luck and I'd be happy to go out the way I came in, on a sea of red thumbs. I love you all, peace out.

This one is from the bottom of my heart,

ADEBAAAAAAAAAAAAAAYOOOOOOOOOOOOOOOOOOOOOOOOOOOO!
6. Finally, TheDailyEdge had an article this week about "14 things all Irish people know". David Holland added his own and received 1,063 thumbs up:
Flat 7up and toast will cure all diseases, fact.