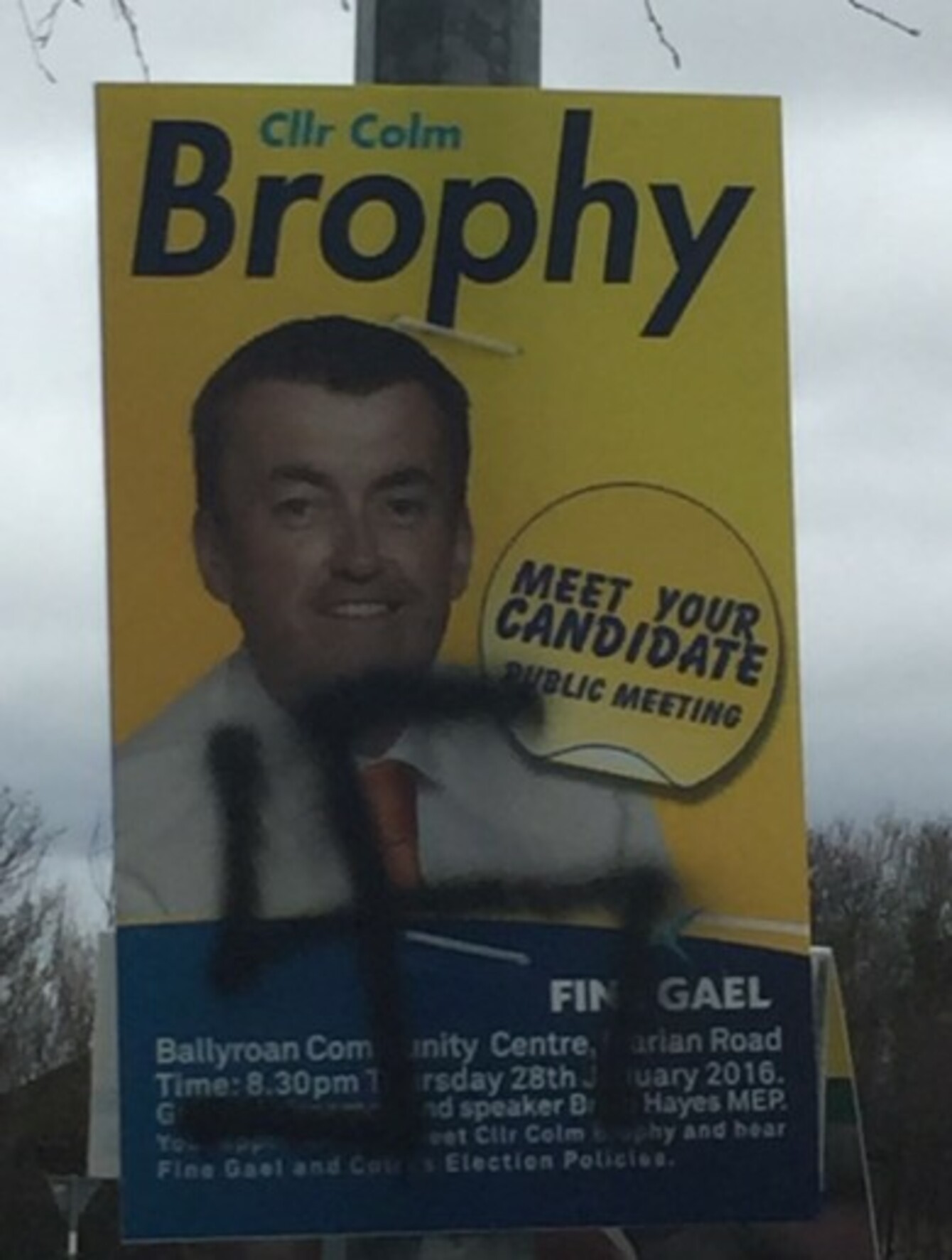 A swastika spray painted onto Colm Brophy's public meeting poster in Templeogue
A swastika spray painted onto Colm Brophy's public meeting poster in Templeogue
A FINE GAEL election hopeful has condemned those who defaced posters advertising his public meeting with swastikas over the weekend.
Councillor Colm Brophy, who is running for Fine Gael in Dublin South-West, had between 15 and 20 of his posters in the Templeogue area covered with the infamous Nazi symbol on Saturday night.
A further five or six posters were also spray painted with the same symbol out at Citywest, where Brophy had been attending the Fine Gael Ard Fheis last weekend.
"Obviously it's an attempt by somebody to try and intimidate free speech and the ability of people to have a viewpoint that they don't like," Brophy told TheJournal.ie today.
It is a new low to start spray painting swastikas on posters. My posters were the only ones targeted. I presume this person objects to some of the issues I've been dealing with lately.
Brophy said he did not know who is behind the damage. He said he had informed the gardaí, but does not expect the perpetrator or perpetrators to be caught.
He said he had been outspoken on a number of issues in recent weeks, including his strident opposition to Sinn Féin being in government:
Sinn Féin represents a significant electoral threat to Fine Gael in the five-seat constituency. Two of the party's councillors in the area, Cathal King and Sarah Holland, both praised Brophy for his work in the community and condemned the swastikas.
King said the party does not condone such symbols: "First of all, this has absolutely nothing to do with Sinn Féin, we don't operate in that way at all…. Whatever about Colm's politics, I get on very well with him."
Meanwhile, Holland, who is running in the general election, said she was "disgusted" at the actions and adding it was "kind of ridiculous to accuse Colm of being a Nazi".
We have different viewpoints but he's by no means extreme. He's a community volunteer and he does a lot of work for his constituency.
Brophy described it as a "targeted campaign" that is designed to intimidate him.
"I don't know what particularly has caused this… I don't know who was behind it, but definitely it is very directly directed at myself," he said.
There are literally three different candidates' posters and there is only one of them that has been targeted, even though there would have had the same level of access.
Another of Brophy's constituency rivals, the Anti-Austerity Alliance TD Paul Murphy, said that nobody's political posters should be vandalised.
"While I don't agree with Colm Brophy at all, I don't agree with vandalising his posters," Murphy said today.