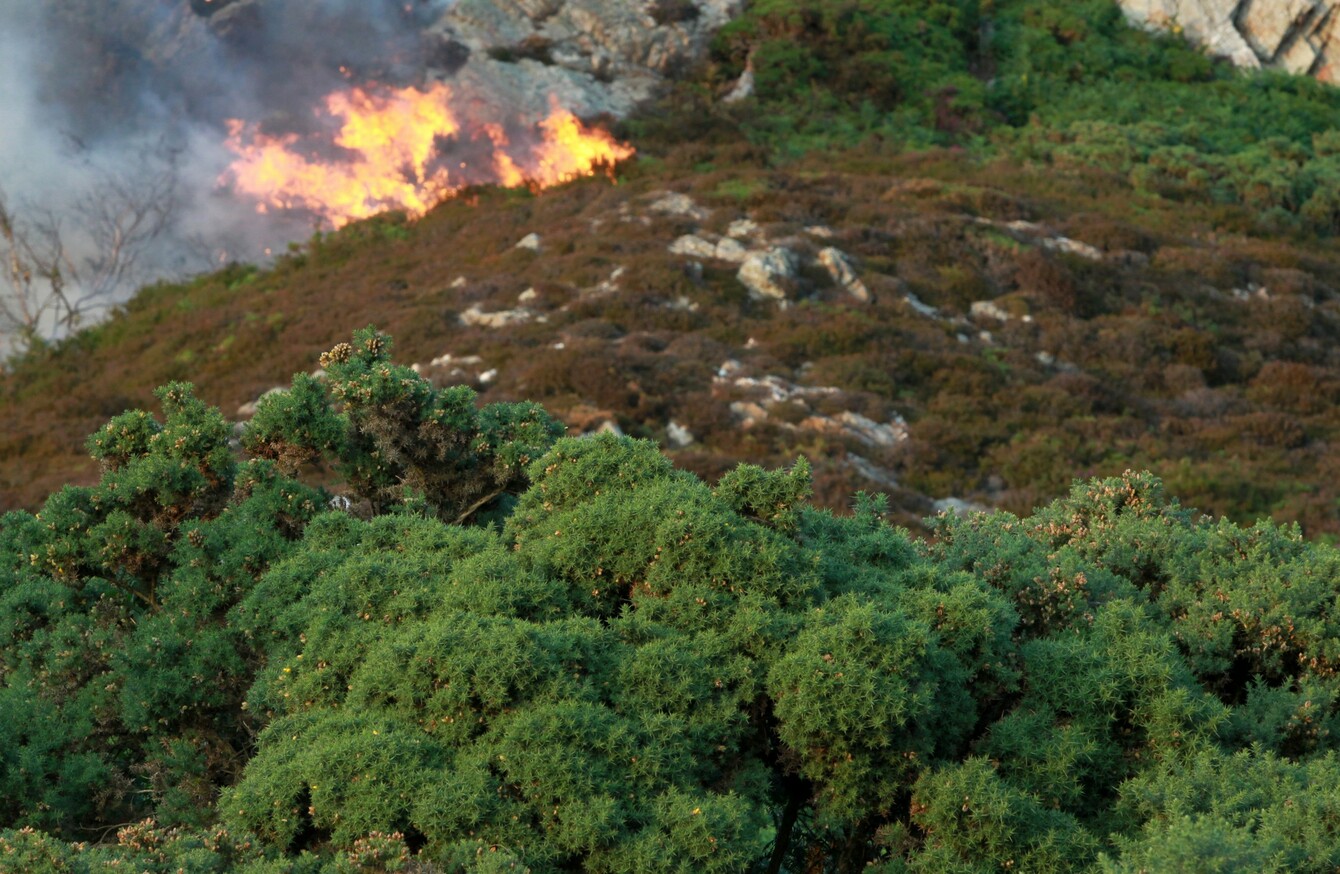 Image: Sam Boal/Photocall Ireland
Image: Sam Boal/Photocall Ireland
A LARGE GORSE fire in the Dublin Mountains was brought under control last night.
Three units of Dublin Fire Brigade and a district officer were in attendance at the scene near Ticknock.
Dublin Fire Brigade received over 20 calls reporting the incident. The fire was visible across Dublin, as far away as Howth.
The fire was brought under control before midnight last night, as Coillte took over command of the incident at about 10.30pm.
Wicklow officers were informed of the fire before it was put out because it was starting to move over to their jurisdiction.
There has been no reports of damage done to local properties. No one was in the vicinity of the fire when it broke out.
The recent outbreak of dozens of gorse fires across the country has left the Fire Brigade under pressure, according to a spokesperson for the Dublin Fire Service.
"We feel it, especially when there are a few of them in the same area or in multiple areas and we're trying to put out fires. There's only so many pumps there to do it, so we are under pressure," he said.
A combination of dry weather, dry vegetation and windy conditions have led to an increased risk of gorse and forest fires in recent weeks. Widespread damage has been made to Irish forestry.
Last week, over a third of Ireland's largest forest, Cloosh Valley, has been destroyed by a gorse fire.
Cloosh Valley, Co Galway, is Ireland's largest forest, at over 4,000 hectares.
It is believed that the fire was started deliberately.
Coillte's forest estate was also damaged in recent gorse fires, the worst damage to Coillte's estate since 2011.
"In addition to the damage caused to commercial forestry, these forest fires pose a significant risk to farmland, native woodland and areas designated for nature conservation," Managing director of Coillte Forest said.
"Coillte would like to remind people that, under the Wildlife Act, it is illegal to set fires to growing vegetation from 1st March to 31st August and appeals to anyone doing so to stop."
"Coillte greatly appreciates the tremendous assistance it has received from volunteers and the fire services, whose lives are put at significant risk in combating these forest fires."
Government ministers reminded landowners that it's an offence to burn any vegetation growing on any land not cultivated between 1 March and 31 August, in a statement.