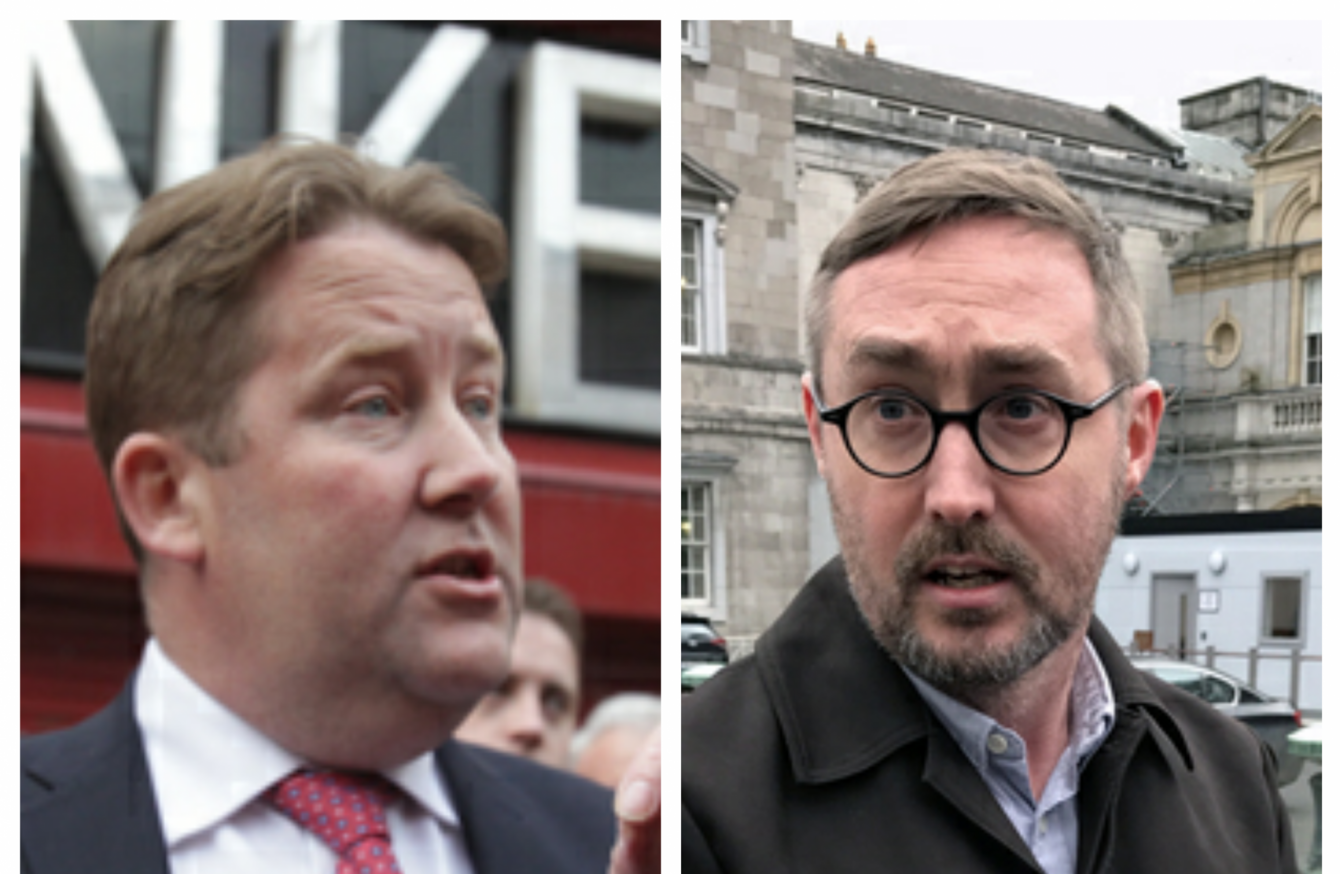 Fianna Fáils's Darragh O'Brien (left) and Sinn Féin's Eoin Ó Broin (Right).
Image: RollingNews.ie
Fianna Fáils's Darragh O'Brien (left) and Sinn Féin's Eoin Ó Broin (Right).
Image: RollingNews.ie
SINN FÉIN AND Fianna Fáil TDs have pledged to work together to push through a law which would ensure that student rents and tenancies are subject to the same controls and regulations as regular ones.
The issue of spiralling rents in student accommodation has been at the forefront of the political debate in recent months due to a number of high-profile protest campaigns by students highlighting significant hikes.
A number of private providers of purpose-built student accommodation (PBSA) have been hiking the rents of the properties by up to 30% in some cases, to bring them in line with newer units on the market.
This issue was brought into sharp focus in April when a group of DCU students staged a number of protests as part of the Shanowen Shakedown campaign.
Unlike with normal private rental properties in certain, PBSA units are not subject to the rent controls that were introduced by government in late 2016.
Under Rent Pressure Zone (RPZ) legislation, private landlords are only able to raise rents by a maximum 4% annually in certain designated areas (Dublin, Cork, Galway cities, for example).
However, this does not apply to PBSA as students in these situations are generally under licensee arrangements – and are not tenants in the legal sense.
This means they don't fall under the remit of the Residential Tenancies Acts and the Residential Tenancies Board.
(However, some commentators have said that a test case needs to be brought to the RTB to clarify the situation fully)
Bills
In response to the situation, all of the major opposition parties have called for RPZ laws to be extended to purpose-built student accommodation.
Fianna Fáil's housing spokesperson Darragh O'Brien tabled the Residential Tenancies (Rent Pressure Zones and Student Accommodation) Amendment Bill in April on the matter, calling for the zones to be extended to PBSA.
Meanwhile, TDs passed Sinn Féin's Residential Tenancies (Student Rents, Rights and Protection) Bill through the second stage in the Dáil on Tuesday last week, after a debate.
The Bill – introduced by Sinn Féin housing spokesperson Eoin Ó Broin - would ensure that students living in the above mentioned accommodation would classed as tenants and would be granted to same protections as people living in the private rental sector.
The government did not oppose the Bill on Tuesday, bur it received almost cross-party support, with TDs all stating that action needed to be taken on the matter.
Junior Minister in the Department of Education Mary Mitchell O'Connor said that she supported the "spirit of the Bill" as well as O'Brien's Bill.
However, she said the government could not support it as it was currently unsure of the constitutional legality of the proposals put forward; as well she said that it was important to avoid any "unintended consequences" which could affect the supply of student accommodation in the future.
"It is important that legislation in this area is legally robust and does not give rise to unintended consequences with, for example, planned future provision of affordable student specific accommodation," she said.
She said there was interdepartmental work going on looking into issues around student accommodation and that advice had been sought from the Attorney General.
If the work found that there should be laws brought forward in relation to student rents, Mitchell O'Connor said that would be done. Her view was echoed by Junior Minister Damien English.
#Open journalism No news is bad news Support The Journal

Your contributions will help us continue to deliver the stories that are important to you

Support us now
Opposition moves 
The government has its own Residential Tenancies (Amendment) Bill being put forward in the Dáil.
The general scheme of the Bill was published in April by Housing Minister Eoghan Murphy.
It is believed that the Bill will be progressed in two parts – the first of which is due before the Dáil later this month.
Fianna Fáil and Sinn Féin (as well as all the other opposition parties) are now calling on government to add a provision to the Bill which will see student accommodation rent rises capped at 4%.
If the government fails to do this, both parties have said they will work together to ensure an amendment is voted in – and have issued an ultimatum of sorts to Eoghan Murphy and Fine Gael.
Both O'Brien and Ó Broin have contacted Minister Murphy to tell him that they would support moves by the government to introduce greater protections for students.
"We both also said during the debate that if you did incorporate greater protection for students in this Bill we would actively support that and discard our own legislation," Ó Broin wrote to the minister last week.
However if you are not willing to address this issue in your Bill Darragh and I will worth together to table a joint amendment to ensure the issue is addressed.
Speaking to TheJournal.ie, Darragh O'Brien said he was willing to work with any party to ensure student rents are protected.
"We're not willing to wait for the second piece of legislation later in the year," he said.
I would be happy is everyone was involved in resolving this issue – I just want it sorted.