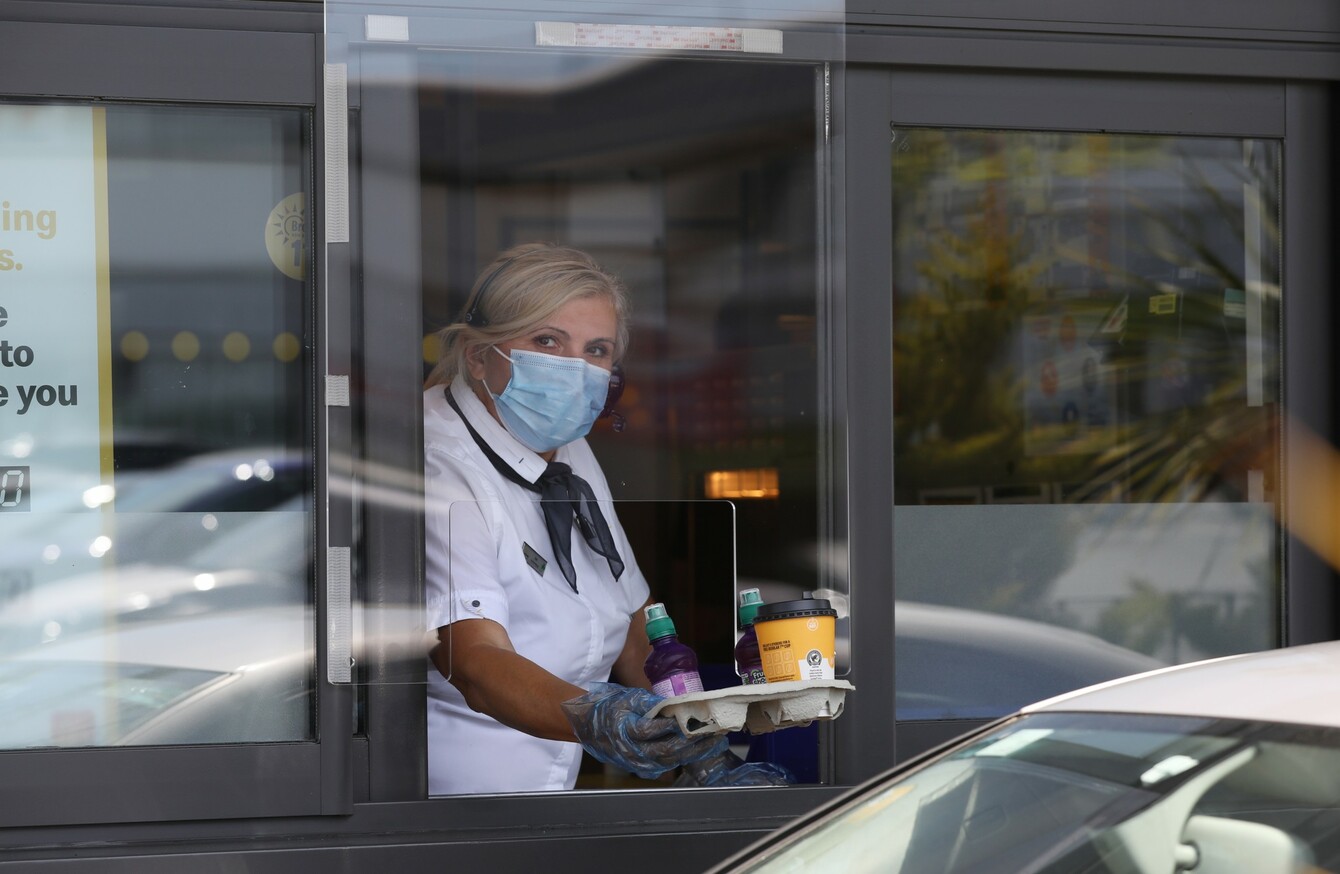 Workers wear face masks while cars pass through the McDonald's drive-thru in Rathfarnham, Dublin.
Image: Leah Farrell
Workers wear face masks while cars pass through the McDonald's drive-thru in Rathfarnham, Dublin.
Image: Leah Farrell
Updated May 21st 2020, 2:00 PM
THERE ARE NOW five million cases of coronavirus around the world.
Countries are slowly emerging from severe lockdown restrictions, tentatively opening schools and some businesses under strict conditions like wearing facemasks.
Yesterday, at the Department of Health briefing, one of the issues that clarity was sought on was: how long people can be in one room together, with social distancing measures, and be compliant with public health measures.
Two hours is the maximum allowed, Deputy Chief Medical Officer Ronan Glynn said – anything over that and everyone in the room would count as a close contact for contact tracing purposes.
Here are today's Covid-19 main points:
It was announced this evening that a further 12 people have died of Covid-19 in Ireland, bringing the total number to 1,583. Another 76 cases of coronavirus have also been confirmed here. The total number of confirmed cases in Ireland is now 24,391.
Taoiseach Leo Varadkar has told the Dáil that there is "no such thing as free money" in relation to borrowing to pay for supports for businesses and citizens.
Varadkar also said he sometimes worries Ireland is being too cautious in its approach to Covid-19 due to "secondary impacts" from the lockdown, such as economic effects and delayed diagnoses for other illnesses. Speaking on Newstalk Breakfast, the Taoiseach said he doesn't think the country's economy is in a worse situation than a decade ago during the recession.
Full court sittings are set to resume as early as tomorrow after additional Covid-19 advice clarified that the courts are allowed to sit for more than 3 hours.
US tech giants Apple and Google have launched their contact tracing technology, which is being used for the Irish cotact tracing app, due to be published at the end of the month.
Minister for Social Protection Regina Doherty has said it was a "disservice" to not allow Debenhams workers to engage in protests in recent weeks after the company announced it would not be reopening stores.
Ryanair, Europe's largest passenger airline welcomed new EU guidelines to ensure that Europe's citizens can return to flying within the EU. These guidelines now allow Europe's tourism industry to restart in July & August. 
A total of 1,571 people have died and there have been 24,315 confirmed cases of Covid-19 in Ireland. 
Social media posts have questioned why deaths are catagorised as being caused by Covid-19 if someone contracts the virus and then dies. Here's the answer
A GoFundMe page set up for four children who were left orphaned after their father died from Covid-19 has raised almost €160,000.
The Covid-19 pandemic payment will "absolutely" be extended beyond its expiry date next month, the Minister for Employment has said.
Gardaí move cars on at a number of outlets as heavy traffic builded up for McDonald's re-opening.
Here are today's international Covid-19 main points:
The World Health Organisation has said more than five million people have been infected by Covid-19 across the globe.
The coronavirus death toll in Europe has hit over 170,000 
The European Commission has published four recommendations for how Ireland can get its economy back on track following the Covid-19 pandemic.
US President Donald Trump has threatened to hold up federal funds for two election battleground states that are trying to make it easier and safer to vote during the coronavirus pandemic.
Another 2.43 million US workers were put out of work last week amid the coronavirus pandemic according to government data, bringing the total since mid-March to a massive 38.6 million.