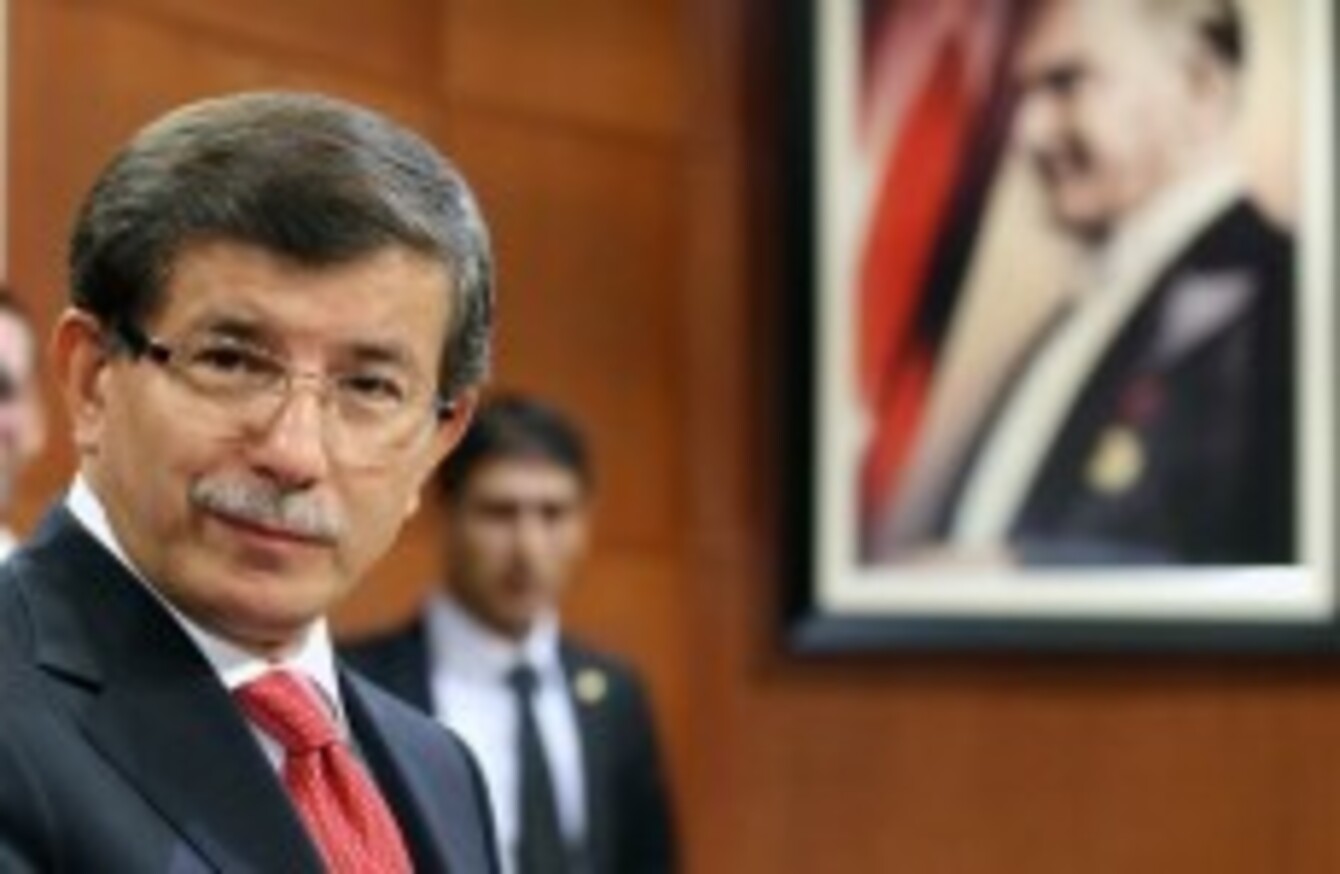 Turkish Foreign Minister Ahmet Davutoglu speaks to the media in Ankara, Turkey.
Image: AP Photo
Turkish Foreign Minister Ahmet Davutoglu speaks to the media in Ankara, Turkey.
Image: AP Photo
THE OBAMA ADMINISTRATION is scrambling to keep ties between US allies Israel and Turkey from deteriorating further after relations plummeted with Israel's refusal to apologise for its raid last year on a Gaza-bound flotilla that killed nine Turkish pro-Palestinian activists.
Senior American diplomats, including Secretary of State Hillary Rodham Clinton, are working with both countries to "de-escalate" and "defuse" the crisis, the State Department said Tuesday. Israeli-Turkish ties were strained even before the flotilla raid, but nosedived last week after the release of a UN report on the incident. Turkey is a key NATO ally of the United States, while Israel is America's top ally in the Middle East.
"We have over many months tried to work with our ally Turkey and our ally Israel to strengthen and improve their bilateral relationship," State Department spokeswoman Victoria Nuland said. "We still believe that getting back to a good partnership between them is in each of their interests, and we will continue to work for that goal with both of them. But we are concerned about the state of the relationship today."
Clinton discussed the matter at length with Turkish Foreign Minister Ahmet Davutoglu last Thursday in Paris, while two top Mideast specialists, David Hale and Dennis Ross, raised the issue with Israeli officials on Tuesday.
Turkey has suspended military ties with Israel, expelled top Israeli diplomats and threatened additional actions unless Israel apologises for the raid. It has also said it will lobby other nations to support a Palestinian bid for recognition at this year's UN General Assembly which begins later this month. Israel, which is vehemently opposed to the Palestinians seeking UN recognition, has expressed regret for the loss of lives on the flotilla, but has refused to apologize.
Israel and Turkey were once each other's top military trading partners and used to regularly train together on each other's soil. The breakdown in ties not only increases tensions in the Mediterranean but complicates efforts to forge a broad Mideast peace between Israel and its Arab neighbors as Turkey had been a broker of indirect talks between Israel and Syria.
"Our emphasis with both the government of Turkey and the government of Israel is to hope that we can de-escalate, we can defuse and we can get them back to talking about improving their relationship," Nuland told reporters. "We want to avoid future confrontations and we want both of these strong allies of the United States to get back to a place where they have a good working relationship with each other."
Relations began deteriorating as a result of Israel's campaign against Gaza rocket launchers in early 2009, in which about 1,400 Palestinians were killed, and worsened dramatically after the May 2010 raid on the Gaza-bound vessel.
Turkey's latest moves were prompted after it was disappointed by the UN report's failure to criticise Israel more strongly and force it to apologise.
The UN report said Israel's naval blockade of Gaza was a "legitimate security measure," but also called the raid on the flotilla that tried to break the blockade "excessive and unreasonable." It also said Turkey and the flotilla organizers contributed to the bloodshed.
Israel has accepted the UN report, albeit with reservations. Turkey has rejected it.